Spread financial intelligence
Until recently, Germany had a good reputation in the financial sector. Admittedly, German banks have had problems for many years and can hardly keep up with US or UK banks. In general, the German banking industry has significant structural shortcomings. Hence, the ever-growing Wirecard was applauded and protected. The DAX-listed German fintech managed by the two Austrians Markus Braun and Jan Marsalek was seen as the superstar in the booming market of next-generation payment processors. But make no mistake: there are more dubious German fintech and payment processors that developed in the Wirecard mentality. Michael Gastauer and his group of companies should be mentioned here.
The Diry German Fintech Turf
DAX-listed Wirecard is the most prominent but for sure not the only German fintech that has been attracting attention for years with strange business practices and its proximity to cybercrime and scams. Unauthorized and hence illegally acting payment processors such as B2G of the German Rainer Treuer and his Russian comrade Oleg Shvartsman have facilitated scams and fraud business for years and processes dozens if not hundreds of millions for them. Germany was well-known in the global cybercrime scene for the efficiency of its money-laundering ecosphere.
At this point, the self-proclaimed "FinTech Guru" and "Mogul" Michael Gastauer and his Black Banx (previously known as WB21) should also be awarded a place in this special hall of fame. For years Gastauer has attracted attention by claiming to have many billions of euros under management (asset under management). On his personal website www.michaelgastauer.com, Gastauer presents himself as a mixture of Markus Braun and Steven Jobs. All in black and mysteriously super-rich.
Gasteuer is vain and loves the public. As long as the news is either good for or fabricated by him. He likes to present himself as an exceptionally talented investor and financial entrepreneur. He likes to label his companies as banks or leading (fastest-growing) fintechs even though they are neither (read the German Manager Magazin article in this context here). In fact, Gastauer's companies like Treuer and Shvartsman's B2G scheme seem to work in the segment of unauthorized payment processors that move proceeds for high-risk and cybercrime businesses. There are no innovative technologies to be discovered.
Venture Capitalist and Philanthropist specializing in financial technology. Michael Gastauer is the Founder and Chairman of Gastauer Family Office, a single family office managing over US$10 Billion AUM.

Statement on michael gastauers website (link)
Evidently, Gastauer's claims to be a mogul running a $10 billion family office, or being a fintech guru are alternative facts at best. As in the case of de Wirecard, the Financial Times, the German Manager Magazine, as well as investigative platforms such as Modern Consensus or FinTelegram News, have been exposing that Gastauer's public statements and press releases cannot be true.
The story of Mr Gastauer is not just about alleged wrongdoing in the financial markets; it shows how an accused fraudster might sell himself and his fantastical story using the modern tools of the internet age.

Financial times report (link)
Like Markus Braun at Wirecard, Gastauer reacts to the critics with million-dollar lawsuit threats.
The facts, however, are:
Gastauer has been accused by the SEC since 2018 of being the payment processor of a global securities fraud scheme. The US citizen Roger Knox, 49, the operator of this securities fraud scheme has already pleaded guilty in the United States in January 2020. In the respective SEC lawsuit, Michael Gastauer, WB21 (now Black Banx), and his group of companies are portrayed as fraud facilitators. According to the SEC complaint, Gastauer allegedly aided and abetted the fraud by establishing several U.S. corporations and allowing Knox to use their bank accounts to disburse the proceeds of his illegal stock sales.
WB21 (now Black Banx) was also involved in the Canadian fraud around the crypto exchanges QuadigaCX fonded and operated by the late Gerald "Jerry" Cotton. In June 2020, the Canadian Ontario Securities Commission (OSC) published an investigative report and made it clear in an accompanying statement that it qualified QuadrigaCX as fraud, in which apparently around 76,000 customers were harmed. Gastauer's WB21 was also involved in this fraud as a payment processor and moved millions.
Michael Gastauer was also one of the payment processors for the gigantic crypto-scam OneCoin, along with WB21 and other companies in his globally nested group. Gastauer was also active in Germany and is therefore prosecuted by lawyers of German OneCoin victims (see for example here Reime Rechtsanwalt).
The Gastauer Conglomerate
Similar to Wirecard, Gastauer has established legal entities around the world. These entities maintain bank accounts with different banks across many jurisdictions. Through these bank accounts, his client's money is moved until it is relabeled and laundered. The US SEC has traced the route of the funds through various jurisdictions in the case of Roger Knox's securities fraud scheme (see above). These companies are controlled by Michael Gastauer and his family.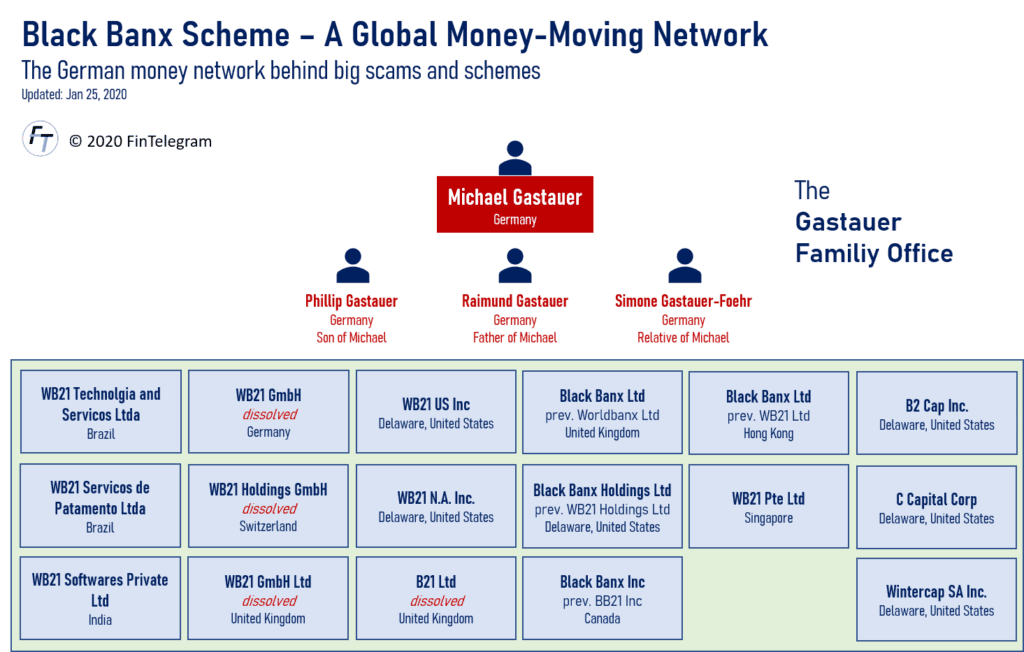 At this point in time, the legitimate question is whether in the case of Michael Gastauer, too, the German authorities will keep looking the other way until the scandal explodes. Or maybe the German prosecutors and the BaFin will act properly this time and investigate Gastauer, his group of companies, and their role in international cybercrime. In the very interest of the reputation of the German financial market and investor protection.