Spread financial intelligence
The world has changed massively for investors in recent years with social media. As in politics, decisions about investments are increasingly being influenced by Instagram, Facebook, YouTube or WhatsApp, and Telegram. The old-fashioned bank or investment advisor has been replaced by apps and by the new guild of influencers which often work as affiliates of financial services providers such as EagleFX. Influencers are a new profession and social role model. Hashtags are the most important sales instrument for financial providers and their influencers.
Hashtag economy
Hashtags (symbolized by the hash "#" sign) have established themselves on most social media today as a tool for linking content, topics, and campaigns online. They have now also been adopted in everyday language use. Typically, influencers use these hashtags in their social media posts in excess to ensure that it appears in as many conversations as possible.
Hashtag broker EagleFX
One of the hashtag brokers on Instagram is the crypto forex broker EagleFX (www.eaglefx.com) which is allegedly operated by the offshore entity EagleFX Ltd in Commonwealth of Dominica. On Trustpilot EagleFX currently has a good 4-star rating in 66 reviews. Also on ForexPeaceArmy (FPA) with 40 reviews. Being an IB for a broker can be a highly attractive source of income. As long as the broker is not a scam and works seriously. EagleFX apparently meets these criteria but one should not trust these reviews too much. More often then not, they are sort of fabricated by fans and affiliates.
Most of the website's visitors and therefore customers are likely to be from North America. EagleFX was recently put on the Red List by the US regulator CFTC. According to the regulator, the company is acting without registration and without being present in the U.S. However, no investigations and lawsuits are currently pending on the part of the CFTC.
A review by the Commission has revealed that this entity is acting in a capacity that appears to require registration, but it is not registered with the CFTC.

CFTC Red List statement on EagleFX (link)
In the financial sector, high commissions are paid for the referring of new customers. Usually, the affiliates (influencers) then receive ongoing commissions from the ongoing deposits of these clients. The more dubious the provider is, the higher the commissions usually are. It is therefore not surprising that many influencers place themselves in the services of scammers and make a lot of money quickly.
Powerhouse on Instagram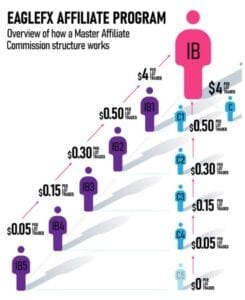 The broker scheme works with a so-called multi-tier affiliate program designed to allow affiliates to act as Introducing Brokers (IB) and refer traders and sub-IBs to EagleFX. They promote EagleFX on Instagram or other social media platforms and messages services using a unique referral link. When a new customer joins EagleFX via this referral link and begins to trade with real money, IBs start earning a commission.
Nearly 8,000 posts on Instagram are marked with the #EagleFX which demonstrated the powerful presence of this broker and its affiliates (aka Introducing Brokers) on social media. The verified Instagram user Herbert R. Sim (link) uses and promotes EagleFX on Instagram to his 196K Followers. So does InvestyWise (link) with his 135k follower base and h266.th (link) with more than 85k followers. Another affiliate is the user with the handle FOREXDOC (link). This guy has impressive 71.3K followers on Instagram and 12.2K members in his Telegram channel (link).
EagleFX has attracted powerful cheerleaders on Instagram and should have nice results too, we guess. On Alexa, the ranking of the website is rising continuously. In the U.S. www.eaglefx.com already made it into to the Top 20,000.
Instacoin integration
EagleFX uses Instacoins to process its debit and credit card deposits. Instacoins is a crypto payment processor that offers a service of buying Bitcoin (BTC) via credit or debit card. By using the Instacoin payment platform you actually become a client of Instacoins Estonia OÜ, a company with an Estonian crypto license (see companies register data).