More trials against binary options scam operators or their facilitators coming up in the first half of 2023. The former beneficial owners of the (then) CySEC-regulated Novox Capital Ltd are also in the spotlight: the Israelis Shay Hillel, Yehoram Hillel, and their partner and frontman Israel Bash. They are currently not charged however the prosecution alleges that their Novox Capital had been massively involved in running and facilitating vast binary options scams. Gal Barak and his cybercrime organization E&G Bulgaria were a close partner and client of Novox Capital.
Key Data
Trading names
Novox Capital
OptionBit
OptionStars
(OptionStarsGlobal)
ZoomTraderGlobal
(ZoomTrader)
Option888
STXMarkets
RoyalPIP
Business activity
Forex and binary options brokerage
Legal entities
Novox Capital
PXBT Trading Limited
Jurisdictions
Israel, Cyprus
Authorization
CySEC with license no: 224/14
Related individuals
Shay Hillel (Shai Hillel)
Yehoram "Yoram" Hillel
Israel Bash
Shoham Cohen
Dmitrij Pruglo (new)
Gery Shalon
Vladislav Smirnov
Gal Barak
Uwe Lenhoff
Ilan Tzorya
Related schemes
E&G Bulgaria, Veltyco, Tradologic
The Vanished Novox Capital
While the two former partners of Novox Capital, Uwe Lenhoff and his Veltyco and Gal Barak and his E&G Bulgaria were under investigation by the public prosecutor's office and indictments were carried out in Germany and Austria, the Hillels, away from the limelight, closed down their binary options organization and covered their tracks.
Novox Capital Ltd voluntarily suspended its CySEC license. The company was renamed PXTB Trading Ltd and handed over to crypto entrepreneur Dmitrij Pruglo. The is also the founder and CEO of Gibraltar-registered Covesting (www.covesting.io).
CySEC-Regulated Scam Facilitators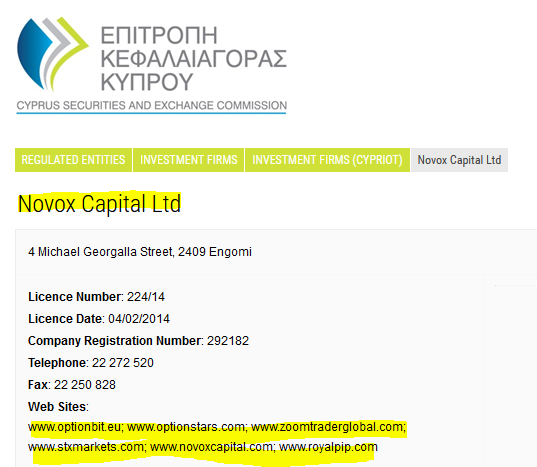 Novox Capital under the direction of the Hillels and Israel Bash, has been facilitating a range of vast binary options scams. One of their partners and clients has been the convicted binary options fraudster Gal Barak and his scam brands SafeMarkets, OptionStars, OptionStarsGlobal, or SafeMarkets. They also facilitated and co-operated Option888 or ZoomTraderGlobal for Uwe Lenhoff and his Veltyco.
For these scams, Novox Capital processed deposits and handled the custody accounts. Novox has worked closely with payment service providers such as Payvision to process victims' deposits. The domain www.optionstars.com, for example, was registered by Novox Capital in March 2014. The then-CySEC-regulated investment firm and its (facilitated) brands received many regulatory warnings around the globe.
In early 2018, CySEC fined Novox Capital €175,000 for multiple regulatory violations. It appears from the criminal files that there was a rift between the Hillels and Uwe Lenhoff and Gal Barak over this penalty.
In early 2019, Lenhoff and Barak were arrested by the authorities after several years of investigation. Lenhoff died for unknown reasons while in pre-trial custody in prison. Barak was sentenced to several years in prison in September 2020 and released on bail in the fall of 2021. Barak is currently staying in Israel with his wife Marina Barak.
The Tradologic Connection
Yehoram "Yoram" Hillel and Shay Hillel were also investors and major shareholders in Bulgarian Tradologic, which developed and operated white-label solutions for binary options schemes, as of 2010. The company was founded by Israeli Ilan Tzorya and later sold to Gal Barak and his partners. In addition to the Hillels, notorious cybercriminal Gery Shalon and his Russian partner Vladislav Smirnov also joined the company in 2014 with a 30% stake.
In 2017, Shalon and Smirnov fell out with the Hillels. Smirnov subsequently took over their Tradologic shares for around €650,000.
The Online Casinos
The Hillels, like many other binary options operators, have also made it big in the online casino and gambling space. They have operated online casinos like CityClubCasino or CityTowerCasino through their Sea Gate N.V. or they still operate them through new domains and their City Club Casino Ltd. Thereby, the casinos do not have a good reputation, as also the certainly not squeamish Lenhoff told the investigating authorities:
Shay and Yehoram Hillel had operated the City Casino, which was on every blacklist of affiliates due to numerous fraudulent acts.

Uwe Lenhoff when asked about the Hillels
Share Information
If you have any information about Shay Hillel and Yehoram Hillel, please share it with us through our whistleblower platform, Whistle42.