In September 2020, the UK FCA issued a warning against the scam broker TradingTeck (www.tradingteck.com and www.tradingteck.co). We reported here! The broker is a brand of SecVision Limited, allegedly registered in St. Vincent and the Grenadines. The Mauritius-based EFTpay (www.eftpay.co.za) is available as a payment option. It is disturbing that EFTpay did not yet terminate their scam client.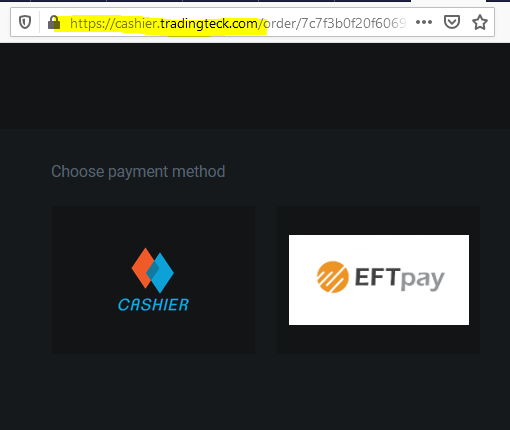 The scam is still active. Upon checking today, 12 March 2021, the boiler room behind the scam immediately contacted me by phone and email. Deposits via ETFpay are also possible, as shown in the screenshot (left).
It cannot be stressed often enough that many investment scams would not even exist without participating payment providers. They are co-conspirators in investor fraud. In this respect, we see it as our duty to aggressively fight against scam-facilitating payment processors such as Payotop, BridgerPay, or Piastrix. To name a few of them. We understand that the affected payment processors feel harassed by our scrutiny. We will stop as soon as these payment processors stop accepting scams as customers.