LegacyFX is one of the CySEC-regulated CIFs that works with offshore mutations to solicit European clients. Their offshore broker is AN All New Investments (VA) Ltd in Vanuatu. However, all card transactions of this offshore broker are processed by the CySEC-regulated entity. Durch Courts sentenced LegacyFX on May 17, 2023, to pay €303,000 to an investor, the Dutch lawyer Marius Hupkes reports on his website.
Short Update
The Durch lawyer Marius Hupkes reports that LegacyFX has been circumventing the AFM decision banning CFDs with leverage greater than 1:30 with its offshore scheme. The AFM decision also contains an "anti-circumvention provision." This regulation is intended to prevent regulatory circumvention with offshore construction or other conceptual designs. Responsible is the actually regulated entity that hides behind offshore constructions. In this case, the CySEC-regulated entity of LegacyFX.
To this extent, CySEC is also responsible for the offshore activities of its regulated CIFs and the losses of victims of these offshore entities. Hupkes says several such lawsuits against CySEC-regulated CIFs and their offshore activities are still pending in the Dutch courts.
Key data
Trading name
LegacyFX
XE Prime
Domains
https://legacyfx.eu (CySEC approved)
https://legacyfx.com (CySEc approved)
https://int.legacyfx.com (Vanuatu)
www.xeprime.eu (CySEC approved)
www.xeprime.com (CySEC approved)
Legal entities
A.N. Allnew Investments Ltd, regulated by the CySEC
with the license number 344/17
AN All New Investments (VA) Limited, regulated by the Vanuatu Financial Services Commission (VFSC) under license number 14579
LegacyFX BY (Belarus) regulated by NBRB
Related individuals
Jab Abdel Rahman, Razi Sahli
Regulators
CySEC, VFSC, NBRB (National Bank of Belarus)
Jurisdictions
Cyprus, Vanuatu, Belarus
Payment processors
Paytiko (cashier)
Praxis Cashier (old), BridgerPay (new)
Perfect Money, Sofort (old), Volt (old) Jeton, Finrax,
Xentum (old), Trust Payments (old)
Contact
+41-315087455
+44-2039293848 (WhatsApp)
Compliance rating
Red Compliance
The narrative
The offshore entity in Vanuatu, regulated by the Vanuatu Financial Services Commission (VFSC), is used to operate the international LegacyFX platform (https://int.legacyfx.com). However, this entity is also used to attract consumers in Europe, Asia, Australia, and Africa, for which it has no authorization.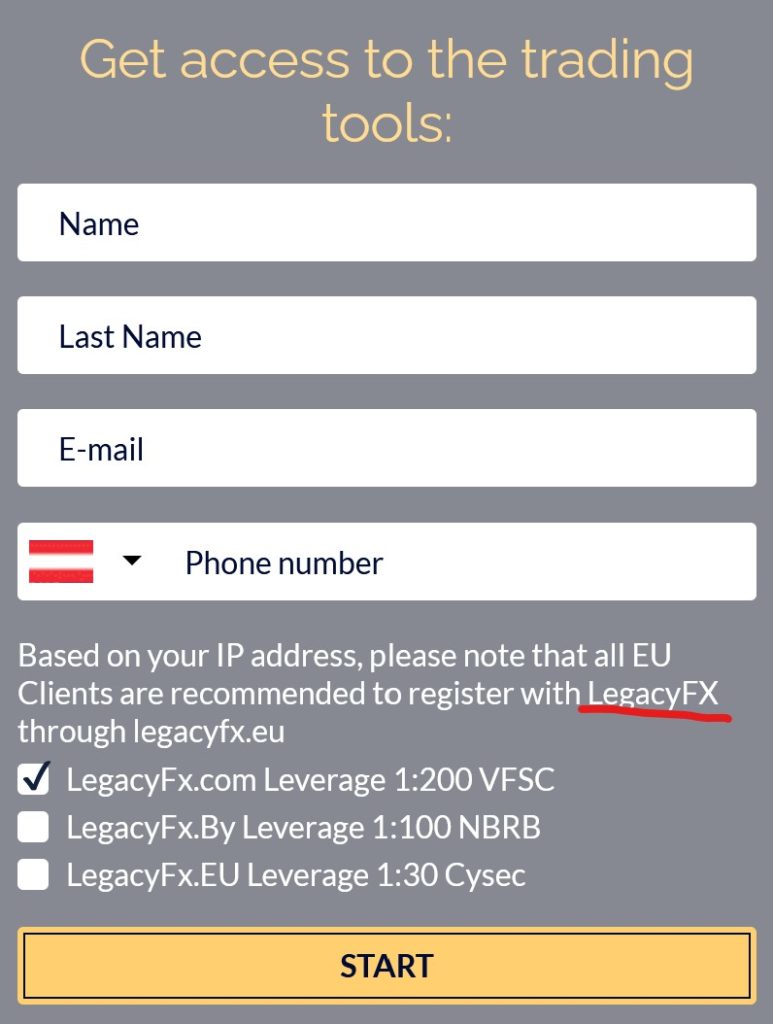 EU residents, when registering on the offshore site of LegacyFX.com, are asked which leverage they want to have and with which regulator – VFSC, NBRB, or CySEC – they want to register. When selecting the leverage 1:200 and VFSC, one receives the hint that ESMA is not responsible for this site, and, therefore, registration is at your own risk.
In addition, you will receive a declaration statement by email, which you should sign. In this statement, the new offshore client confirms that he has decided to register on his own initiative. This Declaration Statement should be signed.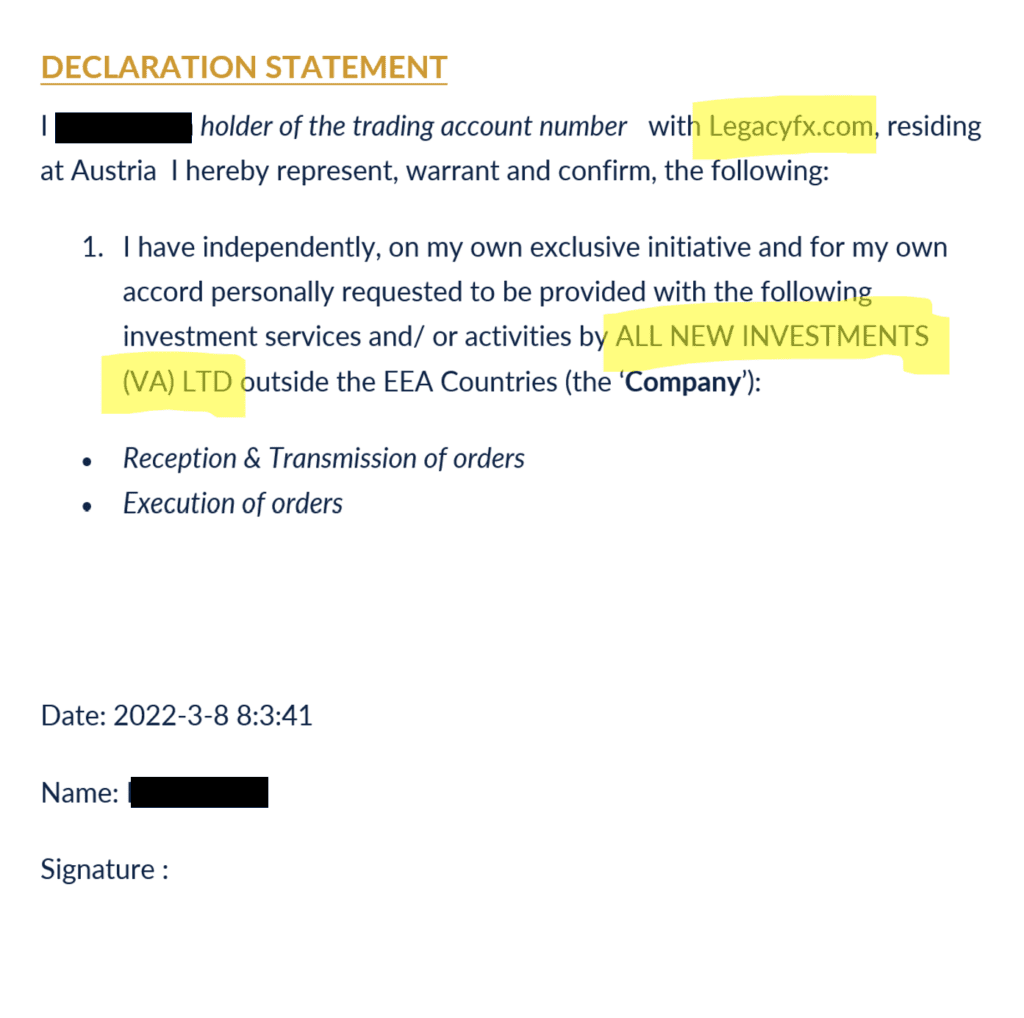 In our review on 10 April 2022, we registered for the 1:200 leverage broker with the VFSC-regulated AN All New Investments (VA) Ltd. Although we did not sign this Declaration Statement and did not verify our ID or address, we could have theoretically made unlimited deposits.
Unlimited pre-KYC deposits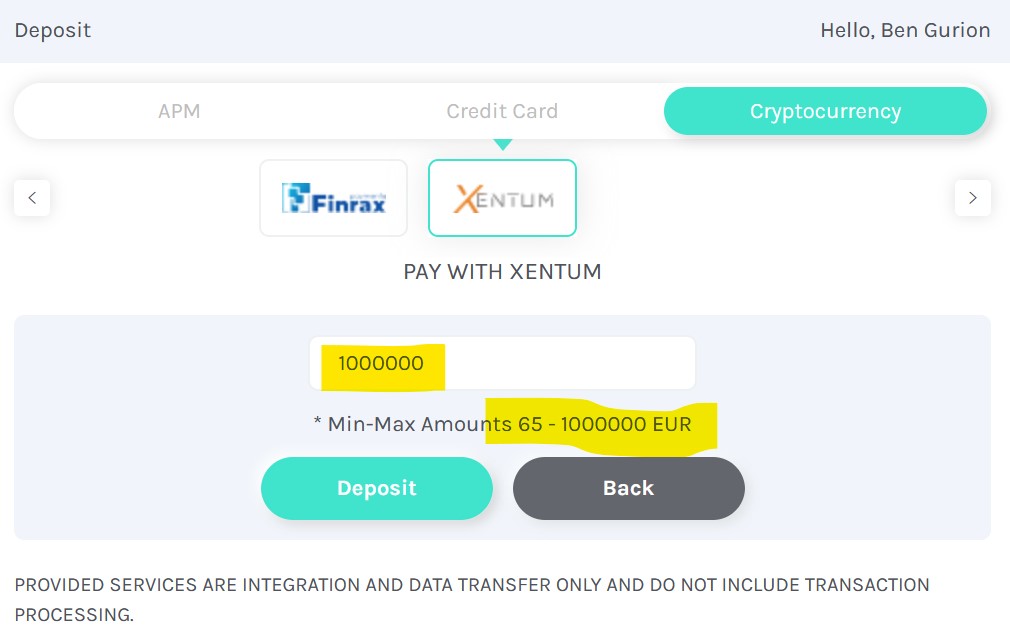 In particular, the following limits have been stated with the different payment options in our reviews in February and April 2022:
unlimited deposits via bank transfer through Volt or by credit and debit card.
up to €6.5k via BridgerPay and card payments
up to €200,000 via Swiss payment processor Xentum
up to €200,000 via crypto exchange Finrax
up to €100,000 with the Russian Perfect Money
up to €50,000 with Jeton
Payment services for credit and debit cards and bank transfers go through BridgerPay Cashier. Bank transfers are processed through Volt (https://volt.io). In addition to BridgerPay, there is also the option to make deposits with credit cards through Trust Payments.
Conclusion
LegaxyFX and other CySEC CIFs systematically use offshore onboarding to circumvent and violate ESMA and CySEC regulatory requirements. Neither the onboarding procedure (without proper KYC/AML) nor the offered leverage of up to 1:200 complies with regulatory requirements in UK and EU. The reference that the customer signs up at their own risk is ineffectual. How many minutes do you think it would take a LegacyFX call center to convince the client of the benefits of the offshore broker?
It would be very easy for LegacyFX, FXORO, IC Markets, and the other CIFs to apply algorithmic procedures to prevent UK or EU clients from registering with the offshore entity. However, the truth is that this offshore onboarding is done willfully and knowingly. The payment options are designed for European customers with SEPA transfers and accounts in the UK or EU.
Clients of offshore entities are not entitled to investor compensation schemes or other ESMA intervention measures. They are also not entitled to assistance from Financial Ombudsman institutions.
Share information
If you have any information about LegacyFX, its operators, and partners, please share it through our whistleblower system, Whistle42.