In our systematic screenings of payment processors, we have recently discovered that the payment processor Corefy (formerly PayCore), operated by Ukrainians around Denys Kyrychenko, facilitates, among others, the online casino, sports betting, and gambling scheme Mostbet. It processes deposits from Russian visitors via obscure domains. In addition to Corefy, we have discovered ChangeCoins for crypto and the Russian Perfect Money. Cyprus-based Venson Ltd operates Mostbet under a Curacao license.
Key Data
Trading name
Mostbet
Activity
Illegal online casino, sportsbooks,
and gambling
Domains
https://mostbet.com
https://mostbetonline.in
https://mostbet.partners
https://mostbet1.in
https://oaij7zjkpcdzlk3mst.com
https://7g8ehm2b69mst.com
https://43p6p50vog9dc4tmst.com
https://mostbet-wds5.top
https://mostbet-woo3.top
many others
Connected legal entities
Venson Ltd
Bizbon N.V.
Payways Systems Inc
Jurisdiction
Cyprus
Curacao
Payment options
Credit/debit card, crypto
e-wallets, paycards
Payment facilitators
Corefy (PayCore)
Paysafecard, ChangeCoins,
Perfect Money
Related individuals
Elena Bond (LinkedIn)
Short narrative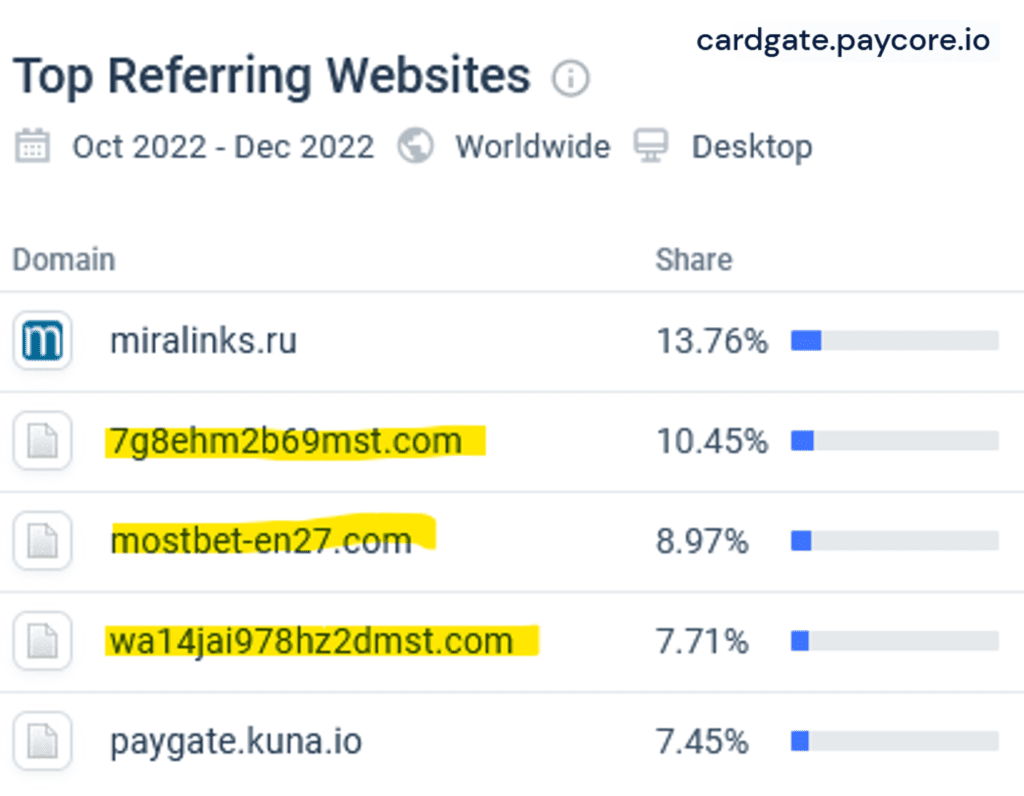 Mostbet is operated with a Curacao license from Bizbon N.V. and operates worldwide with a variety of domains and websites. Apparently, a focus is placed on Russia. Payments from Russian customers are processed via a large number of obscure domains.
Of the referral traffic to the Paygate.paycore.io website, around 25% came via Mostbet's Russian websites between Oct to Dec 2022. On the Paycore.io website it was about 27% in this period.
Payways Systems Inc is specified as the payment agent for payments via the Russian Perfect Money. This is interesting because this company has also registered the domain ChangeCoins.io. So it is obvious to conclude that there is a close connection between ChangeCoins and Mostbet.
Share Information
We would like to know more about Corefy a/k/a PayCore or Mostbet. If you have any information, please let us know via our whistleblower system, Whistle42.