FinTelegram readers are well aware that through the coordination of the European Funds Recovery Initiative (EFRI), the Dutch payment processor Payvision, now in liquidation, is being sued by victims of scams who made and lost their deposits through Payvision. An investigation conducted by Dutch regulator De Nederlandsche Bank (DNB) confirmed that Payvision supported scams and violated financial laws in the process. However, DNB does not want to make the report available to victims.
The Preliminary Injunction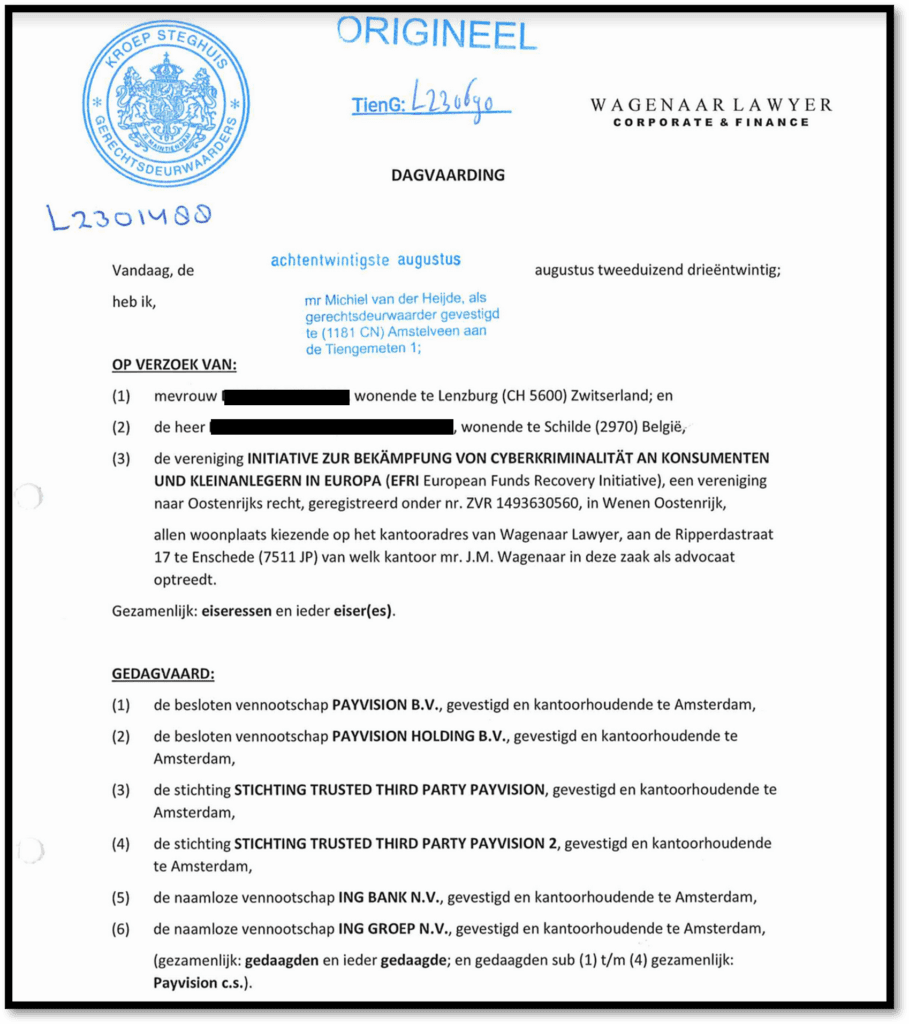 The preliminary injunction application filed in Amsterdam by aggrieved investors against DNB to force the handover of its report of the Payvision investigation calls the Payvision scandal an unpleasant mix of Bernard Madoff's Ponzi scheme in New York and Germany's Wirecard.
From 2015 to 2022, the Durch FinTech Payvision found itself embroiled in a significant European investment controversy. Numerous European individuals, amounting to tens of thousands, were allegedly defrauded, with losses exceeding €200 million, often encompassing their entire life's savings.
Payvision, acting as a principal payment facilitator, is alleged to have contravened established financial statutes and regulatory protocols. Consequently, aggrieved parties have initiated legal proceedings against Payvision in Amsterdam, contending that the company willfully abetted fraudulent entities in their deceptive practices.
Notably, the Dutch regulatory authority, DNB, has declined to provide the affected parties and their legal representatives with a report delineating Payvision's purported infractions. In response, a law firm in the Netherlands has sought an interim order compelling DNB to disclose the said report on Payvision.
This situation bears resemblance to the Wirecard case, wherein the German regulatory body, BaFin, shielded Wirecard from allegations for an extended period.
Scam Processor Payvision
Beginning in 2018, FinTelegram has consistently documented Payvision's significant association with the operations of the Bulgaria-based cybercrime entity, E&G Bulgaria, led by the Israeli national Gal Barak. EFRI has also persistently submitted pertinent details extracted from Austrian criminal records to Dutch authorities, including DNB. Barak, along with key members of his cybercrime network, faced charges of investment fraud and money laundering, resulting in their subsequent incarceration for multiple years.
Notwithstanding the revelations, Payvision, established and overseen by CEO Rudolf Booker, perpetuated its alleged illicit operations until May 2022, with the Dutch regulatory body refraining from intervention. It is contended that Booker, a principal Payvision stakeholder, derived personal financial gains from the company's facilitation of questionable transactions and scams. Such activities purportedly led to a surge in Payvision's transaction volume. Predicated on this escalated transaction volume, ostensibly inflated by unauthorized activities, ING acquired the fintech in 2018 for an estimated €360 million, culminating in a lucrative exit for Booker.
However, it is noteworthy that by October 2021, ING declared its intention to dissolve Payvision, citing incongruence with ING's foundational principles. This decision is perceived as one of the most significant miscalculations in FinTech acquisitions globally, occurring under the stewardship of then-ING CEO Ralph Hamers.
The Protective Regulator & The Wirecard Approach
The fact that Payvision is a part of ING Group perhaps motivates the Dutch regulator to take a rather protective approach. DNB refused to provide the report on the Payvision investigation to the plaintiffs, the scam victims, although it has filed a criminal complaint with the relevant Dutch law enforcement authorities based on this report; corresponding criminal investigations are underway. DNB claims that the information is confidential and that its disclosure could affect the proper functioning of financial supervision.
This is a strange view for a regulator legally mandated to protect consumers in the financial markets. DNB's refusal to provide the report to aggrieved consumers is contrary to the EU's transparency principle, which states that the decisions of EU authorities should be made as transparently as possible.
DNB has so far not made any announcement about its findings in the Payvision investigation and the fintech's illicit activities. This regulatory approach does not comply with the naming and shaming principle, which states that, for example, penalty notices are to be published for deterrence. DNB evidently forgets that an essential part of its mission is consumer protection.
The primary purpose of the European System of Financial Supervisors (ESFS) is to ensure that financial sector regulations are adequately implemented in all Member States to maintain financial stability, build confidence, and protect consumers. The objectives of the ESFS also include developing a common supervisory culture and creating a single European financial market.
Somehow, DNB seems to see itself as a shield for ING and its disgraced Payvision and not as a protection for consumers. The non-disclosure only protects ING and Payvision while the market, other (EU) regulators, and law enforcement agencies have no possibility to prevent new Payvisions from occurring. This is the Wirecard Approach, which is still considered a BaFin disgrace.
Durch Regulator Forgets Scam Victims
EFRI principal Elfriede Sixt confirmed to FinTelegram that EFRI-backed victims would also go all the way to the European Court of Justice (ECJ) to force the regulator's support. She said that in today's Court Hearing in Amsterdam, the judge questioned DNB why the regulator would not support the victims. The question remained unanswered. DNB is fighting the injunction with four lawyers and is obviously forgetting about the victims and thus failing to do its job, Sixt says.
Share Information
If you have any information about ING or Payvision, please let us know through our whistleblower system, Whistle42.