XCritical is a brand, CRM white-label solution, and online trading platform of Quant ROI Ltd registered in Cyprus. Xcritical is currently used by some Russian scams like LimeFX, Umarkets, MaxiTrade, or TradeAllCrypto. The beneficial owners of Quant ROI hide behind Cypriot trust companies. A.M.K. Trustee Services Limited acts as director and M. Kyprianou Fiduciaries (Cyprus) Ltd as the company secretary. We would like to know more about XCritial and its people.
---
A Russian Venture
We assume that the beneficial owners and key persons of XCritical (www.xcritical.com) and Quant ROI are Russians. They use the Cypriot company to gain access to the EU and to Google and Apple. There is another xCritical in Russia which appears under the domain www.xcritical.software, is operated by the Russian 123 Software LLC registered in St. Petersburg, Russia, and uses the very same logo and favicon. On LinkedIn (LinkedIn page) this "other" xCritical can be linked with 43 LinkedIn profiles.
Hence, a multitude of indicators point to this Russia connection. The website of XCritical as well as the scams working with the platform are available in English and Russian language. Moreover, we found some Russian payment processors integrated in the cashier.
We would like to learn more about this Russian venture in the EU.
Operating in Stealth Mode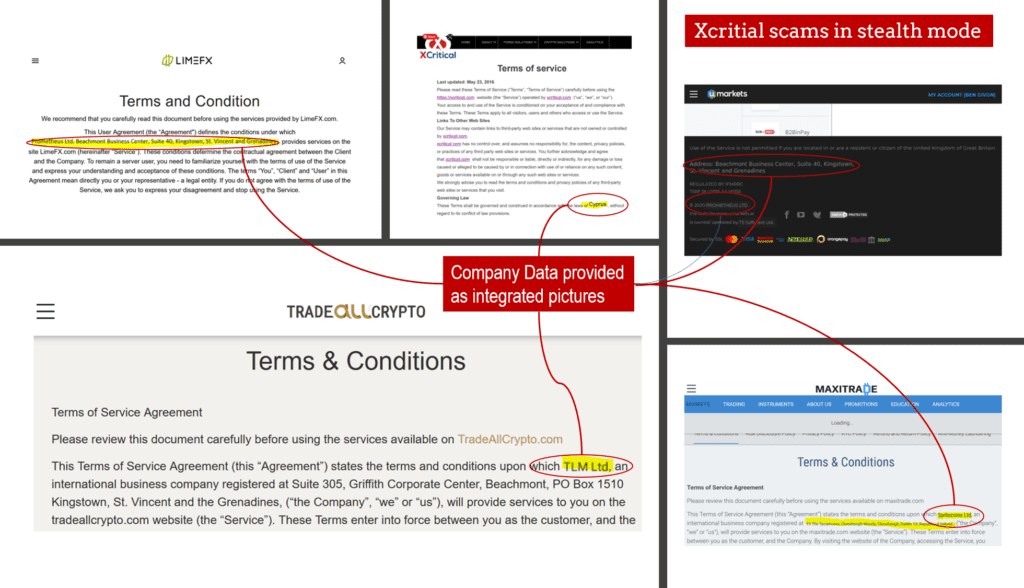 The XCritical scammers provide the names and address data of legal entities on their respective website no longer as text, but as images. This way they want to remain invisible to search engines.
Their white-label provider and online trading platform XCritical (www.xcritical.com) also deploys this "Stealth Mode", provides address and country information as picture only and does not even specify a legal entity on its website in the Terms of service. We assume that it is actually Quant ROI that advises their scam clients to work with this "Stealth Mode."
Available in Google Play and Apple App Store
Quant ROI offers XCritial App in the Google Play and Apple App Store. The scam brokers instruct their client clients to download and use XCritial for their trading. Moreover, Real PRO and Online Wallet apps are also available for free for download from Quant ROI.
Many broker scams in XCritical ecosphere
So far we have identified a large number of scams that work as a white label solution with XCritical from Quant ROI:
Legal entities on St. Vincent and the Grenadines are the main operators of the scams. These may have been founded by the notorious Wilfred Services Ltd and are usually registered at their headquarters in Beachmont, SVG.
A Finance Magnates report from July 2020 identifies Alexander Ivanov as one of the directors of XCritical. No additional information is provided about him.