It seems that the former people around the collapsed high-risk payment processor iPayTotal have developted a vast network of successor companies. Initially, OctaPay was a successor but since vanished again. Currently, Paypound and Payomatix and the crypto payment processors Cryptomatix and Kryptova are associated with Indian-British iPayTotal co-founder Ruchi Rathor. iPayTotal is active as a fintech software provider through companies in India and Portugal. Ruchi Rathor is still one of the driving forces behind these high-risk payment ventures with close African ties.
Key data
Brand
iPayTotal
Related brands
OctaPay
CryptoMatix
Payomatix
Kryptova
Paypound
Domains
www.ipaytotal.com, www.ipaytotal.global
www.ipaytotal.solutions, www.ipaytotal.group
www.cryptomatix.io
www.kryptova.biz, www.kryptova.golbal
www.payomatix.com
www.octapay.net, www.octaypay.fund
www.octapay.tech, www.octapay.com.br
Related entities
iPayTotal Ltd (UK) – insolvency
iPaySolutions Ltd (UK) – insolvency
IPT – Solutions PT (Portugal)
iPayTotal UÜ (Estonia)
iPayTotal Group UAB (Lithuania)
iPayTotal LLC (Delaware)
iPayTotal Pvt Ltd (India)
Payomatix Technologies Pvt Ltd (India)
Kryptova Biz Ltd (UK)
Self Pay IO Ltd (UK)
Related individuals
Ruchi Rathor (India), Madhumita Singh (British),
Anurag Pratap Singh (India), Anirudh Pratap Singh Rathor (India),
Aditya Williams (India), Sen Kugan, Chhavi Mishra (India)
Ola Daniel (US), Oluwole Ogunlade (Nigeria)
Varun Malhotra (India), Harshit Verma (India)
Paul Walker (UK), and counting
The narrative
Ruchi Rathor and her Indian partners Anurag Pratap Singh and Anirudh Pratap Singh Rathor, respectively, work closely with African financial services providers. They use legal entities in a wide variety of jurisdictions to implement their activities. Ruchi Rathor has worked with stage name Rebecca Baker for a long time.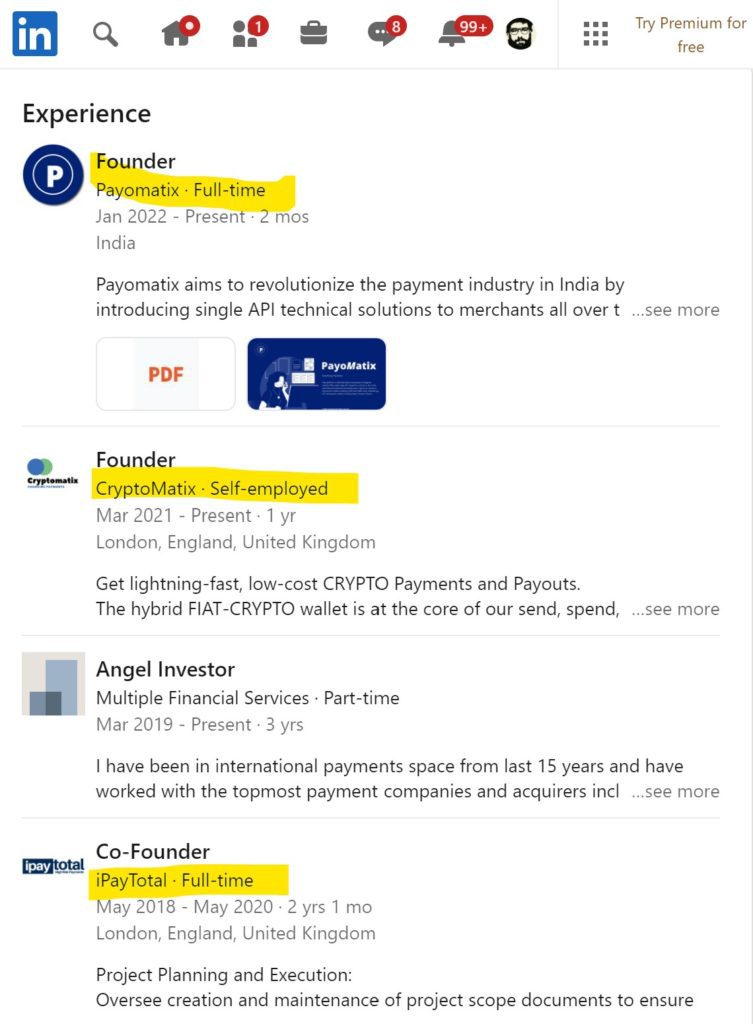 On her LinkedIn profile, Ruchi Rathor confirms that she is the co-founder and investor of several payment processors. Among them are Payomatix, CryptoMatix, and iPayTotal. We have whistleblower information that crypto payment provider Kryptova and Paypound are also part of Ruchi Rather's group. She also states to be engaged as an angel investor in multiples financial companies. Currently, she states Delhi, India, as her location. In the iPayTotal era, she purported to reside in the UK.
In her LinkedIn profile she calls herself as a constantly evolving dreamer, creator and achiever but forgets to mention that she is also a rip-off artist where many high-risk merchants have lost a lot of money.
The latest venture, Payomatix, emerged a few weeks ago and plans to revolutionize the Indian payment industry. That almost sounds like a dangerous threat given the blood trail it left behind with iPayTotal and OctaPay. Ruchi and her Indo-British team used to work with fake people and fake social media accounts to present themselves as big and honest organization. She certainly has a lot of experience in high-risk payments and perfectly understands to exploit the hardships of merchants in this segment for her own benefit.
We conclude that the technology for iPayTotal's various payment ventures will come from India and Portugal.
Preliminary conclusion
Based on the experience, we advise merchants not to work with payment processors associated with Ruchi Rathor and her network. Most recently, we have discovered Kryptova and Paypound several times as payment processors in broker scams.
Share information
If you have any information about Ruchi Rathor, her payment ventures and network, please share it with us through our whistleblower system, Whistle42.