Spread financial intelligence
First of all, we would like to thank all supporters of FinTelegram. Over the last three years since FinTelegram was established, we have been the target of fierce attacks on different levels. This happens when you fight against cybercrime and scams. But we have also received a lot of encouragement, support, and donations, which we used to evolve our business. In the next crucial step, we want our whistleblowers and supporters to participate in the success as owners of FinTelegram, thus unleashing the next level of whistleblower power. An experimental and for sure adventurous journey with the mission to protect investors in the dawning cyberfinance era.
FinTelegram Tokenization
Tokenization? This sounds sort of complicated, but it's not. We intend to dramatically scale up our business by tokenizing our shares, distribute them to our supporters and transform ourselves into a more decentralized business. How does it work? FinTelegram Investors Protection Ltd, as the owner of the various FinTelegram domains, tokenized its share capital via a smart contract on the Binance Smart Chain (BSC). The resulting tokens are called F42 and are proxies of the shares. The key take-aways of this tokenization are:
Asset-backed F42 tokens: The 5 million issued and outstanding FinTelegram shares were pledged for the 50 million F42 tokens created and constitute collateral. These securities back the F42 tokens.
Intrinsic Value: The Enterprise Value of FinTelegram represents the intrinsic value of the F42 Tokens; all future income and donations based on our financial intelligence power increase the token value.
Distributed Ownership: The F42 tokens embody all the rights associated with the shares. This includes the right to vote in shareholder meetings and the right to dividends, and the right to participate in the performance.
F42 Whistleblower Reward Program: Initially, 30% of the issued F42 token (15,000,000) will be made available for the newly created F42 Whistleblower Reward Program. Starting now, whistleblowers can earn ownership of FinTelegram through their reports and contributions.
In our fight against scams and cybercrime, we need to get faster, add more resources, and monetize financial intelligence. This is why we established the F42 Whistleblower Reward Program – to reward and motivate whistleblowers. By tokenizing FinTelegram and distribute the F42 tokens to whistleblowers, we want to align the interests of FinTelegram, its stakeholders, and contributors.
Whistleblower Reward Program and forum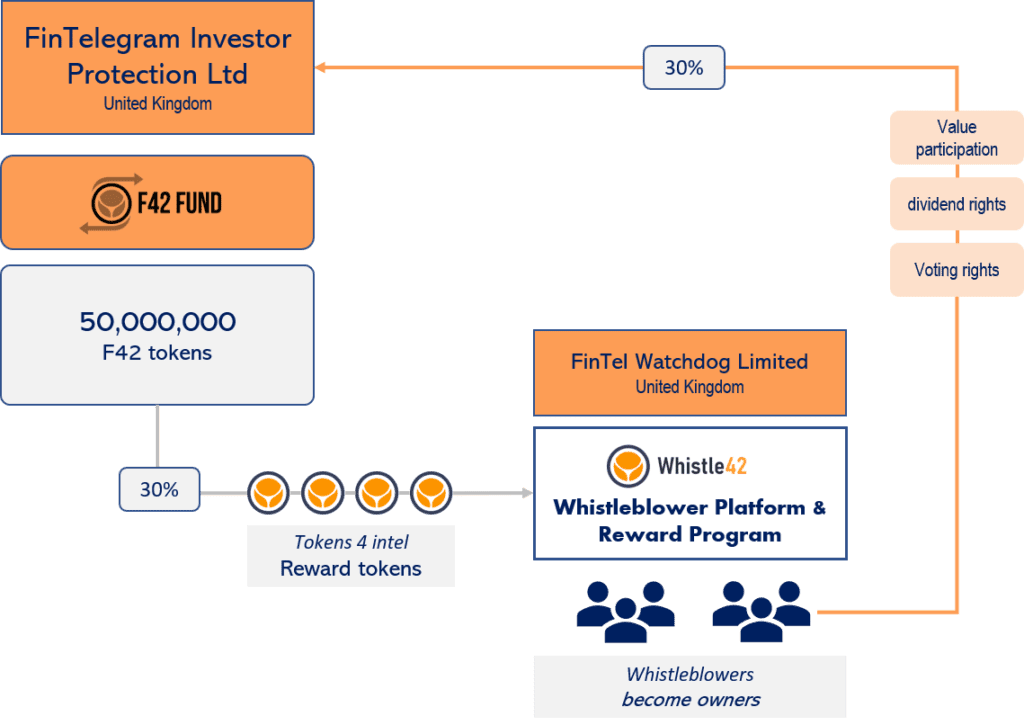 Crowdsourced financial intelligence is the very essence of our business model, and so are whistleblowers. To unleash whistleblower power, we have created a new whistleblower platform with the community platform Whistle42. Whistleblowers can (but do not have to) register on this platform and receive F42 tokens as a reward for their reports and contributions.
Another new feature of Whistle42 is that we are initially opening a forum on an experimental basis where whistleblowers can enter or discuss findings and opinions. F42 tokens will also be awarded as rewards for participation in the forum.
Join the experimental journey
We are starting this next phase of FinTelegram development as an experiment that can succeed but also fail. Whistleblowers and other contributors can join us as members of the Whistle42 community and as F42 token holders as owners.
For more information, please visit the Whistle42 website (www.whistle42.com). Would you please bear in mind that the tokenization project is experimental and will for sure have some flaws? Do not hesitate to report those flaws, and we do our best to fix them.