While the U.S. Department of the Treasury's Financial Crimes Enforcement Network (FinCEN) issued an order that identifies the virtual currency exchange Bitzlato Limited d/b/a Bitzlato (www.bitzlato.com) as a primary money laundering concern in connection with Russian illicit finance, the U.S. law enforcement indicted and arrested its Russian founder and owner, Anatoly Legkodymov. The Bitzlato website has been seized and shut down by French police and is no longer accessible.
Indictment, Arrest, And Shutdown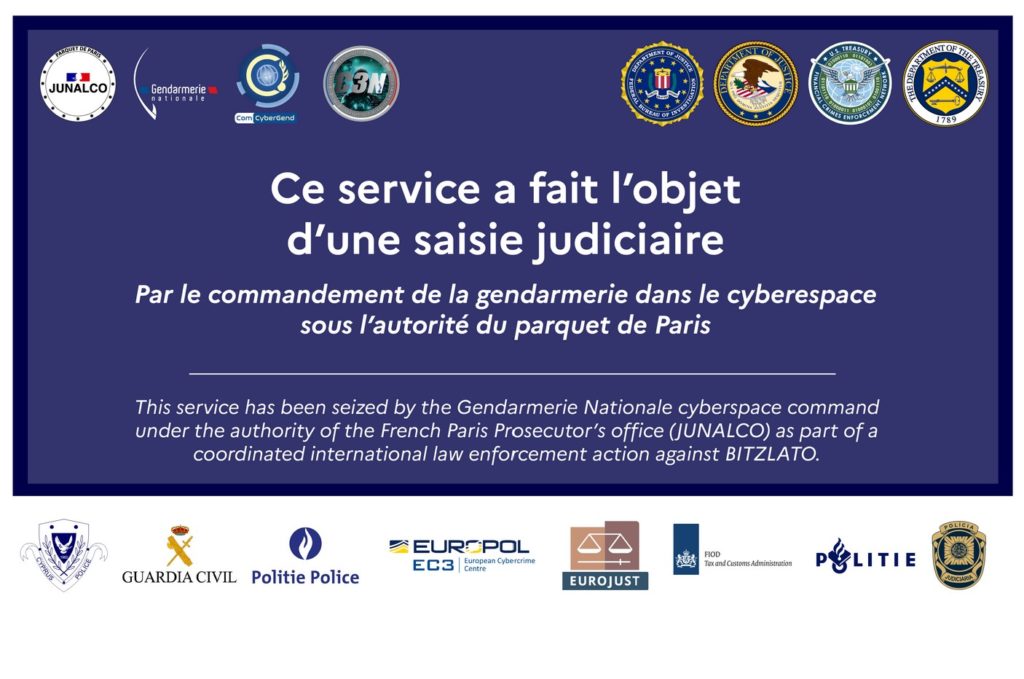 U.S. prosecutors unsealed an indictment against Bitzlato and its owner, the Russian national Anatoly Legkodymov, alleging that it facilitated the laundering of $700 million in tainted crypto tied to the now-shuttered dark-web market Hydra and millions more in ransomware proceeds. Legkodymov was arrested in Miami and is scheduled to be arraigned this afternoon in the U.S. District Court for the Southern District of Florida. French authorities seized and closed the Bitzlato website (screenshot left).
According to FinCEN, Bitzlato plays a critical role in laundering Convertible Virtual Currency (CVC) by facilitating illicit transactions for ransomware actors operating in Russia, including Conti, a Ransomware-as-a-Service group that has links to the Government of Russia.
"Bitzlato poses a global threat by allowing Russian cybercriminals and ransomware actors to launder the proceeds of their theft," "As criminals and criminal facilitators evolve, so too does our ability to disrupt these networks. We will continue to leverage the full range of our authorities to prohibit these institutions from gaining access to the U.S. financial system and using it to support Russian illicit finance."

Himamauli Das, Acting FinCEN Director
The Binance Involvement
Binance, the world's largest crypto exchange by trading volume, was named as one of the receiving and sending counterparties associated with Bitzlato, according to the order from the Treasury Department's FinCEN. Data from Arkham Intelligence shows that tens of millions of dollars flowed from Bitzlato through intermediate wallets to Binance, the world's largest crypto exchange.