In Dec 2021, the Italian Consob ordered the blackout of Binarium's websites for Italian consumers. The boiler rooms operate with Russian phone numbers and are located in Russia, Latvia, and Ukraine. Binarium is huge. According to the latest Similarweb statistics from December 27, 2022, almost 325000 people have visited the website in the last 28 days. Mainly from Eastern European countries. Stay far away and protect your financial health.
Key data
Brands
Binarium
Binarlum
Domains
https://binarium.com, https://binarlum.com
https://binarium.click,
https://binarium.global, https://binarium.trade
https://binarium.link, https://binariums.com
https://binariumthailand.com
Social media
Facebook
Legal entity
Binarium Limited (Cyprus)
Binarium Limited (SVG)
Headquarters
Moscow, Russia
Contact data
+ 7 (499) 703 35 81
+44(203)6957705
Jurisdictions
Russia
Cyprus
St. Vincent & The Grenadines
Latvia,
Ukraine
Payment processors
Sky Pay (Sky-Crypto), Itez, SticPay, WebMoney,
Perfect Money, AstroPay,
YooMoney, Monetix,
FreeKassa (FKWallet), Piastrix
Transferop Payment Gateway Ltd d/b/a PayoP
Warning
Consob, CNMV
The narrative
Binarium is a vast scam broker that has been operating for many years. Everything about it is fake. The address in Moscow is a virtual office address. We have not found any Binarium Limited in the directory of the Financial Services Authority in St. Vincent & The Grenadines. There is also no office at the given address in Nicosia. Nevertheless, Binarium is active with numerous domains in many countries.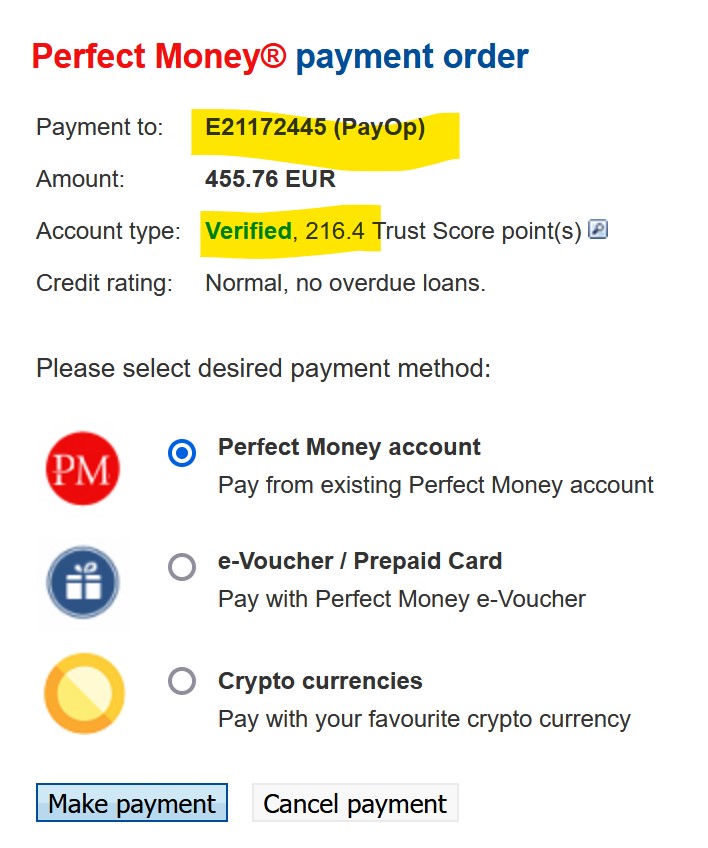 The Spanish CNMV and the Italian Consob have issued warnings in the EU. Binarium has also been placed on warning lists in Russia and Ukraine. On Trustpilot, Binarium holds a 2-star rating with a corresponding "Poor" trust level. Just stay far away.
At Perfect Money, Binarium customers' deposits are processed through the Canadian Transferop Payment Gateway Ltd d/b/a PayOp (see screenshot left).
Share information
If you have any information about Binarium, please share it with us via our whistleblower system, Whistle42.