Spread financial intelligence
In the last few weeks, we have noticed an increasing number of Lithuanian companies acting as illegal payment processors for scams and handling bank payments for their client-victims. The payments are made on the basis of fake invoices for alleged consulting services issued by these illegal payment processors. Recently we have uncovered Skylas UAB, Fuselma UAB, or Merelita UAB as such scam facilitators and money launderers. There are many more out there and we urgently ask investors to be super-cautious before paying an unrelated Lithuanian company for fake services.
How it works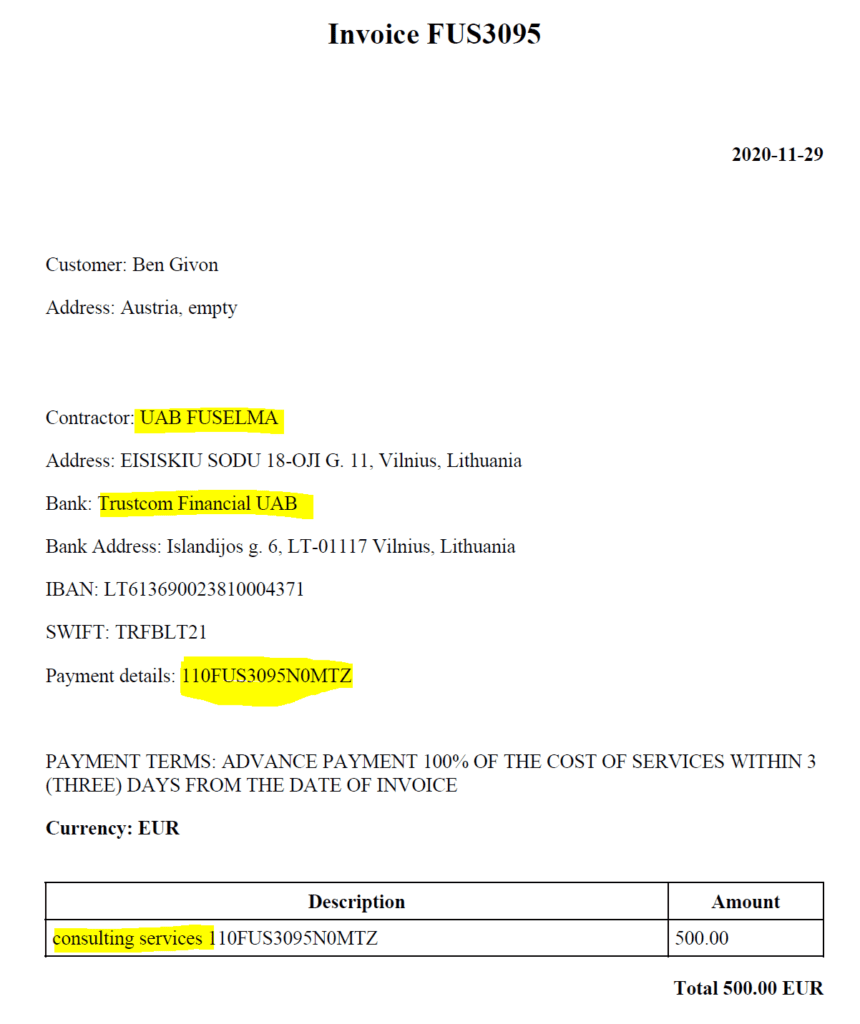 The scammers want to offer their potential victims bank wires as a means of payment in addition to credit and debit cards or crypto. For this purpose, they need companies that are willing to handle bank payments for them and launder fake invoices. Very often they use companies that are apparently active in other areas such as consulting, construction, or software. In this way, the payments received from customer victims can be disguised as legitimate proceeds.
The illicit payments for scams are processed as follows:
Client-victims of scam sites (unfortunately) want to make a bank deposit via the relevant scam payment site;
They click the "wire" option and consequently receive an automatically generated invoice with the name and data of the illegal payment processors.
The fake invoice contains a unique code (Payment details) that assigns the deposit to the respective scam and victim.
The payment processors then forward the received funds less their fat fee from their bank account to a scammer's bank account.
This is called money-laundering and thus also an issue for the involved banks and regulated e-Money Institutions.
The fake invoices are obviously not booked and taxed by the payment processors. Essential legal and tax elements of an invoice are missing (see pictured example).
Currently active payment processors
Currently, these Lithuanian companies are active as illegal payment processors for scams:
Many illegal payment processors do not operate their own websites. Neither does Skylas. Merelita (www.merelita.com) and Fuselma (www.fuselma.com), on the other hand, have almost identical websites of an alleged IT consulting and software development company focused on ERP. A fake!
Share information
We are convinced that there are many more illegal payment processors in Lithuania (and not only in Lithuania). Moreover, we are sure that the three above-mentioned scams have facilitated many more scams with their illegally provided payment services. If you have any information, we would be grateful if you would share it with us.