Spread financial intelligence
German prosecutors have not yet brought charges against the crypto-fraud scheme OneCoin and its principals, but are now taking action against the German payment processors involved. This is a somewhat strange approach and legally contestable. The public prosecutor's office in Bielefeld has brought charges against three people for money laundering for the OneCoin scam. which is not yet legally binding. German payment processors processed more than €360 million for the OneCoin Ponzi scheme.
The German OneCoin Charges
As reported by the German business magazine WirtschaftsWoche, the public prosecutor's office in Bielefeld filed charges against three defendants at Muenster Regional Court. As a court spokesman told WirtschaftsWoche, the prosecutors accuse two people of operating payment services without the required authorization and of having transferred more than €300 million from OneCoin investors to bank accounts at the Cayman Islands. A third accused is said to have been engaged in money laundering for OneCoin. He is said to have accepted that the crypto money was procured by the OneCoin fraud scheme.
German Payment Processors for OneCoin
At least one of the indicted is associated with the unauthorized German payment processor IMS International Marketing Services GmbH (IMS). In April 2017, the German regulator BaFin issued a Cease-and-Desist Order against IMS. The company is said to have laundered approximately €360 million for the OneCoin Ponzi scheme between December 2015 and December 2016. The accounts were frozen with a balance of €29 million. IMS has processed the money to OneCoin Ltd, Dubai, OneLife Network Ltd, Belize, and One Network Services Ltd, Bulgaria. BaFin has also issued a Cease and Desist Order against these companies.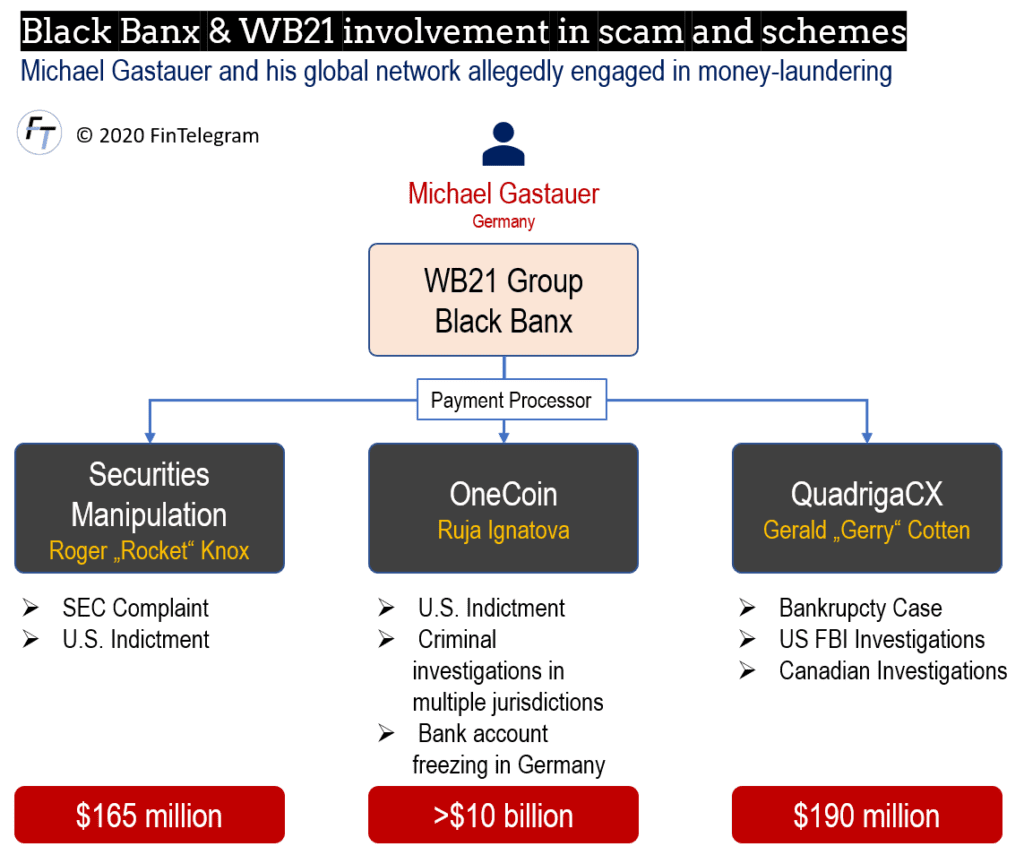 According to the German lawyer Jens Reime, the WB21 Group (now Black Banx) of the German Michael Gastauer has also been acting as a payment processor for OneCoin (Source: announcement on the law firm's website). Clients of the law firm have also invested their money via IMS (bank account at Commerzbank), through the financial service provider WB21 GmbH based in Berlin (account at Postbank), or WB21 PTE. LTD, based in Singapore (account with Perlo Paslaugos, Vilnius Lithuania with BIC PEPGLT21XXX). Early 2018, the U.S. Securities and Exchange Commission has filed a fraud complaint against the U.S. citizen Roger Knox and Michael Gastauer. Moreover, WB21Group ( now Black Banx) have also been involved in the huge Canadian crypto scheme QuadrigaCX as a payment processor
We currently have no information about whether the people of the WB21 Group and/or Black Banx are also affected by the German charges. It would make sense in any case.