In September 2020, an Austrian court sentenced the Israeli citizen Gal Barak to four years in prison and a payment of around €4.2 million for investment fraud and money laundering. He was the boss of the cybercrime organization E&G Bulgaria. Of that, €2.5 million has already been seized by authorities from the bank accounts of Gal Barak and his companies. Barak should have paid another €1.7 million within 14 days to the 212 victims represented by EFRI in the trial. Barak failed to pay and fulfill the court order properly. Further legal action against Barak is therefore imminent.
Court ordered restitution payments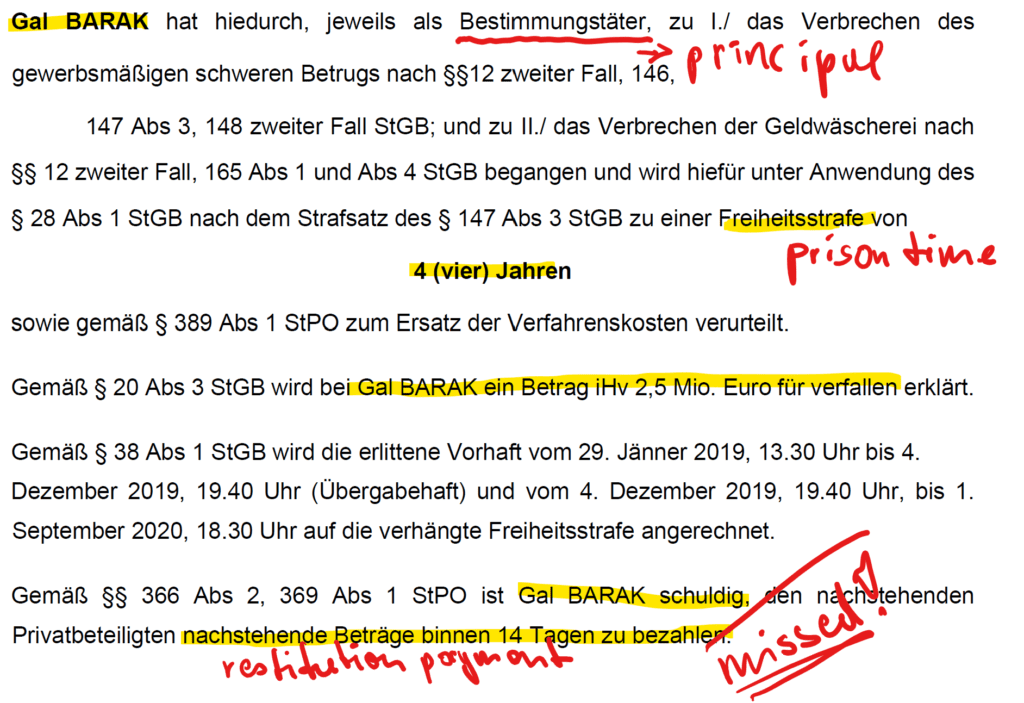 The verdict against Gal Barak was a massive success for the European Fund Recovery Initiative (EFRI) and the victims it represented. EFRI's principal Elfriede Sixt and EFRI's lawyers were present at all court meetings and represented the interests of the victims.
The court found the fraud against the victims proven according to the §366 Austrian Criminal Code and ordered €1.7 restitution payments million. In addition to the €2.5 million that had already been seized and forfeited. Gal Barak was ordered to make the restitution payments within 14 days. Please see the court order left (in German). However, he failed to make the restitution payments. No surprise here.
Private jet to Israel
Despite the failed court obligation to make the restitution payments, Gal Barak was released from prison on parole in the summer of 2021. He flew to Israel on a private jet. At the time of his release, there was an open extradition request from Germany. The public prosecutor's office in Bamberg (Munich) also wanted to charge him for the defrauding of German victims. Barak's lawyer objected to this. Currently, the case is before the European Court of Justice for a decision.
While Barak enjoys his freedom with plenty of money, his lieutenants walk into trials and prison in Germany. They are punished even harder than their former boss:
Last week, Barak's lieutenant Tal-Jacki "Jacki" Fitelzon pleaded guilty at the trial in Munich and will receive a prison sentence of 6.5 to 7 years. In addition, he has acknowledged the victims' claims. EFRI also represented the victims in court in this case. Whether and when they will see their money is currently an open question.
Kfir Levy, another lieutenant of Gal Barak, was arrested in October 2021 in the Philippines. He is also expected to be indicted in Munich soon.
EFRI, together with lawyers in Austria, Germany, and Israel, is planning legal action to obtain Gal Barak's money for the victims. In addition, a criminal complaint will be filed, it is heard.
Share intel about Gal Barak
If you have any information regarding Gal Barak's whereabouts, please let us know. We will forward this information to EFRI, their lawyers, and the authorities.