Last updated on December 1, 2019
Belgrade has become a popular location for the Israeli-Bulgarian scammer scene to operate illegal boiler rooms. Parogan DOO is one of the oldest and most successful boiler rooms in Belgrade. Successful in this context sounds cynical, because the success of a boiler room is measured by how much money its agents have stolen from retail investors. According to the information available to us, Parogan is part of the Israeli scam network around Gal Barak and Gery Shalon and their Russian partner Vladislav Smirnov. In fact, hundreds of Israelis work in various boiler rooms in Belgrade and Serbia. A good deal for the local lawyers (if they pay).
Mission: Attacking European retail investors
Parogan is a huge and aggressive boiler room (www.parogan.com). Only at the end of June 2019, Parogan searched on LinkedIn and on Facebook for employees for the German–speaking markets for the operator Ingoten OÜ. This company operates the illegal and fraudulent brokers Scams BrighterTrade and FXTradeMarket. The Parogan Boiler Room agents "look after" the clients of these scams, i.e. they are the actual perpetrators.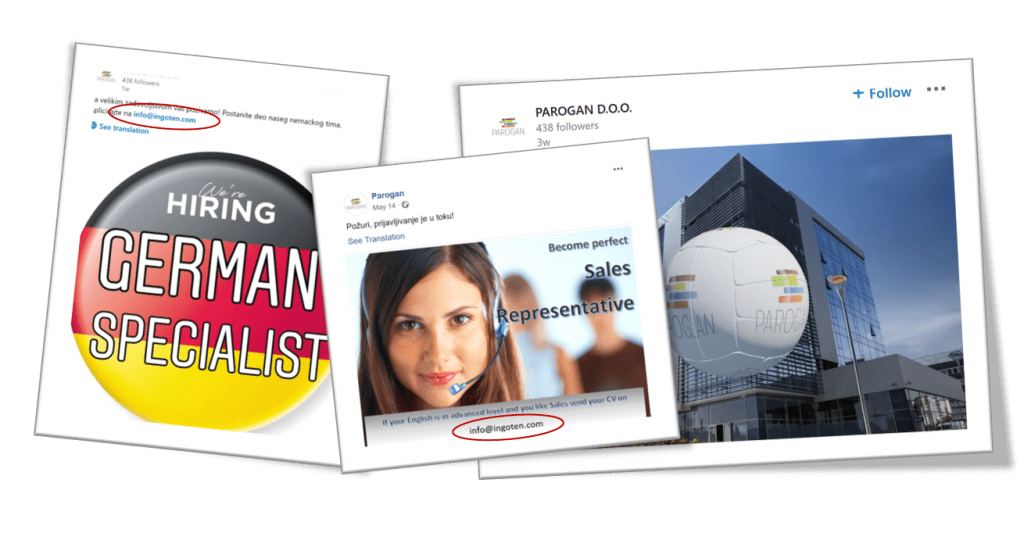 But Parogan has also massively attacked retail investors in the United Kingdom. Some of the schemes operated by Parogan, such as Greenfields Capital, GFC Investment or BrighterTrade, have also targeted retail investors in the UK. The many complaints have prompted FCA to issue the relevant investor warnings in 2018 and 2019 against Ingoten OÜ and their scams.
Those regulator warnings do not bother anybody at Parogan. Those perpetrators know they're scammers, and they're proud of it. They are on a mission to attack European retail investors and feel somehow entitled to do so. According to the information available to us, Parogan is supposed to have about 200 employees at the address Milutina Milankovica 9 D 5 in Belgrade. These Boiler Room agents operate several scams and focus primarily on the German-speaking markets in Germany, Austria, and Switzerland.
History and People
Parogan DOO was established in March 2017 under the name TFM d.o.o. and a few months later sold to the Bulgarian Vera Nachkova Andonova. In 2018, the Belgrade-born German Max-Sebastian Winterfeldt, a lawyer with an interesting career, became director of the company. Winterfeldt (LinkedIn profile) worked as a partner for the Belgrade law firm Borozan & Winterfeldt and allegedly was involved in a few affairs in the past 15 years involving local media companies, where he was acting as manager. He has also been working for the Austrian companies Hypo Alpe Adria and Porsche Leasing.
Andonova (LinkedIn profile) is the owner of the Bulgarian City Consultants Ltd, a company specializing in the construction of such company structures. It also acts as a nominee shareholder and a nominee director for many of these schemes. Of course, she knows the beneficial owners and earns her living by working for them.
Companies and schemes involved
Parogan DOO with Vera Nachkova Andonova
Premium Peak Ltd (UK) with Vera Nachkova Andonova
Lipton Markets Limited (Marshall Islands)
Dartalon Ltd (St. Vincent and the Grenadines)
Ingoten OÜ (Estonia) with Atanas Georgiev Vangelov
Kinteka OÜ (Estonia) with Atanas Georgiev Vangelov
Solenic OÜ (Estonia) with Vera Nachkova Andonova
The Bulgarian Georgi Atanasov Vangelov, who works alongside Vera Andonova as a director in the various scheme operating companies, is also likely to be only a nominee director (a so-called "monkey").
Schemes associated with Parogan:
Greenfieds Capital – www.greenfieldscapital.com
GFC Investment – gfcinvestment.com
BrighterTrade – www.brightertrade.com
FXTradeMarket – www.fxtrademarket.com
Bitxplace – www.bitxplace.com (crypto payment services provider)
The Israel Connection
According to information available to FinTelegram, the beneficial owners and operators behind Parogan are part of the notorious Israeli scammer network of Gal Barak, Gery (Gabi) Shalon and their Russian partner Vladislav (Vlad) Smirnov. The Israeli Eliran Oved allegedly works in Belgrade near Parogan and is the liaison officer to Israel.
Gal Barak and his E&G Bulgaria operate My Markets DOO, another boiler room in Belgrade under the leadership of Lieutenants Jesse Tally and Dor Pelleg. The local nominee director is the Serbian Katarina Kojic. Both boiler rooms are located at Bulevar Milutina Milankovića in Belgrade.