The BDSwiss Group d/b/a BDSwiss, Swiss Markets, and BDS Trading. These are the trading names of BDSwiss Holding Ltd, regulated by the Cyprus CySEC. The offshore entity BDS Markets, regulated by FSC in Mauritius is part of this BDSwiss Group. The FCA banned BDSwiss Group in June 2021 The German BaFin launched an investigation saying that BDS Markets has no permission to offer ist regulated services in Germany. In our review, all CySEC-approved domains were redirected to the offshore broker websites. Here is another update!
Key data
The narrative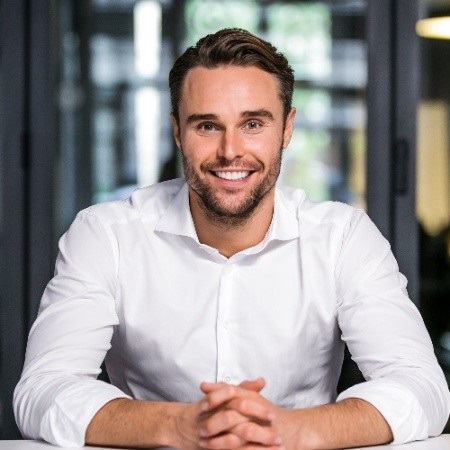 Alexander-Wilhelm Oelfke (pictured left), a Berlin-based entrepreneur, is the controlling person of the BDSwiss Group. He is registered as a director with the CySEC-regulated entity as well as with the entities in Germany and Seychelles. In this respect, it is fair to say that this group is centrally controlled.
The BDSwiss Group has apparently designed its company and website structure to systematically circumvent European regulatory requirements. According to the website, the offshore broker Swiss Markets (https://swissmarkets.com) is operated by the Cypriot BDS Swiss Markets Global Services Ltd, which also acts as a payment processor for BDS Markets in Mauritius.
According to the FCA, the BDSwiss Group's offshore brokers did not comply with the FCA's restrictions on the marketing and sale of CFDs to retail consumers. The FCA identified serious concerns with the sales and marketing practices of the BDSwiss Group, including the use of misleading financial promotions which made unrealistic claims about the likely returns. Many investors were attracted to the firm via social media promotions.
Non-compliant offshore onboarding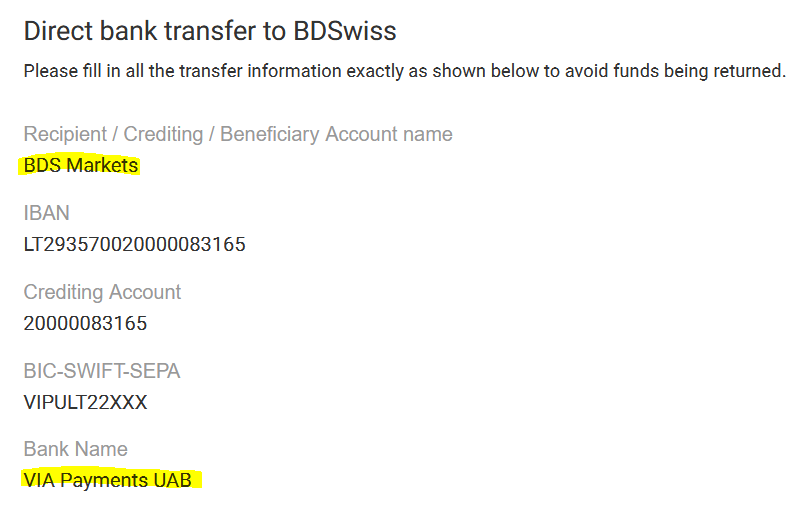 In our review on April 11, 2022, the CySEC-approved domains were redirected to the websites of the offshore brokers. This means that the onboarding of new clients from Europe is done exclusively offshore.
In our review, we could have made unlimited deposits even before verifying our email and identity. This is not a problem, especially with cryptocurrencies. For bank transfers, the offshore entity BDS Markets uses an account with VIA Payments in Lithuania (screenshot left).
This offshore onboarding without proper KYC/AML procedures violates financial laws, anti-money laundering requirements, and regulatory requirements.
Preliminary conclusion
The BDSwiss Group, as well as other CySEC CIFs, systematically use offshore onboarding to circumvent and violate ESMA and CySEC regulatory requirements. Neither the onboarding procedure (without proper KYC/AML) nor the offered leverage levels comply with regulatory requirements in UK and EU. This offshore onboarding is done willfully and knowingly. The payment options are designed for European customers with SEPA transfers and accounts in the UK or EU.
Clients of offshore entities are not entitled to investor compensation schemes or other regulatory intervention measures. They are also not entitled to assistance from Financial Ombudsman institutions.
Share information