On July 8, 2020, probably the biggest European financial cybercrime trials ever start in Vienna. Prosecutors charge Gal Barak, one of the major Israeli binary options and broker scammers, of investment fraud and money-laundering. With his scam brands XTraderFX, SafeMarkets, Golden Markets, CryptoPoint, or OptionStars he has defrauded tens of thousands of victims in Europe out of hundreds of millions of Euros. Barak's cybercrime organization had its headquarters in Sofia, Bulgaria. There, E&G Bulgaria EOOD (formerly E&G Finance) managed by Barak and his wife Marina Barak (previously Marina Andreeva) acted as a holding company through boiler rooms in Serbia, Bosnia-Herzegovina, Ukraine, and Bulgaria.
A key element in the processing of payments from victims and for the money-laundering of E&G Bulgaria was the UK registered GPay Ltd with the Bulgarian director Georgi Komisarov. The UK authority Insolvency Service announced that Gpay was closed by the UK authorities with effect from 23 June 2020 because the fraud was obvious.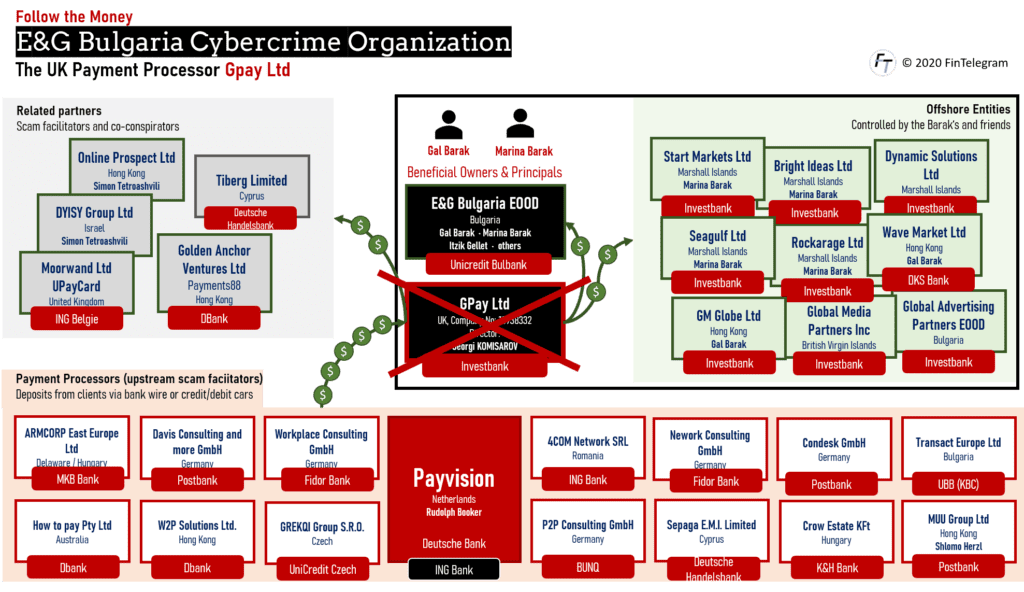 Following complaints, however, the Insolvency Service conducted confidential inquiries into GPay's activities before investigators uncovered that at least 108 clients claimed they had lost in total just under £1.5 million while using the company's online trading platform. Consequently, GPay was wound up in the public interest on 23 June 2020 in the High Court before Deputy Insolvency & Companies Court Judge Baister.
We welcome the court's decision to wind-up GPay as it will protect anyone else becoming a victim. This scam should also serve as a warning to anyone who conducts trading online that they should carry-out appropriate checks before they invest any money that the company is registered and regulated by the appropriate authorities.

David Hill, a Chief Investigator for the Insolvency Service
Tens of millions of stolen funds were laundered via GPay and inverted payment processors like Payvision or B2G. Money from European consumers and small investors. However, the UK Insolvency Service has discovered only a fraction of the actual criminal activity of GPay and the network behind it. The full extent of the cybercrime organization of Gal Barak and his friends was gigantic and global.
From 8 July 2020, the court in Vienna will hopefully also make the best possible attempt in the public interest to investigate the truth about Gal Barak, his E&G Bulgaria, and the huge broker Scam. We will report from the courtroom. Stay tuned!