We started a series a few days ago on the high-risk payment activities of ING subsidiary Payvision and its U.S. partner T1 Payments. Currently, the two are being pursued by U.S. merchants with fraud charges. FinTelegram has been working with attorneys to analyze and report on the lawsuits. ING announced the closure of Payvision in October 2021.
T1 Payments LLC was a VISA- and Mastercard-registered Payment Facilitator (PAYFAC) until 2017 in the U.S. and had a contract with WorldPay (then dba Vantiv). This industry-leading payment processor processed more than 20 billion transactions per year at the time. In March 2017, Vantiv filed a fraud complaint in the U.S. against T1 Payments. The latter subsequently had to process its U.S. customers through Payvision up to at least the summer of 2021. However, the Dutch payment processor was not authorized to operate in the U.S. Thus, they engineered a unique solution.
The Vantiv Fraud Complaint
The fraud complaint alleged that T1 Payments invented fictitious companies to defraud Vantiv. In addition, T1 Payments allegedly defrauded its merchants and stole money. Finally, Vantiv alleged that T1 Payments set up fake merchants, used its bank account, and then used stolen credit card numbers to submit hundreds of fraudulent card transactions. The money allegedly then ended up in the T1 Payments bank accounts. In May 2018, T1 Payments settled with Vantiv and apparently refunded the money.
However, the credit card networks revoked T1 Payments' registration as a Payment Facilitator after the Vantiv lawsuit. Around that time, the company's founder and CEO, Donald Kasdon, was put on the so-called MATCH list, an industry blacklist for the card payments sector.
The Payvision Engineering
After Donald Kasdon and his T1 Payments could no longer operate in the U.S. at the latest with the Vantiv fraud lawsuit, Kasdon applied to Payvision for support. However, since Payvision is legally not authorized to provide acquiring services in the U.S. Donald Kasdon and his family had to establish companies in EEA to circumvent these regulatory obstacles.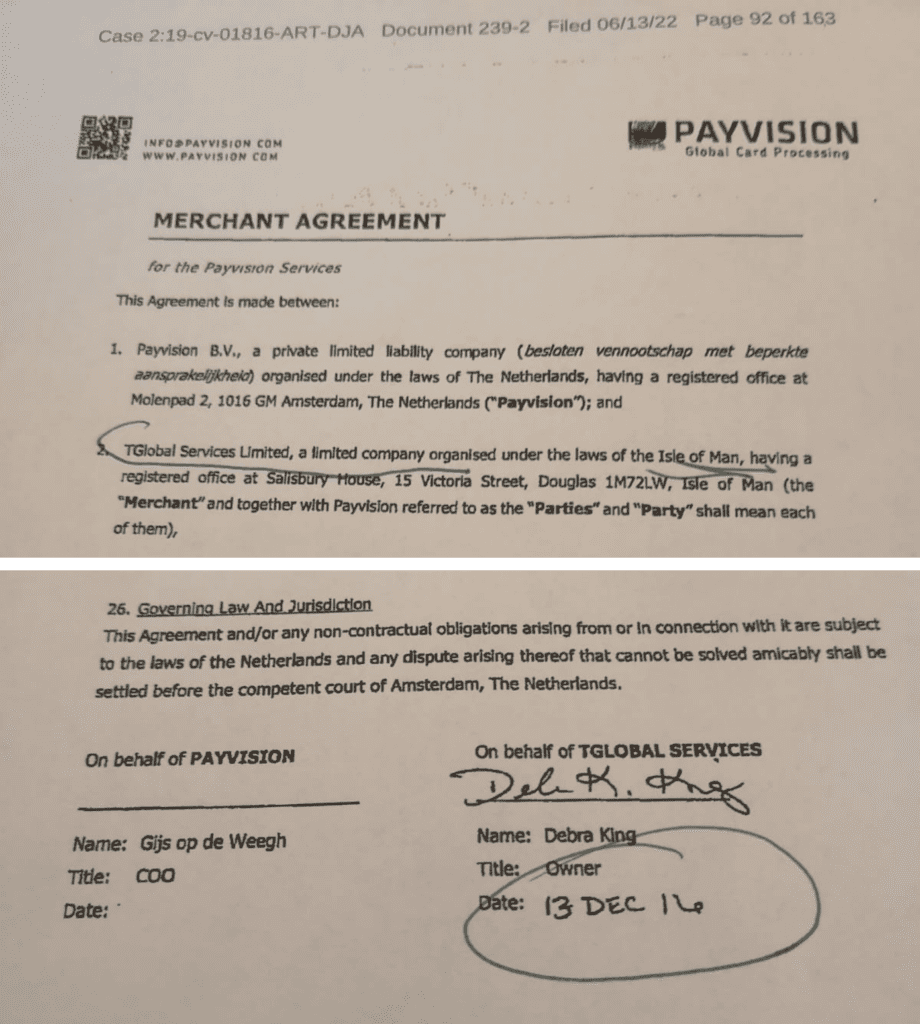 Below is the timeline of the EEA companies set up by T1 Payments and its individuals to process its US merchants via Payvision:
On 13 January 2015, Donald Kasdon applied for a partnership with Payvision, which Payvision CEO Rudolf Booker approved on 15 February 2015.
On 11 March, Donald Kasdon established T1 Payments Limited in the UK, where his mother, Debra King, is registered as director and shareowner (no website, no employees, a WeWork office). As of 16 April 2015, Payvision entered into a Merchant Agreement with the UK company. According to the Companies House filed, the company has been dormant until today. After a lot of chargeback requests and fraud alerts, Payvision had to end the first trial of cooperation with the UK T1 Payments Limited already on 8 July 2015
According to US legal complaints, Payvision CEO Rudolf Booker personally advised Donald Kasdon to establish a shell company in the Isle of Man ("due to the preferable lax rules" (sic)) to continue the cooperation. Thus, Kasdon's mother, Debra King, established TGlobal Services Limited on the Isle of Man on 7 December 2016 (no website, no employees). As of 13 December 2016, a merchant agreement was entered into with Payvision. The company was dissolved in 2020.
In April 2018, TGlobal Services Ltd was established in the UK. Kasdon's mother, Debra King, and his fiancée Amber Fairchild were installed as directors. The company had no website and no employees. Up to today, the company has filed only dormant accounts. Already as of 2 July 2019, the Companies House threatened a compulsory strike-off of the company.
In October 2018, the now FCA-regulated Pixxles Ltd was established by his (former?) fiancée Amber Fairchild.
On December 13, 2016, Kasdon's mother, Debra King, signed a Merchant Agreement with TGlobal Services Limited in the Isle of Man with Payvision B.V. According to material filed by Payvision in the US claims in November 2017, PAYVISION signed a payment service provider contract with T Global Services UK – although TGlobal Services UK had not yet been founded at that time and did not have a payment facilitator license with VISA or Mastercard
Dormant Companies To Disguise US Business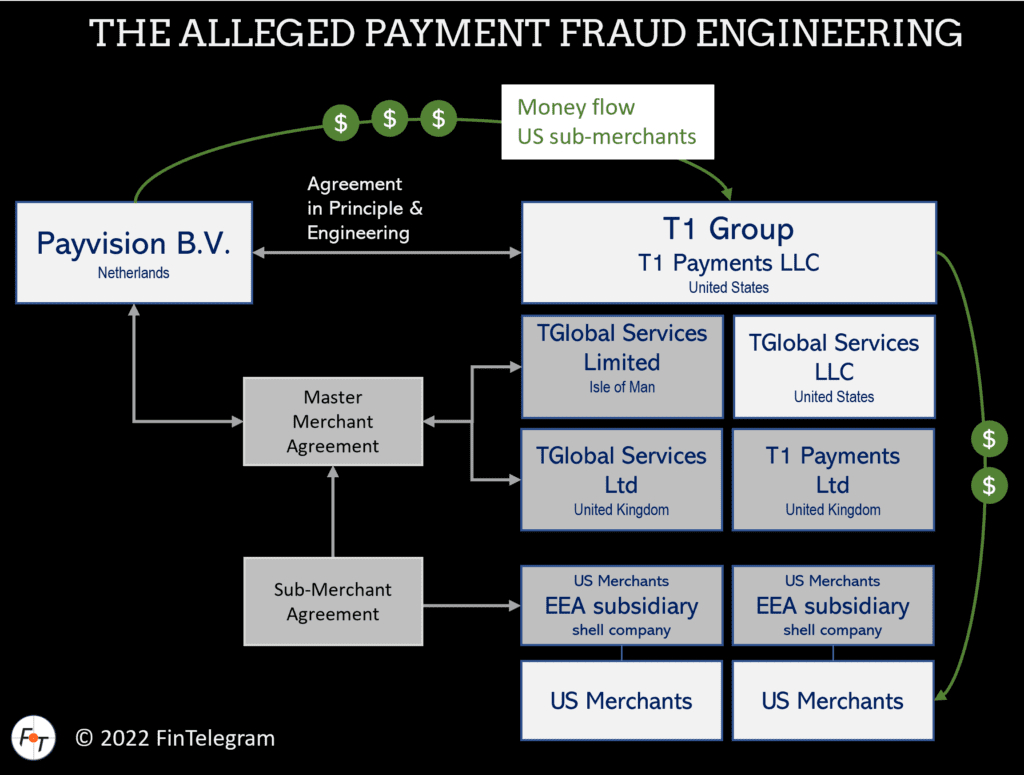 In fact, however, these EEA companies in the Isle of Man and the UK were dormant from the beginning and, therefore, only "paper companies" with no activities except to sign the agreements with Payvision. They had neither offices nor bank accounts, let alone any employees.
According to the allegations in the U.S. lawsuits, Payvision payments were routed directly to the U.S. bank accounts of TGlobal Services in Nevada. The EEA entities were listed as so-called Master Merchants with Payvision.
T1 Payments US high-risk customers (Porn, KRATOM, MLM) were processed as EEA sub-merchants. To do so, T1 Payments established EEA subsidiaries for their high-risk US customers. One of these US clients was the New U Life Corporation.
On January 14, 2021, New U Corporation filed its First Amended Counterclaim ("FACC") to add claims for fraud, conversion, civil theft, money had and received, civil RICO, and other causes of action against T1 Payments, Donald Kasdon, Debra King, Amber Fairchild, T1 Payments Limited (UK), TGlobal Services Ltd (UK), and Payvision B.V.
Having lost its registration and ability to offer legitimate processing services in the U.S., T1 "illegally "aggregated" merchant transactions and processed them using master merchant accounts held in the name of T1's foreign alter ego companies, T1 Payments Ltd. ("T1UK") and TGlobal Services Ltd., without the merchants' knowledge.

New U Life Corporation in a Court Statemen (Case: 2:19-cv-01816)
Note: Payvision B.V. is still a licensed Payment Institution supervised by the De Nederlandsche Bank.
The Pixxles Question
New U Life by now also added Donald Kasdon´s new legal Pixxles Ltd entity to its claim.
New U Life's lawsuit alleges that the U.S. entity was drained during the many lawsuits against T1 Payments. At the same time, FCA-regulated Pixxles received capital increases of about GBP 2.8 million. The New U Life lawsuit suggests that this money came from Donald Kasdon or T1 Payments.
But we will explore the Pixxles part in detail in the next report.
Share Information
If you have any information about T1 Payments, Pixxles, Payvision, or the individuals involved, please let us know through our whistleblower system, Whistle42.