The Similarweb September statistics came out and show that the number of visitors to the website of Cypriot-German payment processor Payabl (formerly PowerCash21) increased tenfold in Q3 2022 – from just under 15,000 to almost 140,000. Similarweb says that more than 55% of website traffic has been sourced from porn sites and just under 35% from gambling, betting, and lottery sites. Payabl is thus likely to have replaced the collapsed Wirecard in Germany as the high-risk payment processor, Similarweb suggests!
Key Data
The High-Risk Merchant Legacy
Paybl.cy Limited is a Payment Institution regulated by the Central Bank of Cyprus and was founded in Germany and Cyprus as PowerCash 21 around 2010 by the former Wirecard managers and partners Ruediger Trautmann, Ayelet (Fruchtlander) Knoechelmann, Frank Schoonbaert, and the Israeli Nissim Zarfati.
The Payabl founders were already doing the best business as payment processors in the gambling sector before their time at Wirecard. Various media reports and financial analysts reported that the payabl founders Trautmann and Knoechelmann brought their high-risk experience to Wirecard, which has done a significant part of its transaction volume with high-risk merchants from the gambling, porn, and online trading sector.
The Israeli conviction: the Payabl co-founder Dietmar Knoechelmann, a German-Israeli dual citizen, was convicted in Israel in November 2016 of abetting fraud in the Israel Credit Cards Cal Ltd (ICC-Cal) money laundering scandal. He pleaded guilty to helping deceive Visa, Mastercard, and US authorities by helping to process tens of millions of dollars of payments to online gambling websites illegally targeting Americans. He carried out this fraudulent activity between 2006-2010 while he was CEO of the Wirecard subsidiary Wirecard Payment Solutions.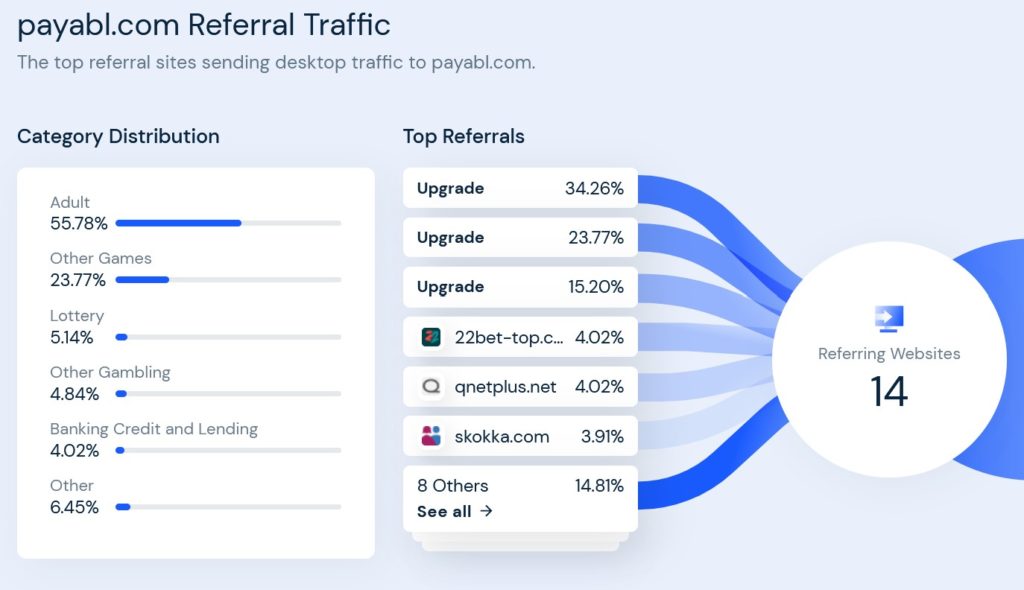 In this respect, Payabl is evidently emulating Wirecard's business model, the latest Similarweb suggests. The analysis shows, for example, that more than 55% of referral traffic comes from porn sites and around 35% from online gambling, betting, and lottery sites.
Moreover, the analysis of audience interests shows that the largest part of Payabl's website visitors is associated with the porn and gambling sector.
The Consolidated Wirecard Satellite Firms
Further, that both Trautmann and Knöchelmann are officers to a Cypriot registered Powercash21 Limited. Hence, evidence suggests that Powercash21 has been in existence while both Trautmann and Knöchelmann were in office at Wirecard.

Zatarra Wirecar Report, page 53
The Zatarra Wirecard Report suggests that Dietmar Knoechelmann (as well as his wife Ayelet Fruchtlander Knoechelmann) and Ruediger Trautmann worked for the vanished Swiss-German payment processor Inatec. At the same time, both were still executives at Wirecard. Furthermore, the report concludes that there would be "substantive evidence to suggest that Inatec is under the control of Wirecard."
According to the German company register, Inatec Solutions GmbH was merged with Payabl Solutions GmbH in April 2022. Thus, the former Wirecard satellite companies apparently find themselves in the Payabl Group.
While Ayelet Fruchtlander Knoechelmann co-founded the company with her husband and Ruediger Trautmann, the latter is the CEO of the German Payabl Solutions GmbH.
Ugne Buraciene (pictured left) presents herself as the CEO of the Payabl Group. She is also the Cyprus Country Ambassador of the European Women Payments Network (EWPN) and an advisor of Klarpay.
The Klarpay Connection
Payabl Group has recently expanded its network and led a CHF3 million investment for the Swiss-Cyprus fintech Klarpay.
Read the Klarpay reports here on FinTelegram
Share Information
If you have any information about Wirecard, Payabl, and the people involved, please let us know via our whistleblower system, Whistle42.