Errante is the trading name of the investment company Notely Trading Ltd, which CySEC regulates with license number 383/20. Errante also operates two offshore mutations via Errante Trading LLC, St. Vincent & The Grenadines, and Errante Securities (Seychelles) Ltd, regulated by the FSA Seychelles. For unknown reasons, the Seychelles mutation switched the domain Errante.com to Errante-Global.com in December 2022. Here is our initial review.
Key Data
Short Narrative
When offshore onboarding with Errante, clients must first confirm that they have not been solicited and understand that they are not entitled to MiFID protections for retail investors:
I hereby wish to confirm that neither you, Errante Securities (Seychelles) Ltd (the "Company"), or any other firm or individual, have marketed or promoted to me, or my associates, any of your financial products or investment opportunities. By signing this letter, I understand that I will register for an account with Errante Securities (Seychelles) Ltd, which is authorized and regulated by the Financial Services Authority of Seychelles (FSA). I understand that the Company falls outside the European regulatory framework and is not in scope of (among others) the Markets in Financial Instruments Directive (MiFID) II. In addition, there is no provision for an investor compensation scheme.

Errante Global disclaimer
In our review on January 31, 2023, we registered as an EEA resident with both (identical) Errante offshore mutations (Errante-Global.com and Errante.net) without any problems. The EEA countries, Australia, and most other jurisdictions worldwide are included in the drop-down menu suggesting that EEA clients are target groups.
Pre-KYC Deposits And Leverage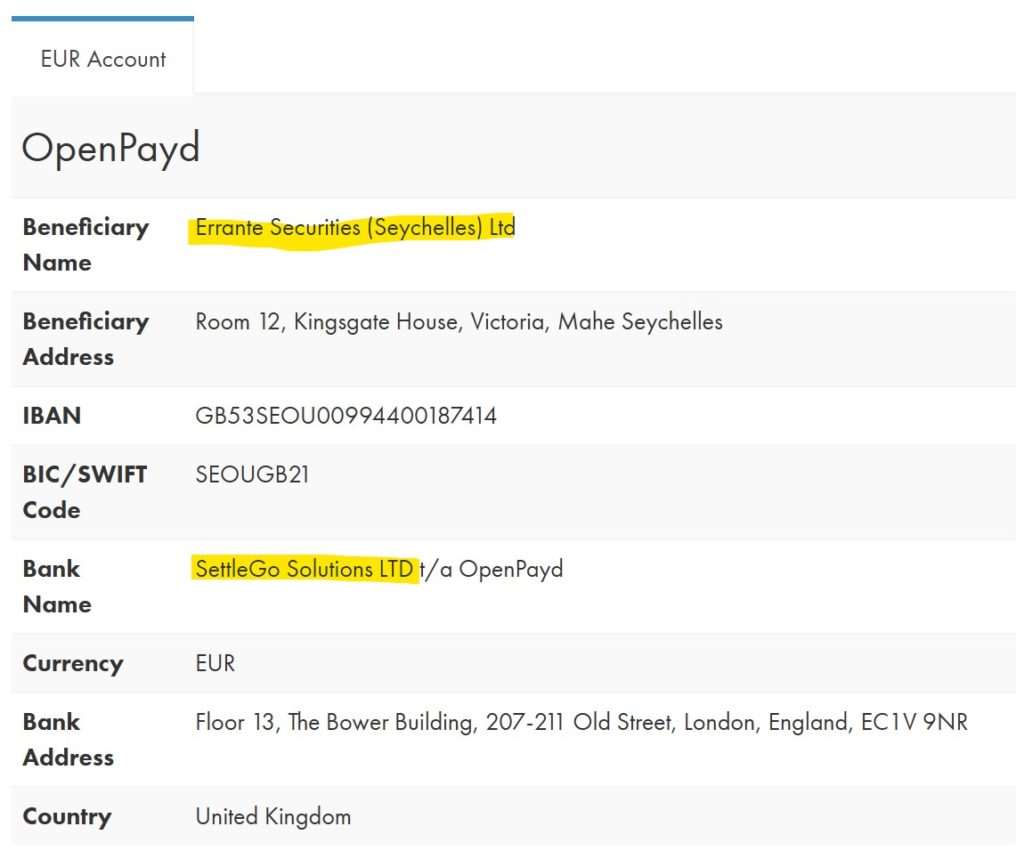 At CySEC-regulated Errante, the first deposit is possible only after a full KYC check. However, this is different when onboarding at the scheme's offshore mutations.
Even before the KYC check with identity and address verification, we could have theoretically made unlimited deposits to the offshore entity Errante Securities (Seychelles) Ltd bank accounts via crypto deposits and bank wire.
This offshore entity maintains bank accounts with FCA-registered e-Money Institution SettleGo Solutions Ltd, a company of the OpenPayd group. This approach of theoretically unlimited pre-KYC deposits violates the regulatory framework of ESMA and CySEC.
By registering with the offshore mutations, EEA customers also have an account with a leverage of up to 1:500. Retail brokers in ESMA's regulatory regimes can offer retail clients a maximum of 1:30 leverage. In this respect, Errante also violates the regulatory provisions.
Traffic Analysis
The two offshore mutations are twenty times larger than the CySEC-regulated broker. While the websites of the offshore mutations were visited by more than 137,000 people in Q4 2022, only under 6,000 people were on the website of the CySEC broker (Errante.eu).
Among the top 5 visiting countries of the offshore mutations are also EEA countries like UK, Germany or the Netherlands as well as the United States.
The Errante broker scheme is specifically strong in Iran. 30% of website visitors to the regulated entity and 44% of visitors to the Errante Global website came from Iran.
Preliminary conclusion
We generally advise retail traders not to work with offshore brokers, even if they are not a scam, especially in high-risk segments like CFD, forex, or crypto. As a client of an offshore broker, EEA residents are also not entitled to investor compensation schemes or financial aid from Financial Ombudsman Services.
This also applies to offshore brokers that have a regulated affiliate in the EEA, such as Errante. We have numerous reports of clients registering with offshore mutations of ESMA-regulated schemes and subsequently being denied support by ESMA regulators. Stay away!
Share Information
If you have any information about Errante, its operators, and its facilitators, please share it with us via our whistleblower system, Whistle42.