KEY TO MARKETS is an offshore broker in Mauritius regulated by the FSC Mauritius. In the UK, the broker is registered with the FCA as an exempt CAD, not allowed to carry on any investment services and activities to which MiFID applies. Like many regulated brokers with offshore mutations, most clients are onboarded offshore, which creates problems. Lastly, we have noticed that Cyprus-based Payabl processes a significant part of KEY TO MARKETS' payments. Here is our update.
I filed a complaint with the UK FOS (Financial Ombusdman Service) and was advised that they would not be able to investigate my complaint as the broker had not entered my account under their FCA jurisdiction and that my account had to be regulated by the FSCL of New Zeland; The New Zealand Supervisory Board (FSCL) informed me that they are no longer licensed in New Zealand since 2018, it follows that my account was opened without a license and it is a financial abuse punishable by imprisonment!.

KEy To Markets Client's complaint
Latest Updates
In January 2023, KEY TO MARKETS was apparently very successful in Nigeria, where nearly 33% of more than 41,000 website visitors came. This means that Nigerians have also overtaken Italians, previously the strongest visitor group.
Also new is that in January 2023, for the first time, the Cypriot payment processor Payabl will settle a significant part of the payments. In addition, Unlimint, which is also based in Cyprus, continues to be an important payment processor for the broker.
Key Data
Trading name
KEY TO MARKETS
Domain
www.keytomarkets.com
www.keytomarkets.co.uk
Social media
LinkedIn, Facebook
Legal entities
KEY TO MARKETS INTERNATIONAL LIMITED, Mauritius
KEY TO MARKETS Limited, UK
KEY TO MARKETS GROUP LTD, UK
KEY TO MARKETS NZ LIMITED, NZ
Wisegain Ltd, UK
Zappnet Ltd, UK
Jurisdictions
Mauritius, United Kingdom
Leverage
up to 1:500
Related individuals
Andrea Sabatini, Italy (LinkedIn)
Giancarmelo Spampinato, Italy
Marcos Tigsilema, Italy (LinkedIn)
Regulators
FSC Mauritius (KEY TO MARKETS INTERNATIONAL LIMITED)
UK FCA (KEY TO MARKETS (UK) Limited)
Payment options
Bank wires, Skrill, Neteller, SticPay,
AliPay, Unlimint, Payabl
Languages
English, Spanish, Portuguese, Thai
The True ECN Broker
KEY TO MARKETS bills itself as a true ECN broker. An ECN broker is a financial intermediary that uses electronic communications networks (ECNs) to give clients direct access to other participants in equity and currency markets. An ECN broker only matches trades between other market participants. ECN brokers are non-dealing desk brokers, meaning that they do not pass on order flow to market makers. Instead, they electronically match participants in a trade and pass the orders to liquidity providers.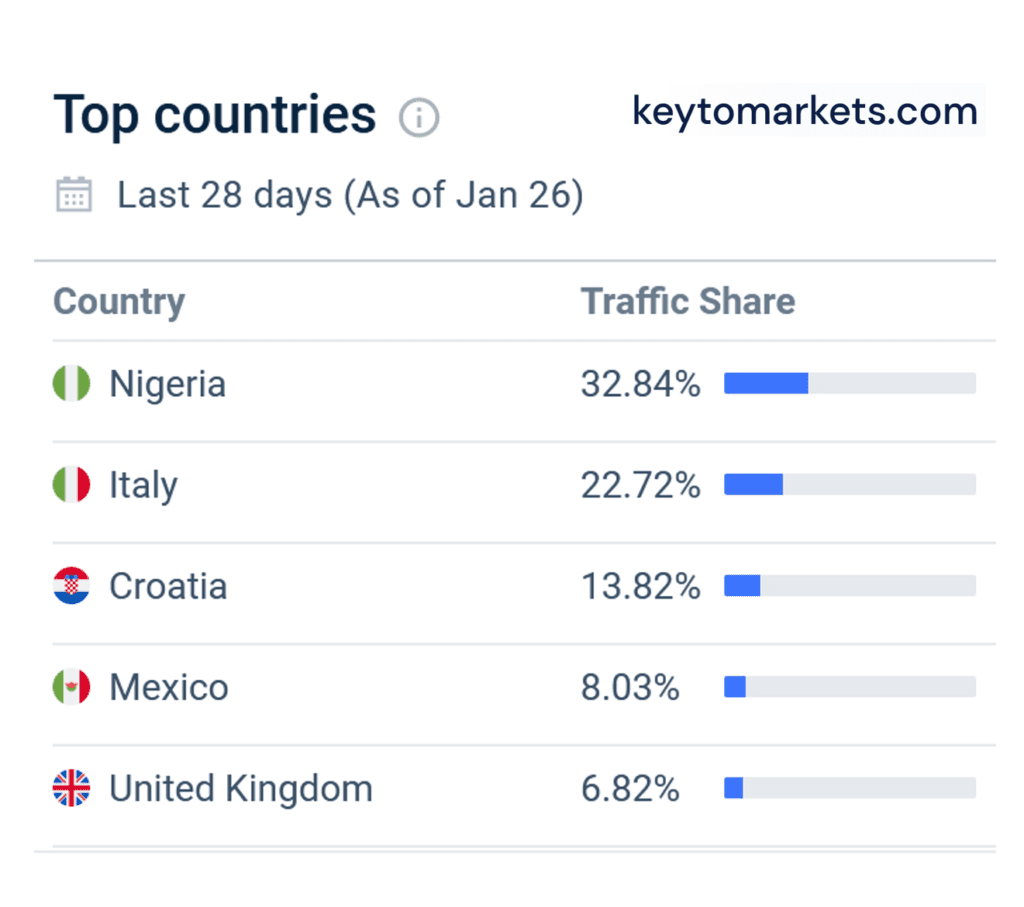 The broker is controlled by two Italians, Andrea Sabatini and Giancarmelo Spampinato, via KEY TO MARKETS GROUP LTD, Zappnet Ltd, and Wisegain Ltd.
Currently, KEY TO MARKETS seems to be very successful in Nigeria. In the 28 days from January 26, 2023, about 33% of website visitors came from Nigeria, significantly overtaking visitors from Italy (about 23%). In Q4 2022, around 38% of website visitors still came from Italy. Nigeria was not yet in the top 5 visitor countries.
Share Information
If you have any information about KEY TO MARKETS, its operators, and partners, please let us know through our whistleblower system, Whistle42.