In June 2022, FinTelegram published the initial review of Direct Trading Technologies UK Ltd d/b/a Direct TT or DTT, an investment firm regulated by the UK Financial Conduct Authority (FCA). In addition, the DTT Group operates offshore brokers with regulatory permissions in Vanuatu, Colombia, and UAE. DTT Group is seeking to expand into various jurisdictions via regulatory permissions. This is a thoroughly trustworthy approach that we welcome. Here are the latest updates.
Latest Updates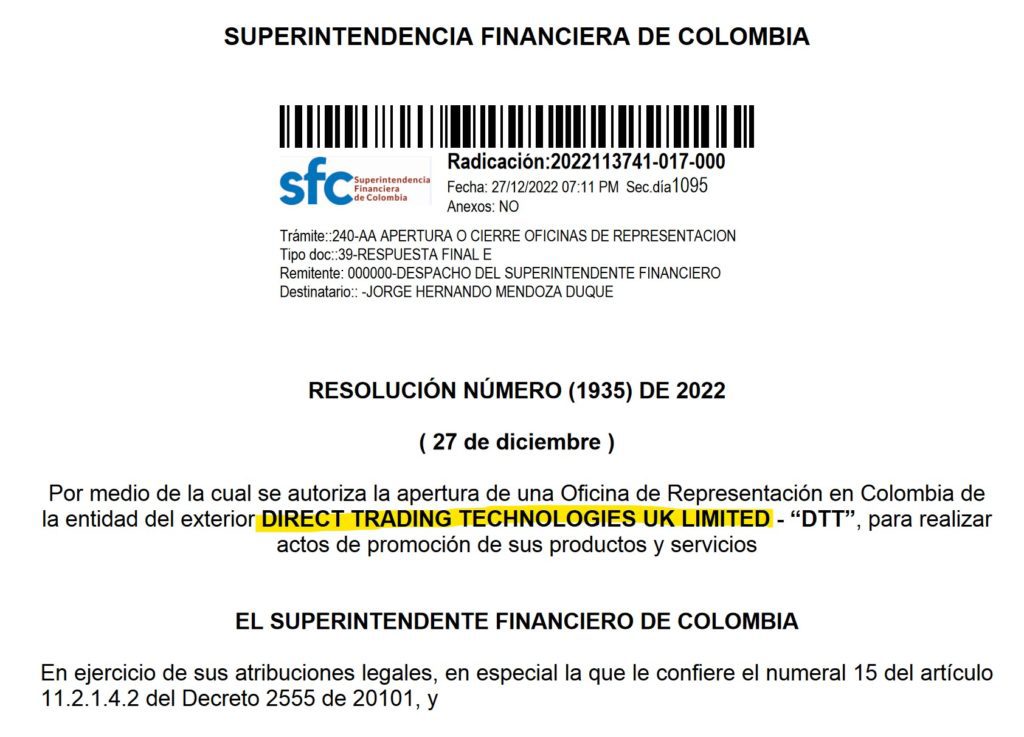 In December 2022, the UK entity Direct Trading Technologies UK Limited obtained the license from the Colombian regulator SFC. In January 2023, DTT Group announced that it had received a license from the UAE Securities and Commodities Authority (SCA) for Financial Consultancy and Financial Analysis. DTT Group CEO states:
Acquiring the SCA license is a major milestone for Direct TT, as it reaffirms our commitment to our clients in the UAE. Our mission has been to consistently deliver regulated, accurate, and reliable financial data to ensure that traders have access to the best financial products and information, as well as the security to invest with confidence.

Walid Ead, CEO & Managing Partner of DTT Group
In the release, DTT Group emphasized that it would be headquartered in the UK but would serve more than 80,000 clients with its 130 employees through 13 offices in various jurisdictions.
The Lithuanian entity of DTT Group is registered as a digital asset service provider and thus provides regulatory coverage for the Group's crypto activities.
Key Data
Short Narrative
The FCA-regulated entity of the DTT Group does not accept retail clients, only Professionals and Eligible Individuals. Therefore, customers can also be offered leverage of up to 1:100. The directors of this entity are Italian Michael Mirarchi and the Brit Rayan Goutay. The beneficial owners are Bangladeshi Khalid Al Makkawi, who lives in Saudi Arabia, and American Waled Ead, a/k/a Walid Eid, who lives in Lebanon.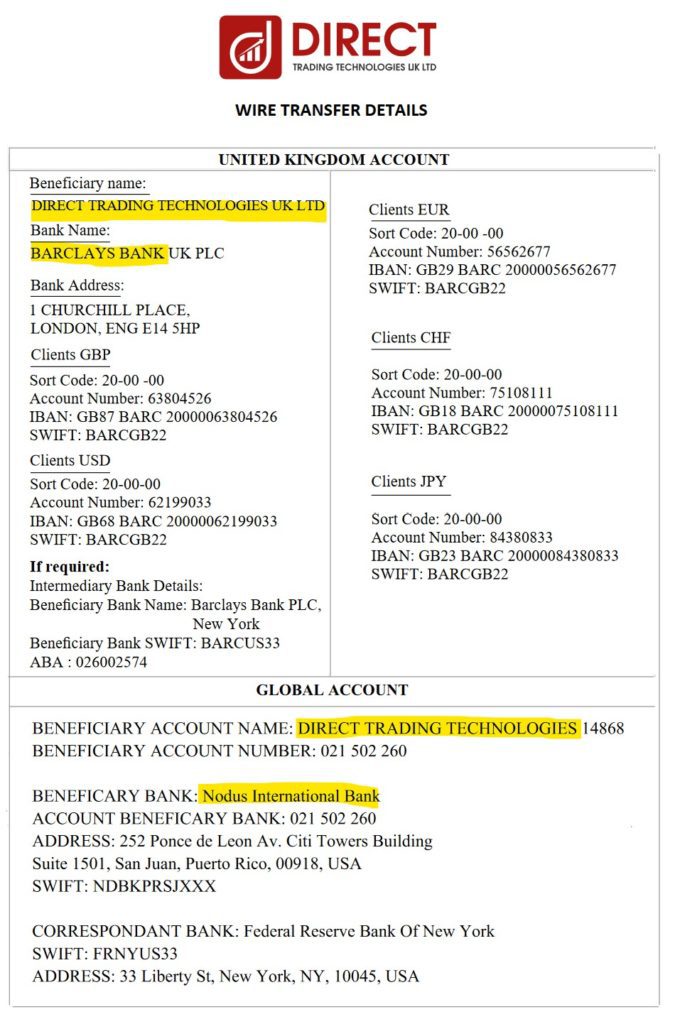 DTT Group's offshore brokers use the same bank account at Barclays for bank transfers. In addition, the Vanuatu entity also uses a bank account with Nodus International Bank in Puerto Rico, USA. Deposits are also possible with the USDT (Tether) stablecoin.
Our Reviews
We had no problem registering as EU or UK residents with the offshore entities in our reviews on May 31, 2022, and on Jan 30, 2023, we had no problem registering as EU or UK residents with the offshore entities. Upon registration, we could theoretically make pre-KYC deposits in unlimited amounts via bank transfer or USDT. At the time of our simulated deposits, neither our address nor our ID was uploaded.
While FCA, ESMA, and most other regulatory regimes provide a maximum leverage of 1:30 for retail clients for CFD, forex, or crypto, for example, Direct Trading Technologies offers up to 1:400 for offshore retail clients on its global platform (www.globaldtt.com).
General Offshore Warning
We know that many UK or EU-regulated brokers use offshore onboarding to circumvent the regulatory requirements of the FCA or ESMA systematically. These clients provide for the brokers' profits because the offshore brokers' operation is very cheap and practically without supervision.
Clients of offshore brokers have no Financial Ombudsman protection and no right to payments from Investor Compensation Funds. They should stay far away! Rather go to the casino if you want to gamble with high risk.
Share Information
If you have information about the DTT Group, GlobalDTT, DTT Markets, Direct TT, its operators, and facilitators, please share it with us through our whistleblower system, Whistle42.