In December 2022, we brought our initial report on the offshore broker PocketOption, allegedly operated by the offshore entity Gembell Limited in the Marshall Islands. PocketOption is connected to PO Trade, operated by PO Trade Ltd. The Russian Evgenii Kalashnikov controls the schemes. According to the latest Similarweb statistics, PockeOption acquired almost 18% of its clients in the U.S. Deposits are possible with credit/debit cards, Jeton, Perfect Money, Webmoney, Advcash, or via crypto. Stay far away and protect your financial health.
Key Data
Short Narrative
PocketOption and PO Trade use Binance Pay and Coinbase to receive customer deposits through it. Both schemes claim to be regulated by the fake regulator IFMRRC. PO Trade Ltd is registered with the offshore regulator Mwali International Services Authority.
We have identified Evgenii Kalashnikov, a Russian, as the CEO and beneficial owner behind PO Tade Ltd (link).
PocketOption and PO Trade attract clients via generous bonuses of up to 50% of deposits. And on top of that, they offer additional motivational gifts for deposits – the usual tricks but very professionally done.
The two offshore broker schemes have impressive dimensions. In the last 28 days before 27 Jan 2023, their websites attracted some 3 million visitors in the last 28 days, according to Similarweb. While the PocketOption attracts most visitors (around 18%) from the U.S., PO Trade addresses the United Arab Emirates (around 32%) and EEA. But also at PO Trade, more than 8% of the visitors came from the U.S. in January 2023 (see chart on the left).
Through the domains PocketOptionTrader.com and PO2.capital, mainly Russian clients are recruited.
Payment Processors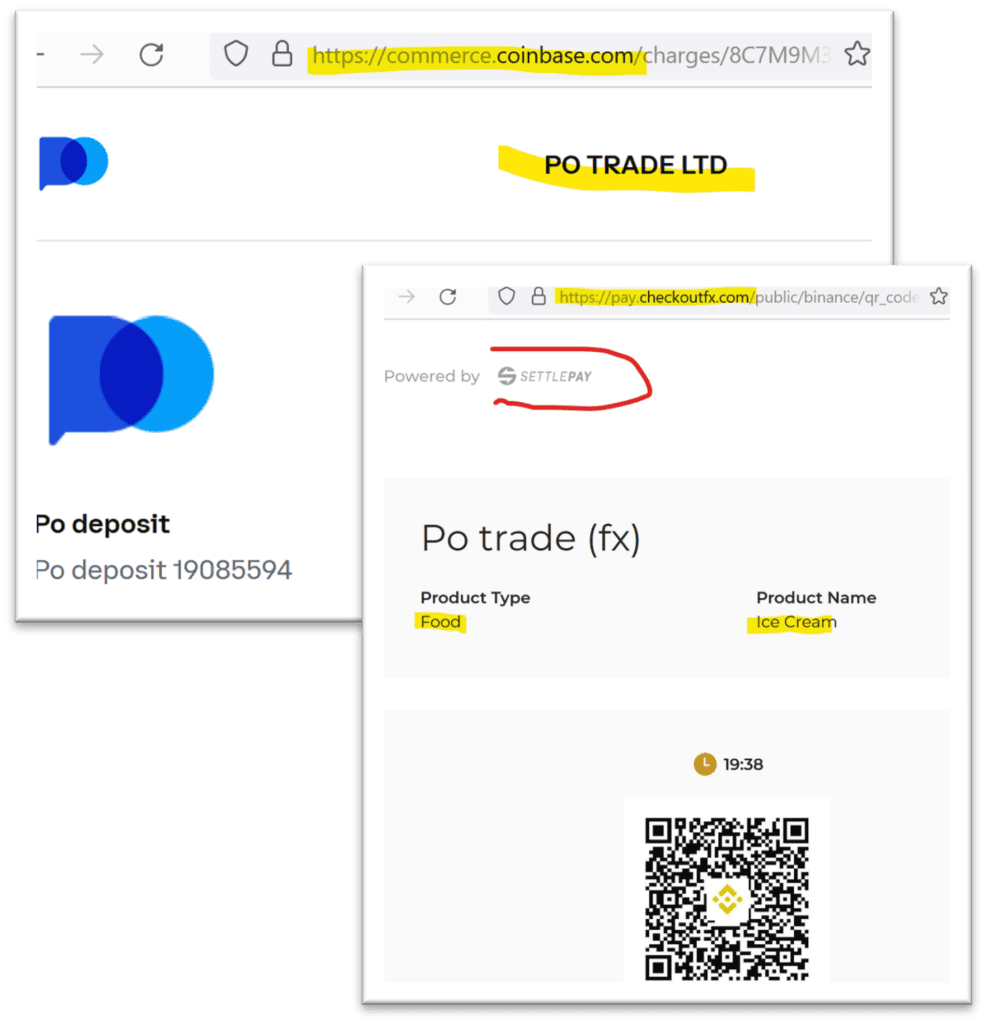 When depositing via BinancePay, SettlePay's https://pay.checkoutfx.com platform is interposed. There, PO Trade is apparently misrepresented to Binance Pay as a provider of ice cream in the food sector (see screenshot right).
However, PO Trade Ltd is directly registered as a merchant with Coinbase. Apparently, Binance is stricter with KYC than the U.S. crypto exchange Coinbase.
One of the payment processors is BrightCart, based in Cyprus. In January, almost all the traffic of BrightCart websites (BrightCart.io or Checkout.BrightCart.io) came from the PocketOption scheme (Source: Similarweb).
BrightCart's website traffic has dramatically dropped over the last few months. From around 234,000 in October 2022, the drop has been to less than 20,000 in January 2023. PocketOption is the dominating traffic driver here.
Share Information
We would like to know more about the operators of these two broker schemes and their facilitators. If you have any information, we would appreciate it if you could share it with us via our whistleblower system, Whistle42.