Spread financial intelligence
FinTelegram currently focuses on the exposure of questionable and negligent payment service providers. It is these payment service providers (PSP) that facilitate online fraud possible in the first place. Negligent regulated payment service providers such as Payvision or non-registered payment service providers such as Praxis Pay or Entropay are supporting perpetrators of online investor fraud. As the German PPRO Financial.
PPRO Financial – Another Fraud Facilitator
FinTelegram has identified another payment service provider used by illegal broker sites – PPRO Financial Ltd. The company is officially registered in the UK and holds a license from the UK Financial Market Authority FCA. The company is controlled by the German PPRO Holding GmbH. Until recently, the acting people of this payment service provider were the German citizens Brigitte Holzer, Philipp Nieland, Tobias Schreyer. In 2017 Simon Black, an English citizen was appointed Director of FCA-regulated PPRO Financial Ltd in England. He was also previously a Director at SAGE PAY: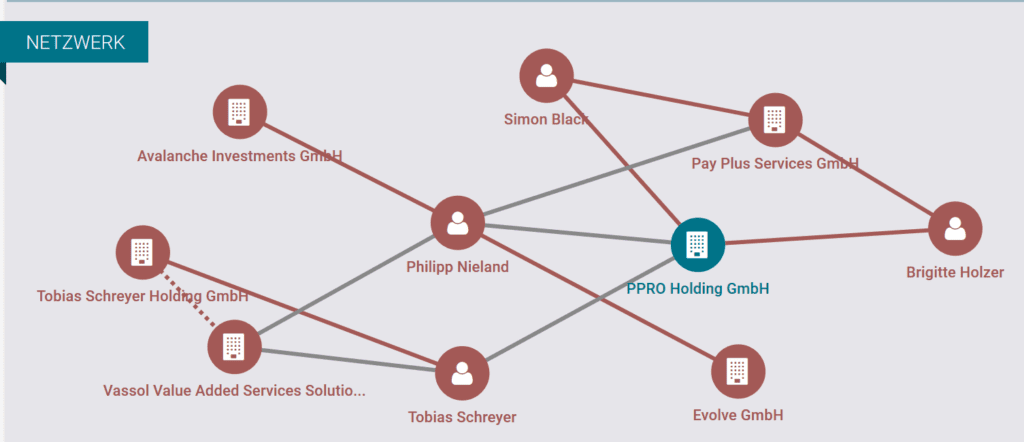 How Could They?
It is still incomprehensible to us how licensed and registered payment service providers such as Payvision or PPRO Financial can put themselves at the service of investor fraud schemes. Even a rudimentary KYC/AML audit would immediately show that these customers are illegal brokers warned of by financial market supervisory authorities.
We cannot determine at this point whether this is due to negligence, intent or bribery. In any case, however, the competent financial market supervisory authorities are called upon to revoke the corresponding license from these companies. In addition, they must be held liable to defrauded investors for compensation.
Via its EFRI initiative, FinTelegram currently is engaged in discussions with regulatory authorities to find an efficient way to report and eliminate payment services providers supporting fraud schemes.
Report Illegal Broker And Activities
Illegally operating broker schemes and their boiler rooms are part of fast-growing global cybercrime activities. Millions of investors are defrauded by those broker sites losing billions of euros every year. Hence, it is important to warn investors of such illicit sites. If you are a victim of an illegally operating broker site such as Tradeinvest90, Option888, XMarkets, XTraderFX, GToptions, StoxMarket, Bluetrading, FXTrade777, or KayaFX please file your claim and report activities via our whistleblower system: