FinTelegram published its initial review of the GrandCapital broker scheme in April 2022. We uncovered that GrandCapital and GC Option offshore brokers are controlled by Russian individuals and operated through various offshore entities in St. Vincent & The Grenadines, Seychelles, South Africa, Nigeria, and Namibia. Regulators have already warned against this offshore broker scheme. We have assigned a Red Compliance rating to GrandCapital.
Key data
Trading names
GrandCapital
GC Option
Business activities
Forex, CFD, crypto broker
Domain
https://grandcapital.net
https://grandcapital.ng
https://gcoption.com
Social media
Facebook, Instagram,
LinkedIn
Legal entities
GrandCapital Ltd, SVG
GC Option Ltd, SVG (not found)
Grand Capital Ltd, Seychelles
Grand Capital Financial Services Pty Ltd, South Africa
Grand C Option Consultencey, Nigeria
Grand Capital Consulting Service, Namibia
Jurisdictions
St. Vincent & The Grenadines
Seychelles
Russia
Nigeria, Namibia, South Africa
Contact data
+1 646 844 7187
Leverage
up to 1:500
Authorization
No
Member of
The Financial Commission
Payment options
Credit and debit card
alternative payments
Crypto
Payment processors
Black Rabbit (https://brpay.io)
Perfect Money, AstroPay,
GT Bank (Nigeria), First National Bank,
Bank Windhoek (Namibia), FasaPay,
Help2Pay, PayRedeem, PayLivre
Related individuals
Alexandr Kirillov (LinkedIn)
Nikolai Lukovinov (LinkedIn)
Shadi Mashkok (LinkedIn)
Margarita Feigina (LinkedIn)
Sergey Kozlovsky
Olanrewaju Ogedengbe Henry (LinkedIn)
Related venture
Serenity Financial OÜ d/b/a SerenityPay
Warnings
AMF, CNMV, CMVM, FSMA
The Short Narrative
Our initial review exposed that the GrandCapital group was also behind the (no longer licensed) Estonian crypto payment processor SerenityPay a/k/a Serenity Financial. We discovered the latter to be a scam facilitator.
GrandCapital was accepted as a member of The Financial Commission in 2016.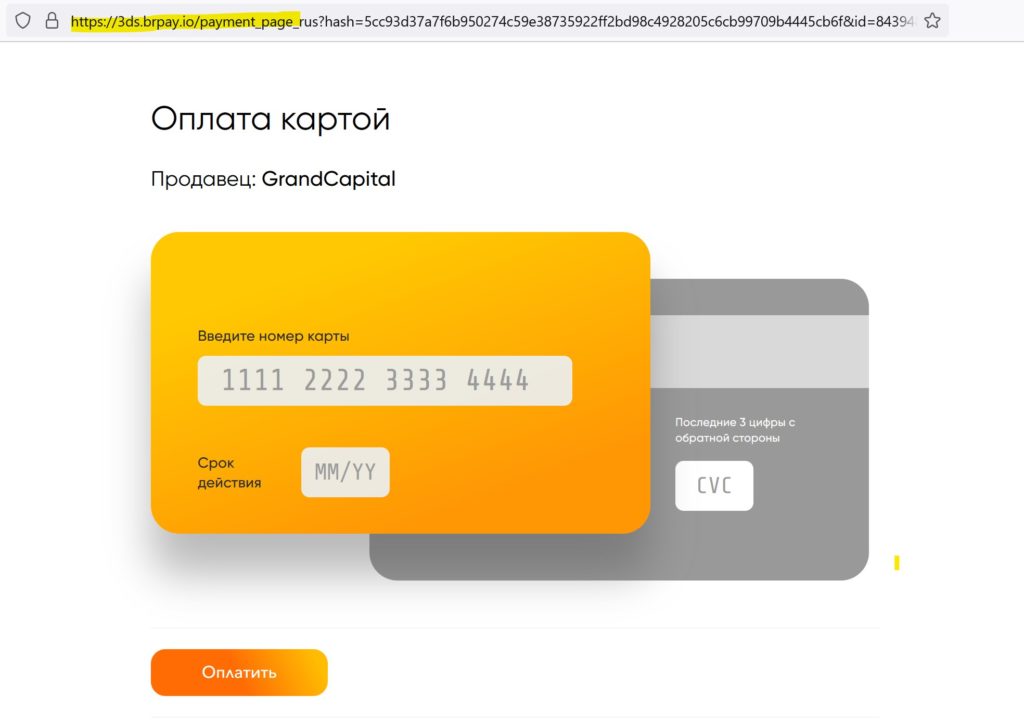 The GrandCapital group's Facebook page states that its headquarters are in St. Petersburg, Russia. We also discovered the Canadian-Russian payment processor Black Rabbit (what a name) as one of the facilitating card payment processors. We were greeted in Russian in this particular deposit process. There are more than 60 profiles associated with the GrandCapital LinkedIn page with the leading employees based in St. Petersburg.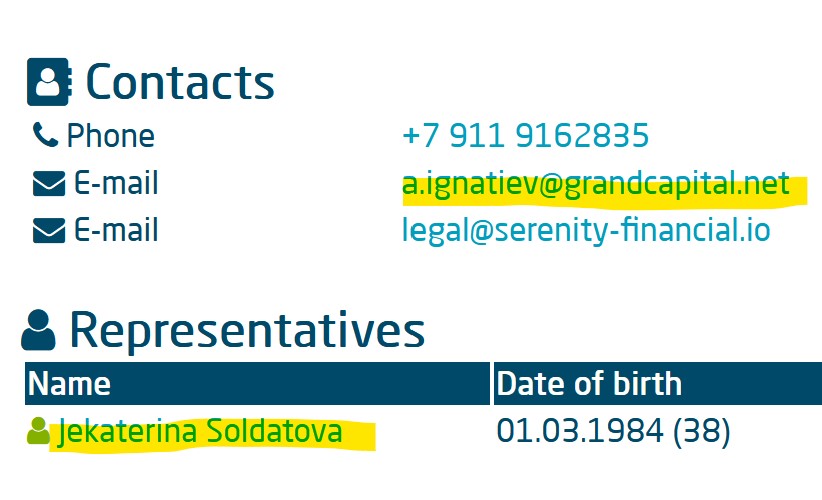 The group operates two offshore brokers, GrandCapital.net and GCOption.com, and the trader education site GrandCapital.ng.
Until August 2020, Estonia-based Serenity Financial d/b/a SerenityPay (www.serenity-financial.io), which we discovered as a payment processor in the TradingroomStar broker scam, operated as a licensed crypto payment processor and Exchange operator. The license was lost. As a contact email, SerenityPay has provided a GrandCapital email address (screenshot right).
Unauthorized And Non-Compliant Activities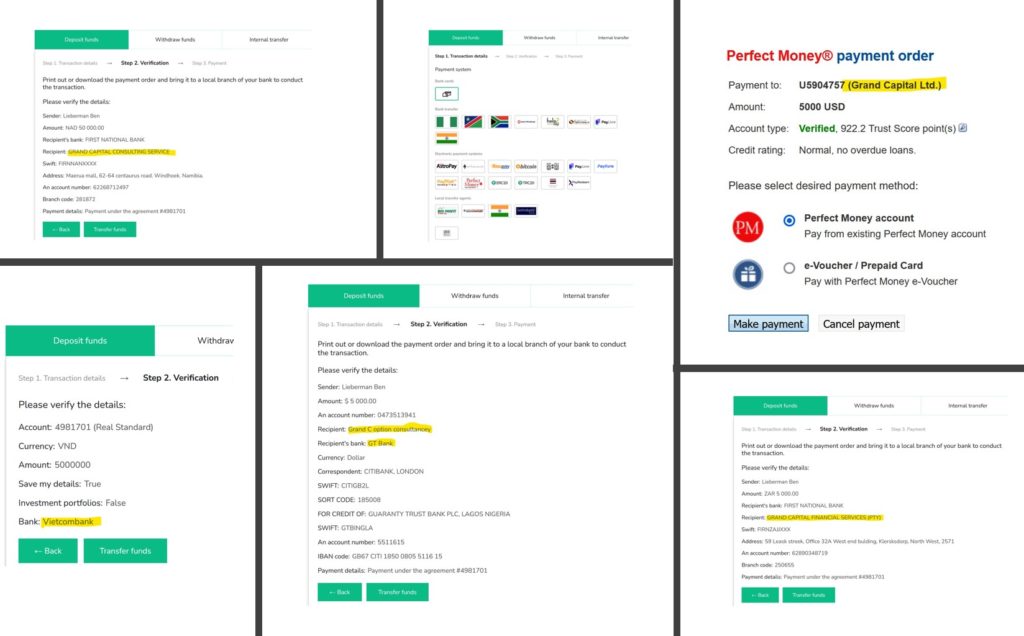 The offshore brokers of the GrandCapital group happily recruit clients worldwide. Among them are also the UK, EU, and Australia jurisdictions. The Spanish regulator CNMV already issued a warning against the GrandCapital group in July 2019, the French AMF, the Italian Consob, the Portuguese CMVM, and the Belgian FSMA have followed.
There are no blocking mechanisms for clients from regulatory regimes where GrandCapital has no authorization. The broker acquires clients illegally. Onboarding also does not meet the regulatory requirements of FCA, ESMA, ASIC, or other regulators. Clients can make deposits without proper KYC/AML even before verifying their identity.
Customers can theoretically make unlimited pre-KYC deposits via wire transfer to Nigeria, Namibia, South Africa, or Vietnam banks. In addition, we found the usual suspects like Perfect Money, AstroPay, or FasaPay as facilitators. Deposits are also possible via crypto.
GrandCapital also offers leverage of up to 1:500, although the regulatory regimes in the EEA region allow a maximum of 1:30.
Compliance Check
GrandCapital is an illegally operating broker that systematically violates the regulatory requirements of most regimes. Therefore, you should stay far away, or you will almost certainly lose your money. GrandCapital's membership in the private external dispute resolution organization The Financial Commission will not help. You are not entitled to any Investor Compensation Fund scheme or Financial Ombudsman assistance.
Given the regulatory warnings and the above-listed compliance issues, we are adding GrandCapital to our Red Compliance list.
Share Information
If you have any information about the GrandCapital, group, operators, and facilitators, please share it with us through our whistleblower system, Whistle42.