A few months ago, the Cyprus-based Payabl. (formerly PowerCash21) founded by former Wirecard managers Ruediger Trautmann, Dietmar Knoechelmann, and his wife Ayelet Fruchtlander Knoechelmann, led a CHF 3 million investment in the Swiss FINMA-regulated Klarpay AG. Key people of Klarpay are based in Cyprus, and Turkey is probably the most important market according to the latest Similarweb statistics. Klarpay appears as a BDSwiss spin-off, with most of its key executives came from the CySEC-regulated broker.
Key Data
Trading name
Klarpay
Business activity
Payment processor
Merchant service provider
Domain
https://klarpay.com
Legal entity
Klarpay AG
Social media
LinkedIn, Twitter, Medium
Jurisdiction
Switzerland
Regulator
FINMA
Related individuals
Mihkel Vitsur, Chairman (LinkedIn)
Beatrice Kern, Vice Chairwoman (LinkedIn)
Alena Nicolai, Board Member (LinkedIn)
Marianna Markidou (LinkedIn)
Persia Papafylaktou (LinkedIn)
Martynas Bieliauskas, CEO (LinkedIn)
Jeff-Richard Angehrn, CFO (LinkedIn)
Marc Evans, COO (LinkedIn)
Christos Alatzidis, CTO (LinkedIn)
Ugne Buraciene, Advisor (LinkedIn)
Investor
Payabl.cy Limited (prev. PowerCash21 Limited), Cyprus
PayRate42
follow the Klarpay profile on PayRate42
Short Narrative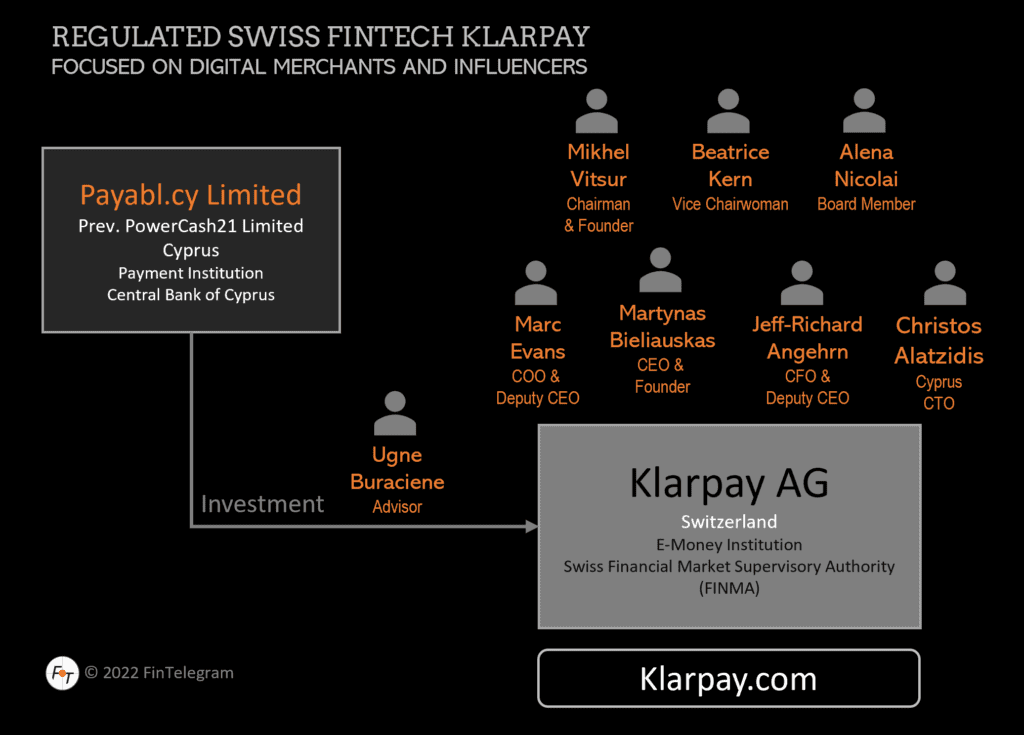 Klarpay's Head of Back Office, Marianna Markidou, like most of the other executives, is a former BDSwiss manager and is based in Cyprus, according to LinkedIn. As is COO Marc Evans, the former CFO of BDSwiss, and Persia Papafylaktou, former Marketing Coordinator at BDSwiss. So it's fair to assume that a significant portion of Klarpay's activities, like those of Payabl, are controlled via their Cyprus offices.
Klarpay AG comes across as a sort of spin-off of BDSwiss, the investment firm of Jan Eric Malkus. Some of its former executives and founders are key people in the bank:
Mihkel Vitsur, co-founder and former BDSwiss Chairman, co-founded Klarpay and is its Chairman;
Martynas Bieliauskas, former director and co-founder of BDSwiss Group, co-founded Klarpay and is its CEO;
Christos Alatzidis, the former BDSwiss CIO & CTO, co-founded Klarpay and is its CTO;
The former BDSwiss Chief Financial Officer Marc Evans joined Klarpay in Feb 2022 as Chief Financial Officer;
The Head of Back Office, Marianna Markidou, joined Klarpay in Jan 2022;
Persia Papafylaktou, former Marketing Manager at BDSwiss joined Klarpay in March 2022.
Share Information
If you have any information about Klarpay, Payabl, or the acting persons and partners, please let us know via our whistleblower system, Whistle42.