Spread financial intelligence
FinTelegram recently reported on the shocking criminal case of Austin Smith, founder, and CEO of Wealth Recovery International (WRI), a fund recovery company operating in Israel and the United States. The Times of Israel and FinanceFeeds have both reported that Austin Smith has pleaded guilty to fraud with binary options in the U.S. He was initially arrested but released from prison on payment of a bail of USD 300,000 but must remain in the U.S. until the trial.
The Past Of WRI Founder Austin Smith
The U.S. authorities' charges against Austin Smith are related to the Yukom case involving Lee Elbaz and three other defendants as well as to Austin's activities with WRI. The Israeli Lee Elbaz and also WRI founder Austin Smith and other accused are said to have cheated US investors by many millions via their illegal binary options platforms BinaryBook and BigOption. Austin Smith, who was born in the USA and later emigrated to Israel, is said to have been personally involved in investor fraud with BinaryBook, according to U.S. authorities. When working with BinaryBook Austin Smith appeared with the alias "John Ried".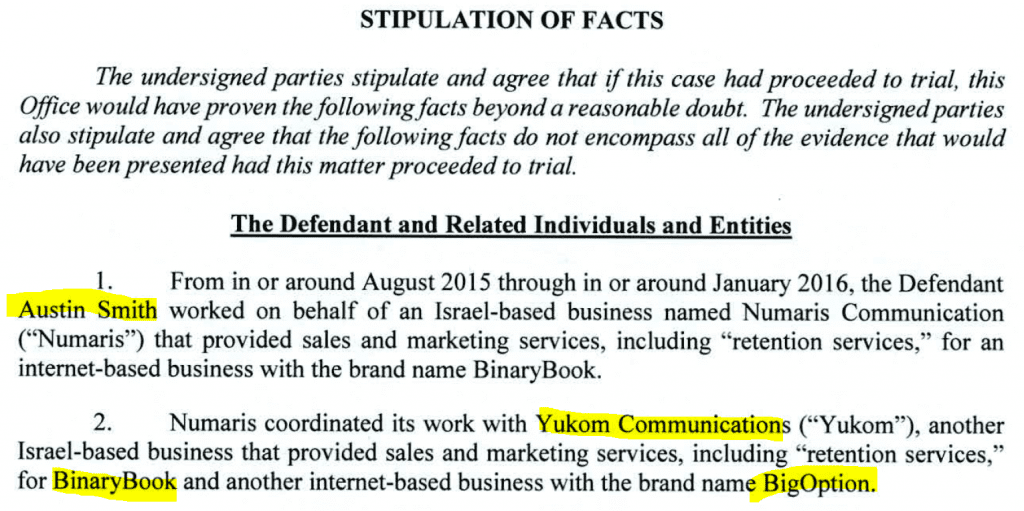 Austin Smith changed sides sometime in 2017 and founded WRI. Supposedly he had an epiphany and recognized the reprehensibility of his binary options activities. So for the sake of divine reconciliation, he wanted to help the betrayed investors get their money back with WRI. The fact is that, however, in the opinion of the U.S. prosecutors, in this funds recovery, he has again primarily enriched himself and his WRI and again harmed investors. And these methods are indeed beyond belief and even worse and more reprehensible than those of the binary option scammers.
Fund Recovery Fraud
According to the U.S. prosecutors, the now-good guy Austin Smith as representative of WRI partially went to exactly those investors whom he had ripped off previously as "John Ried" with BinaryBook. He did not reveal to these investors that he used to be this "John Ried" who stole the money from them before. The desperate investors then executed an agreement with WRI. They wanted to get some of the money back.
With his knowledge as the former perpetrator " John Ried" Austin Smith, of course, got them back a part of their money – and again earned more than 30% commission for it. According to U.S. plea agreement, he ripped off the same investors twice. In one case stated in the plea agreement, he is said to have received some USD 125,000 commission as WRI from one of his former BinaryBook victims, of which USD 45,000 as initial payment. As John Ried, he had already taken USD 400,000 from him before and received commission.

This insolence was obviously too much for the U.S. authorities and they arrested Austin Smith. The charges and pieces of evidence are convincing and hence Austin Smith pleaded guilty.
It is important to understand that Austin Smith did not act as a private individual, but as a representative of WRI and thus the company is also involved. The plea agreement can be downloaded here. FinTelegram is now being threatened by Austin Smith's WRI partner Tami Hamm. That's how who these people are – aggressive perpetrators in whatever role they are in. And they call anybody else fraudster except themselves. In any case, investors should be very careful when dealing with WRI.