Spread financial intelligence
In our researches on scam-facilitating payment processors, Finolita Unio UAB, regulated by the Bank of Lithuania with authorization code LB000490, came to our attention only once as a payment facilitator in the GlobalSpotFX scam with the Estonian Woodstocks OÜ (report here). The Financial Times reports that Finolita Unio is part of Senjo Group, a former Wirecard partner through which hundreds of millions have flowed and vanished. More than €100M have been processed through its Lithuanian subsidiary.
Finolita Unio, founded in 2013, was acquired by Singapore-based payments company Senjo Group in 2017. Senjo Group is at the center of investigations by prosecutors. Forensic investigators are still following the money trail, trying to understand where the missing billions may or may not have gone. Senjo Group plays a key role in this. According to the FT, the former three Wirecard partners Senjo Group, PayEasy, and Al Alam, some 95 percent to the Wirecard EBITDA and just over half the group's revenues for 2016.
According to FT, Senjo Group received a loan of €350m from Wirecard in March 2020. Of this, €35m is said to have funneled to the then Wirecard COO Jan Marsalek and €65m to oCap (previously Sejno Trading) , another subsidiary of Senjo Group via Finelito Unio (see chart). oCap filed for insolvency in December 2020, thus its website is offline or under construction, here is an archived website.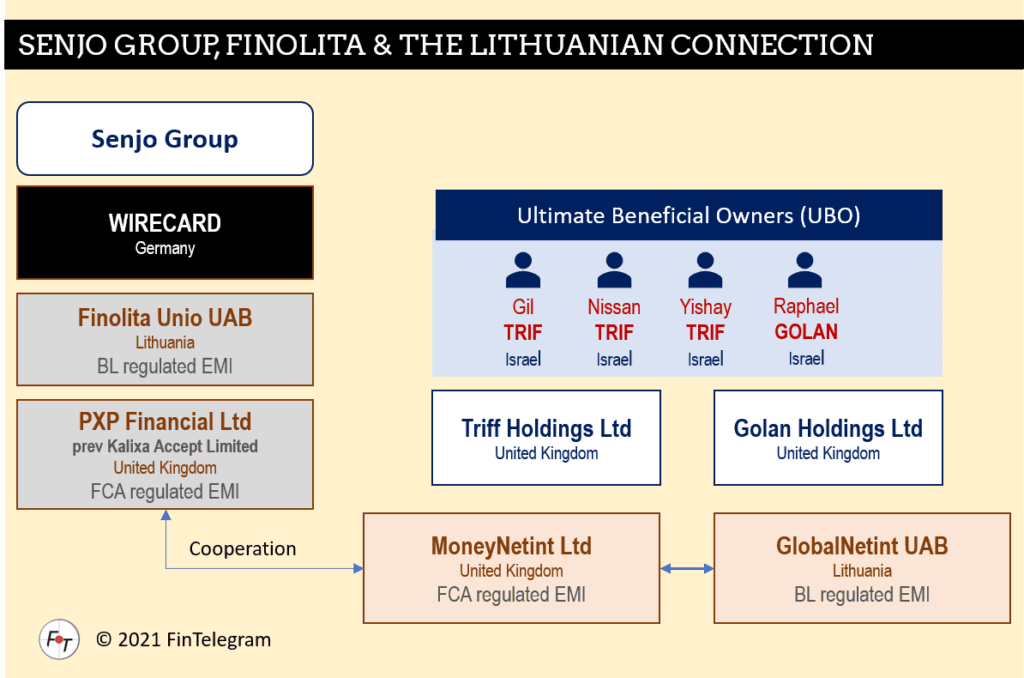 German prosecutors are also investigating €1.15m in payments from Wirecard to Finolita Unio, FT informs. In mid-2019, Wirecard commissioned the Lithuanian fintech for a merchant settlement platform customization project, agreeing to pay €1,000 per hour of work, eventually paying for more than 1,000 hours. However, a former Wirecard manager, who is in police custody, told prosecutors that Finolita Unio did not provide any services in return for the money.
Finolita Unio CEO Danas Oliskevicius (LinkedIn) told the FT that the company had shared the relevant information with the Bank of Lithuania and law enforcement agencies. He declined to comment further, citing an ongoing investigation.
Senjo Group is also the owner of FCA-regulated PXP Financial, which has a cooperation with MoneyNetint, also FCA-regulated (report here). Lithuania-based GlobalNetint (GNI) is part of MoneyNetint Group and recently suffered a major data leak. Former employees of GNI allegedly have raised allegations of money laundering. The Bank of Lithuania has opened a probe into GNI, and the law enforcement authorities are investigating. However, we do not know the results at this time.