Spread financial intelligence
The Israeli Yossi Herzog, charged in the Yukom Case in the U.S. with binary options fraud to the tune of $200 million is one of the alleged supervillains of the binary options era. Apparently, he defrauded tens of thousands of victims out of hundreds of millions with his broker schemes in the U.S., Europe, and Australia. As a result of Australian investigations, the Australian regulator Australian Securities and Investments Commission (ASIC) is now heavily criticized for not having taken action against Herzog and his scams earlier.
---
A media investigation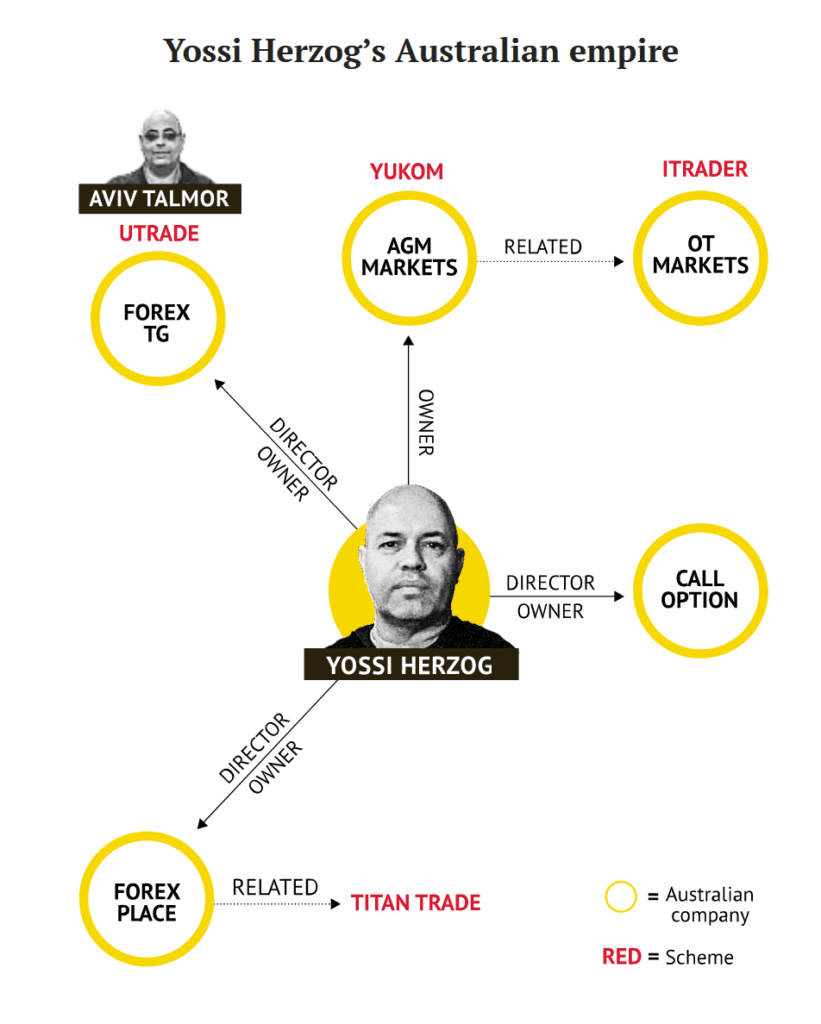 A six-month investigation by The Age and The Sydney Morning Herald exposed that Yossi Herzog and his team have been operating with "impunity" in Australia for nearly 10 years (see the investigation's resulting graphics left).
Herzog owned and operated a number of Australian trading groups – Forex Place, Forex TG, AGM Markets, Call Option and Edutrade Academy, among others. Herzog also did business in Australia with people linked to two other notorious trading schemes linked to the Australian payment processor iSignthis.
The investigation found that Herzog's organization set up schemes to ensure clients (aka traders) lost as much as possible. Successful traders were targeted to ensure they soon became losers. Often customers seeking to quit were told they could not withdraw their money without making more bets.
Read more on the TitanTrade scam here.
The Age and Herald revealed that, during Herzog's near 10-year stint doing business in Australia, ASIC twice investigated his schemes but failed to close them down.
The Herzog Network
According to the investigation, Yossi Herzog operated at least five trading schemes in Australia and had a close partnership with Aviv Talmor, the mastermind of binary options scam UTrade. Talmor was arrested and charged in Israel over his involvement in the UTrade scam. Stavro D'Amore, one of Herzog's partner in the Australian scams, described Talmor's UTrade scam as "bigger than The Wolf of Wall Street".
Another important partner of Herzog in his schemes was the Israeli Guy Galboiz (left). Together with him and other co-conspirators, the TitanTrade or Forex TG scam was operated defrauding tens of thousands of victims in Europe and Australia.
The Australian investigation assumes that Herzog and his schemes are estimated to have potentially scammed customers out of $100 million.
Most wanted super villain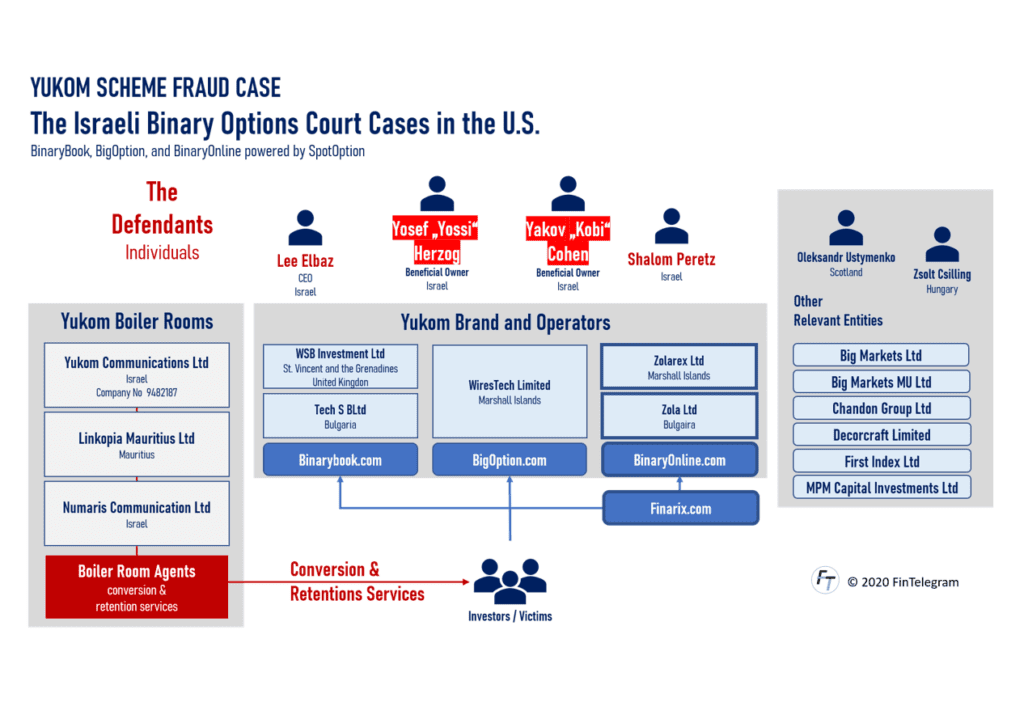 Of all the supervillains of the binary options era, Yossi Herzog is probably the most wanted one right now. The U.S. government has brought charges against him and almost 2o co-conspirators in the Yukom case. The former CEO of the Israeli Yukom Communications Ltd., Lee Elbaz, was already sentenced in 2019 to 22 years in prison and $28 million in restitution payments. Another five former Yukom employees have also been convicted and sentenced.
While six employees stood trial and have been convicted in the U.S., the bosses and masterminds of the Yukom scheme, however, Yossi Herzog and Kobi Cohen are on the run. The U.S. CFTC has filed a complaint against Herzog, Cohen, Elbaz, and others for binary options fraud and is looking for him.
Allegedly, until recently Herzog was in Odessa, Ukraine, and Cohen was in Kinshasa, DR Congo. There he is supposed to operate the betting platform Winner.bet together with local partners. This is at least what whistleblowers told FinTelegram.