Rutger Betlem of the largest Dutch financial newspaper Het Financieele Dagblad has continued the story with Payvision and ING with an impressive piece of investigative work. In addition to the data he received from FinTelegram and EFRI, Betlem did extensive research of his own and concludes in his two reports that Payvision was and is a horror project for ING. The founder team with Rudolf Willem Booker, Gijs op de Weegh, and Cheng Liem Li had to leave the company in April 2020.
ING cleans up the Payvision horror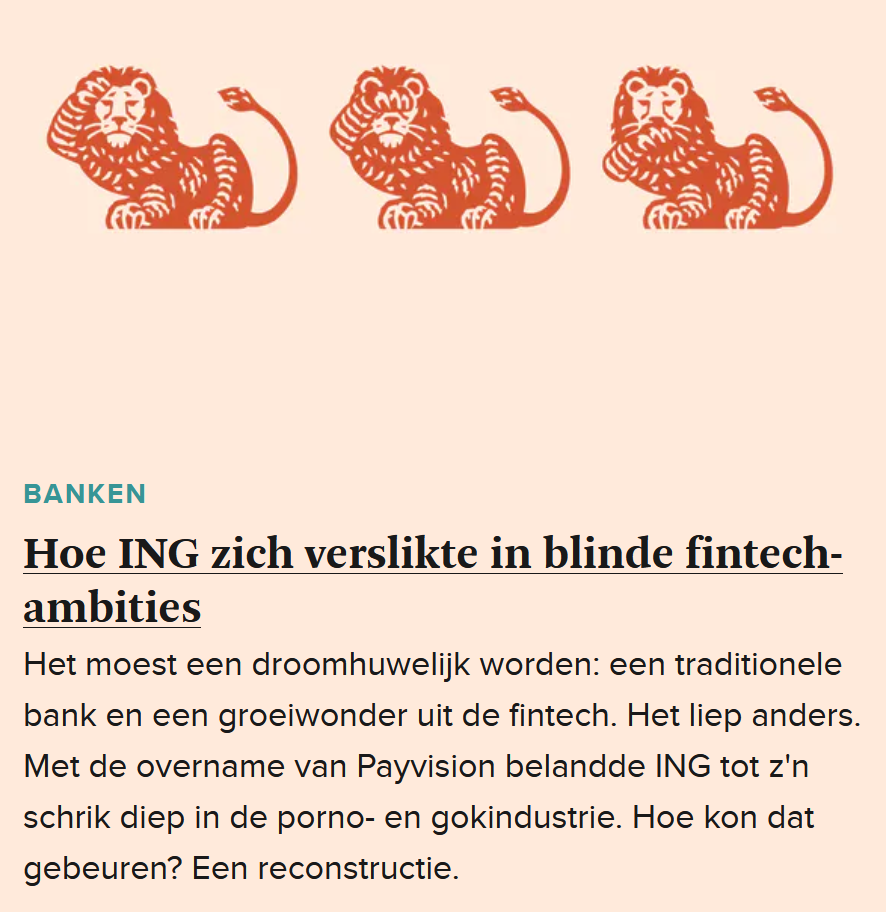 Betlem reports that nobody in Amsterdam's financial scene understands why ING acquired Payvision for €350 million in the first place. Everyone would have known that Payvision under Booker and his team made its money with gambling, betting, porn, and cybercrime.
The reports in Het Financieele Dagblad by Rutger Betlem confirm the FinTelegram research. Payvision was deeply involved as a payment facilitator in the porn industry and was reported by US banks and the US FinCEN for possible money laundering. A large number of Payvision customers are said to have failed to meet the ING standard. ING has installed André Valkenburg as new CEO, who is supposed to install a proper business model in Payvision.
The Dutch report also quotes insiders who claim that Payvision's technology is largely purchased and therefore has little value. So it is not an IP or tech deal either. Hardly acceptable customers and no innovative technology. That is tragic!
It is well known that Booker with its Payvision happily facilitated scammers and cybercrime organizations with two blind KYC eyes. They accepted scammers like the Israeli Gal Barak and his E&G Bulgaria or the German Uwe Lenhoff with his Veltyco Group PLC (now Bet90 Holdings PLC) and the Bulgarian Winslet Enterprises EOOD.
Sell expensive and buy back cheap
According to the Dutch report, Payvision seems to be in a downward spiral while its founders made a fortune. In the corona year 2020, in which online transactions consumed the turnover of the shopping street and its Dutch competitor Adyen became worth about 40% more than ING on the stock exchange, Payvision's turnover and profit, however, fell further. In the second quarter, ING wrote off all of the goodwill on the transaction which is some whooping € 188 million. Allegedly, under the ING management, 70% of the Payvision clientele was ultimately terminated.
Interestingly, a large chunk of the terminated clients has apparently been taken over by the Payvision founders for the symbolic price of €1. That's how business works, right? Sell them first all of the business for hundreds of millions of Euros and then buy back the most profitable business for €1.
Payision founders afterlife
Porn business: According to the report, ING is said to have sold the package of porn clients to the Payvision founders for the symbolic purchase price of €1. In the future, the old Payvision porn clients will be served by the company Cetler B.V. (companies register) owned by Gijs op de Weegh and managed by him and his former Payvision buddies Booker and Li who have been appointed directors in September 2020.
KYC Solutions: Booker is one of the beneficial owners of Fourthline (www.fourthline.com), a KYC platform operated by Safened-Fourthline Opco Holding B.V. in the Netherlands and Safened-Fourthline Limited in the UK. Rudolf Willem Booker (aka Rudolph Booker) wants to focus on KYC with Fourthline (wwwfourthline.com) and offer "best-in-class" fraud detection and compliance solutions with innovative technology for banks and FinTechs. Interesting, isn't it? Well, experience with money laundering and KYC is something that Booker has gained with Payvision.
Shared Office: Both companies share an office at Tesselschadestraat 12, 1054 ET, Amsterdam. That is convenient, isn't it? The revenues from the payment services for the porn industry can then be used to develop an efficient KYC business.
Nobly POS Solutions: until March 2021, Booker was an active director in the UK company Global Retail Technology Limited, POS payment company controlled by George Urdea, Romania, and Sebastiaan Bruinsma (Companies Register). Payvision was or is one of the partners of this company. The company and Booker are currently being sued in court by an affiliate who also accuses Booker of fraud.
Ferraris, speed boats, and expensive watches.
According to the Dutch report, Booker, son of a wealthy Amsterdam real estate investor, is engaging, but also the type that leaves it broadly speaking. He drives a Ferrari, likes fast boats, and wears luxury watches with suggested retail prices over € 50,000. Hence, it's not really a surprise that he was
Booker was more concerned with his capital than with the integration of the two companies," says an insider now. One time when we sat down at the table, he didn't say much. He was swiping to Ferraris on his iPad. It is, therefore, absolutely no surprise that Rudolf Booker and Uwe Lenhoff got along so well. Both of them showed off with their Ferraris, expensive watches, and other luxuries.