It's court season again for Payvision and its former U.S. partner T1 Payments. While a fraud complaint has been brought in the U.S. by a former client against the T1 Payments group and its alleged successor company, the FCA-regulated e-Money Institution Pixxles Ltd, for alleged illegal activities, the European Fund Recovery Initiative (EFRI) orchestrates lawsuit of scam victims against Payvision for its scam-facilitating activities. T1 Payments is trying to dodge the U.S. lawsuit by preventing being served in the UK. Here's an update.
Key facts
The unprecedented Austrian court case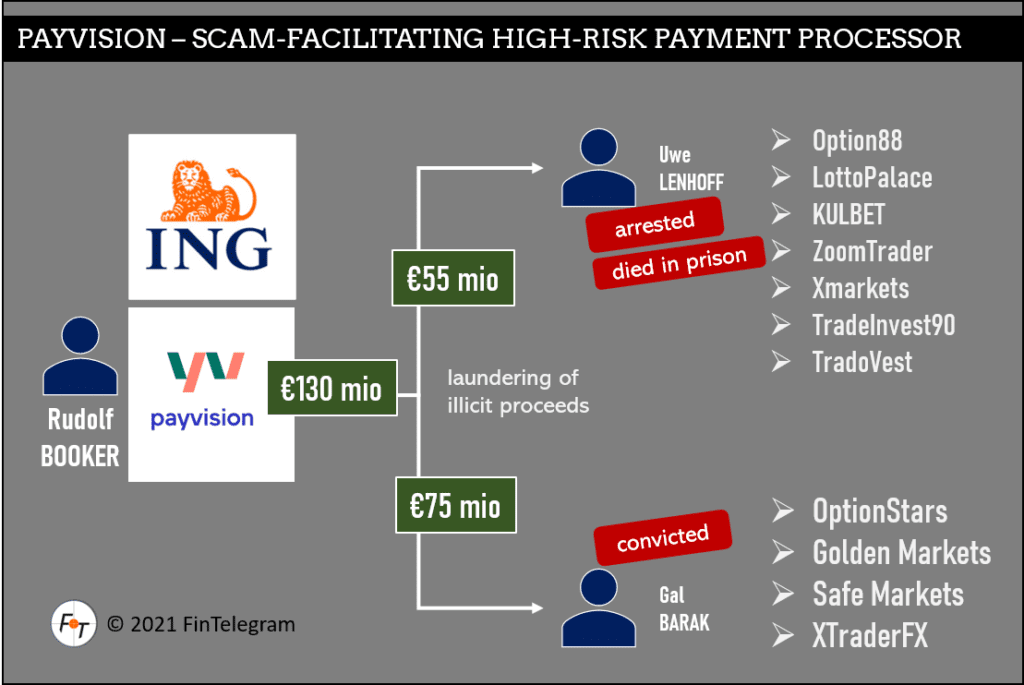 EFRI's lawyers have filed lawsuits for victims of broker scams facilitated by the ING subsidiary Payvision. Victims are seeking to recover funds for victims of broker scams operated by Uwe Lenhoff and Gal Barak and their respective cybercrime organizations. Both were arrested in early 2019. Lenhoff was found dead in his jail cell in summer 2020, cause of death unknown. Barak was sentenced to four years in prison and approximately €4 million in restitution in September 2020 for investment fraud. Lenhoff and Barak's cybercrime organizations had used Payvision as a payment processor.
Criminal records show that Payvision founder and then-CEO Rudolf Booker and his team knew exactly that their customers had stolen victims' money. Booker even spent his holidays in Austria with Lenhoff. Evidently, Payvision knowingly and wilfully laundered at least €130 million for both cybercriminals. Therefore, EFRI is seeking to recover the money from Payvision on behalf of the victims. The case is considered a precedent in Europe.
The Payvision founder team around Rudolf Booker left the company in spring 2020 (report here). ING had acquired the high-risk payment processor in 2018 for a valuation of €360 million but had already announced its intended closure in September 2021 (report here). Even before that, ING ordered that Payvision's unethical high-risk business (in fact, the entire business) would have to be sold. It was sold back to the exiting Payvision founders for a symbolic amount. Rudolf Booker and his friends will laugh about the ING deal even today.
If EFRI-coordinated lawsuits of the scam victims succeed, then follow-up lawsuits against other payment processors in Europe could be expected. The public prosecutors' office has refused to continue with a criminal complaint filed against Payvision. Allegedly, they have not yet appealed the acquittal of Marina Barak, one of the principals of the cybercrime organization E&G Bulgaria, one of the money-laundering clients of Payvision, and the wife of Gal Barak.
The U.S. Court Case
In the U.S. court case against the T1 Payments group, the U.S. MLM scheme operator IBUUMERANG LLC, a former T1 Payments client, is the plaintiff. According to the fraud complaint, T1 Payments falsely held itself out to the public as a payment facilitator acquired merchants under its name, but Payvision actually processed the payments.
Read more about the T1 Payments group and Pixxles here.
In July 2019, IBUUMERANG signed a Card Payment Processing Agreement with T1 Payments. In August 2020, T1 Payments suspended its account and retained more than $1.5M. Moreover, IBUUMERANG was placed on the so-called MATCH list, a public blacklist for merchants, and thus harmed. IBUUMERANG claims that T1 Payments, its people, and its partners, including Payvision, acted unlawfully and is seeking a total of $6M in damages.
On 31 August 2021, IBUUMERANG LLC filed a fraud lawsuit in the competent court in Nevada against T1 Payments LLC, its representatives, and partners, including Payvision B.V.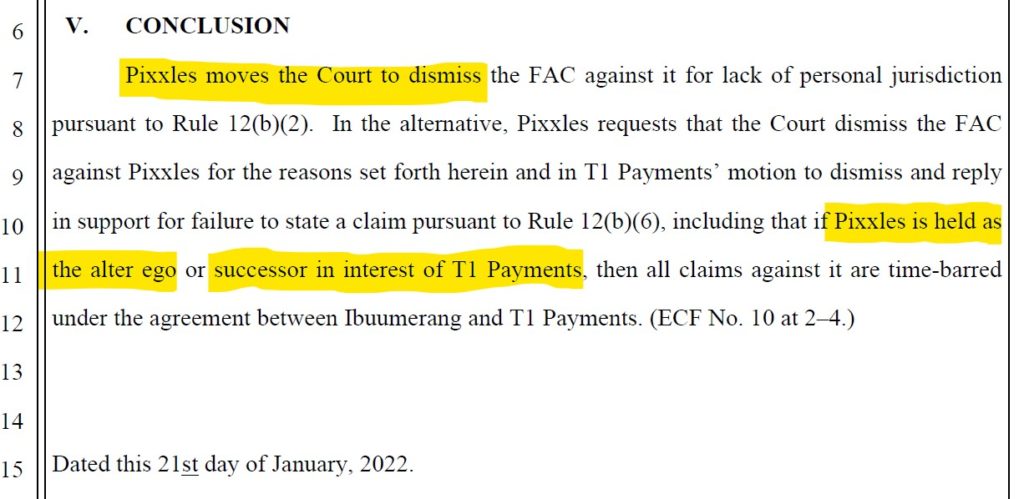 The latest court records show that as of 25 January 2022, the UK entities T1 Payments Limited and TGlobal Services Limited have not been served. However, the plaintiffs' lawyers express confidence the service will be confirmed soon.
Pixxles' attorneys filed a motion on 22 January 2022, requesting that the lawsuit be dismissed because the plaintiffs have not succeeded in proving fraud or mistakes. The plaintiffs alleged that T1 Payments had merged its business into FCA-regulated Pixxles, making it "the alter ego or successor in interest" of T1 Payments and thus part of the fraud scheme surrounding T1 Payments.
Already on 20 December 2021, Payvision's lawyers filed a motion to dismiss the complaint.
The truth is that Payvision has not engaged in any fraudulent conspiracy with Donald Kasdon, Amber Fairchild, or T1. Indeed, the FAC lays blame for masterminding any fraudulent plans on Kasdon and Fairchild.

Payvision motion to dismiss complaint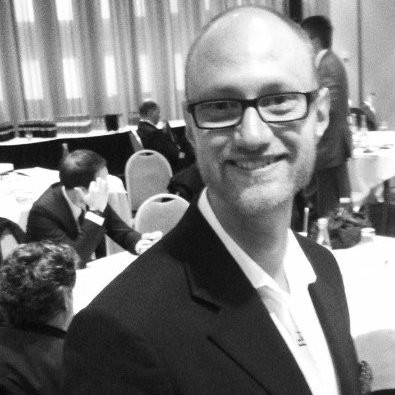 We have spoken several times with T1 Payments founder Donald Kasdon. While he confirmed the partnership with Payvision, he denied any wrongdoing of T1 Payments. Moreover, he claims that the FCA–regulated e-Money Institution Pixxles is not his business and in no way related to T1 Payments. His former partner Amber Fairchild is the CEO and beneficial owner of Pixxles. According to UK Companies House records, she holds at least 75% of the company's shares. Briton Scott Adrian Metcalfe (LinkedIn), pictured left, is registered as a director of the operation.
Share information
If you have any information about Payvision, T1 Payments, or Pixxles, please share it with us through our whistleblower system, Whistle42.