There is no end to the drama surrounding the disgraced Dutch FinTech and high-risk payment processor Payvision. The ING subsidiary and its founders Rudolf Booker, Gijs op de Weegh, and Cheng Liem Li have been facing allegations of having facilitated scams and cybercrime for many years. In addition to criminal investigations and victims' claims, there are also lawsuits in the U.S. filed against Payvision and its spin-off Cetler. They allegedly were working in collusion with the T1 Payments group. Here's the story.
The Fraud Complaint and the Payvision Collusion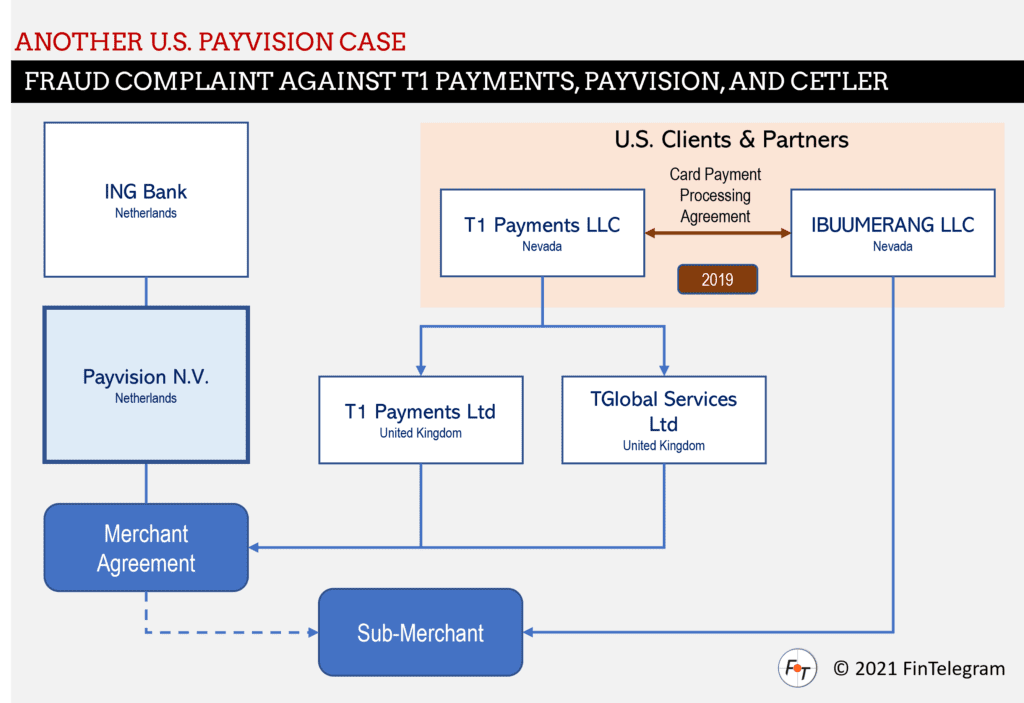 The plaintiff, IBUUMERANG LLC, a U.S. merchant operating MLM schemes, was a U.S. client of the high-risk payment processor T1 Payments group and its Dutch partner Payvision. According to the complaint, T1 Payments falsely held itself out to the public as a payment facilitator acquired merchants under its name, but Payvision actually processed the payments.
On August 31, 2021, IBUUMERANG LLC filed a fraud lawsuit in the competent court in Nevada against T1 Payments LLC, its representatives, and partners. These include Payvision B.V. and its spin-off Cetler B.V. The latter belongs to the Payvision founders and has taken over a considerable part of the high-risk business and clients from Payvision. Among them are also the porn and gambling clients. After Payvision's takeover by ING, the latter did not want this shabby business and sold it to Cetler for a symbolic price. Booker, op de Weegh and Li are the companies directors (see the report here).
In July 2019, IBUUMERANG signed a Card Payment Processing Agreement with T1 Payments. In August 2020, T1 Payments suspended its account and retained more than $1.5M. Moreover, IBUUMERANG was placed on the so-called MATCH list, a public blacklist for merchants, and thus harmed. The plaintiff is seeking a total of $6M in damages.
It is not the situation for Payvision and T1 Payments. They are involved in a similar case with the MLM operator Beyond Wealth (report here).
The T1 Payment Familiy Business
T1 Payment operates via a group of companies controlled and owned by Donald Kasdon and his family:
T1 Payments LLC, Florida, with Donald Kasdon, Amber Fairchild and Debra Kasdon
TGlobal Services LLC, Nevada, Amber Fairchail, Debra Kasdon a/k/a Debra King
T1 Payments Limited, United Kingdom, with Debra King (Companies House)
TGlobal Services Limited, United Kingdom, Amber Fairchildd (resigned) and Debra King (Companies House)
The CEO of the T1 Payment Group used to be Donald Kasdon (read Finance Magnates article here). Also involved are his alleged girlfriend Amber Fairchild and his mother Debra King, a/k/a Debra Kaisen a/k/a Debra Kasdon.
Amber Fairchild is the beneficial owner and director of Pixxles Ltd d/b/a Pixxles (www.pixxles.com), an e-Money Institution regulated by the Financial Conduct Authority (FCA) with reference number 927960 since July 2021.
Sometime in the last few months, T1 Payments Group deleted its LinkedIn account to hide its U.S. activities. The website www.t1payments.com is currently officially operated in the UK; however, it still lists the Las Vegas office and a U.S. phone number. Donald Kasdon has also changed his LinkedIn profile deleted his picture and his activities and experience. Houston, they have a problem. Don't they?