Rudolf Booker is said to spend a lot of time on his €30M yacht. The running costs of the yacht are €3M per year. Well, ok. He has enough time and money since he sold FinTech Payvision, which he founded and led as CEO, to ING in 2018 at a valuation of €360M. It has been ING's largest acquisition after the financial crisis to date. Evidently, ING bought itself a money-laundering hub, a Wirecard mini-me. Booker and Payvision mainly served high-risk merchants, scams, and cybercrime organizations. Booker personally was well acquainted with leading scammers like Uwe Lenhoff and Gal Barak. The victims of these scammers want their money from Payvision. And ING considers closing down its troublesome subsidiary, local media reports.
The scam friends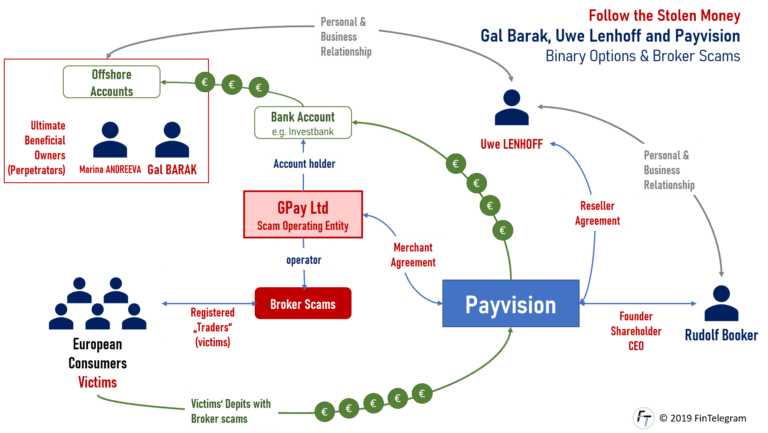 Uwe Lenhoff and Gal Barak were arrested as part of a Europe-wide law enforcement operation in early 2019. Lenhoff was found dead in his prison cell in the summer of 2020. Barak was sentenced to several years in prison for investment fraud and money laundering in September 2020. Lenhoff worked for Booker and Payvision as an affiliate and brought scam customers to Payvision. One of them was Barak with his scam brands XTraderFX, SafeMarkets, or Golden Markets. The criminal files show that Rudolf Booker and Payvision were deeply involved in the Lenhoff and Barak scams. Booker was aware of the regulators' many warnings against the scams. Despite this, Payvision was still transferring millions until shortly before their arrests.
The victims' claims
The European Fund Recovery Initiative (EFRI) represents numerous scam victims who deposited their funds to many scams through Payvision. In doing so, they trusted that Payvision had done a proper KYC and AML check. Investigations by law enforcement agencies show that Rudolf Booker and his Payvision have been well aware of the illegal dealings of their scam and cybercrime clients and knowingly and willingly supported their illegal activities. This, of course, makes them liable to the scam victims. EFRI has already filed charges against Payvision for money laundering and is currently taking legal actions against the company with its lawyers. So far, Payvision denies any responsibility.
No brand, no business
The brand "Payvision" is certainly dead. Moreover, the business of the high-risk payment processor might have collapsed after ING ordered the closure of sensitive segments like porn or gambling. And scammers are not welcome anymore. Unfortunately, those were the main customer segments. There probably won't be much of a business left. Sources claim that as much as 70% of the clientele was terminated. In the year following the acquisition, profits plummeted 66%. Gross operating profit (EBITDA) came in at €6.3M. By comparison, its Dutch competitor Adyen posted an EBITDA of €279M in the same year. A disgraded brand and broken business. Closing down is the logical consequence.
According to reports in the Dutch media, ING has already commissioned McKinsey to look for solutions for the payment business. Actually, Payvision was supposed to be the growth engine for ING in this area. However, a FinTech that has mutated into a zombie does not seem suitable for this.
Rudolf Booker will not be affected financially by the Payvision disaster. He is estimated to have a net worth of $400M (report here). His vanity, on the other hand, is deeply affected, we hear.