Today we received another nice email from [email protected]. In the email, we are once again presented with a link to FXOffers (www.fxoffers.cc) and its fraudulent Elite Trading Club campaign. A video still promises that you can earn more than €15,000 daily without risk on the campaign page. The campaign promises to make you a millionaire. Got it, stupid? All you have to do is register. Today, victims are being sought via this fraudulent campaign for broker scams IGM Holdings, HQ Trade, and FinoCapital. Do not be one of these victims.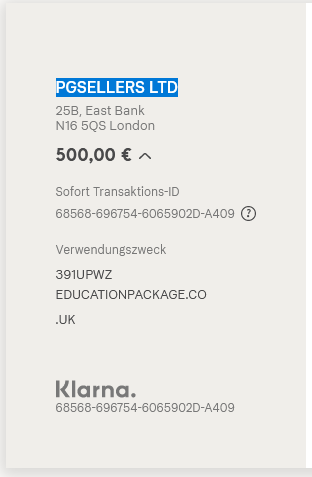 While at HQ Trade (www.hqtrade.com), no deposit was possible today, and therefore no payment processor could be identified; at FinoCapital, we have once again identified the Russian Piastrix with its Paytrio. They are integrated into the well-known XPayz cashier (www.xpayz.net). In the IGM Holdings scam (www.igmholdings.com) we identified PaymentsPro (www.paymentspro.ch) as the cashier with various payment processors like Idealo, GiroPay, Banccontact, AliPay, or Sofort from Klarna. We also uncovered the UK company PGSELLERS Ltd as a registered merchant owned by the British Paul Solinsky.
Apparently, PGSELLERS acts as an illegal payment processor for the scam. Officially PGSELLERS sells "Education Packages" (see the screen on the left). A classic of money laundering.
Furthermore, at FinoCapital and IGM Holdings, potential victims can lose money via cryptocurrency singles.
Do not fall for these fraudulent affiliate campaigns. Keep your eggs together, and have a great Easter.
PaymentsPro is a new scam facilitator for us. There is no information about the operator on the website itself. We will therefore create a separate report for PaymentsPro. If you have any information about PaymentsPro, we would be grateful if you could share it with us.