Today, the Spanish regulator CNMV issued an investor warning against the broker scam WAM Capital (www.wam-capital.co) allegedly operated by WAM-Capital Limited in New South Wales, Australia, and Gabioni Ltd. According to the website, the scam would be regulated by the Australian ASIC as a CFD provider. In fact, WAM Capital is acting as a fake of the public-listed Australian asset management firm Wilson Asset Management (WAM). The payment processor we discovered is Ran Cohen's BridgerPay and VivaWallet.
The Italian-Romanian Connection
The WAM Capital scam uses the brand WAM and a similar-looking logo to fake the real listed Wilson Asset Management (www.wilsonassetmanagement.com.au). In the UK, we found Gabioni Ltd, managed by Italian Martina Decembrini as director and controlled by Romanian Gabriela Ionela Ion as the beneficial owner (Companies House). The company was founded in May 2020.
BridgerPay and BP Token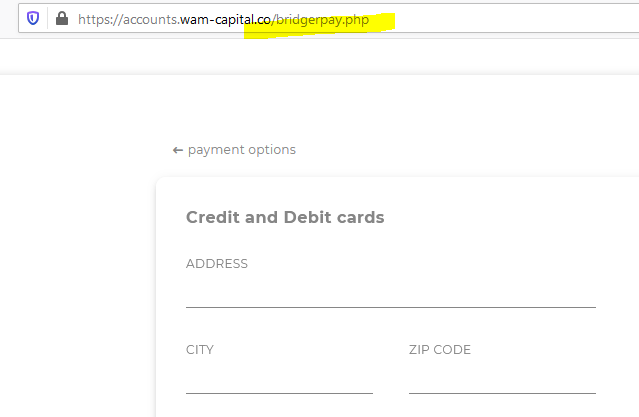 The deposits of the soon-to-be victims are made via BridgerPay cashier. This allows for deposits via credit and debit cards, as well as Halo Payments a/k/a HPAY (www.hpay.live). HPAY is a payment platform using a so-called BP Wallet (www.bp-wallet.com) and the BP Utility Token powered by Setara LLC in Miami, United States. Officially, the victim purchases a BP token which is then transferred to WAM Capital (or the corresponding FIAT value). Interesting, isn't it? So the BP Token is a means of payment for scam ventures and/or high-risk merchants? We don't know yet!
VivaWallet
When depositing via VivaWallet (www.vivawallet.com) the merchant Planet Stores is indicated as the recipient of the victims' deposits. VivaWallet is the trading style of the Greece Viva Payment Services S.A. licensed as an e-Money institution by the Bank of Greece
We would like to know more about the WAM Capital scam and would appreciate it if you share your experience and information with our research team.