We have been analyzing the cybercrime investigations and indictments of the Austrian and German law enforcement agencies. Most recently, the public prosecutors' offices in Bamberg, Rostock, and Cologne caused a stir with action days in Israel, Cyprus, Ukraine, Serbia, Bulgaria, and other jurisdictions. The respective law enforcement agencies investigate different cases but share their findings and coordinate their actions and charges. They do not prosecute individual scams but work on the hypothesis of criminal organizations according to §§129 and 129b of the German Criminal Code.
The lieutenant gets a higher sentence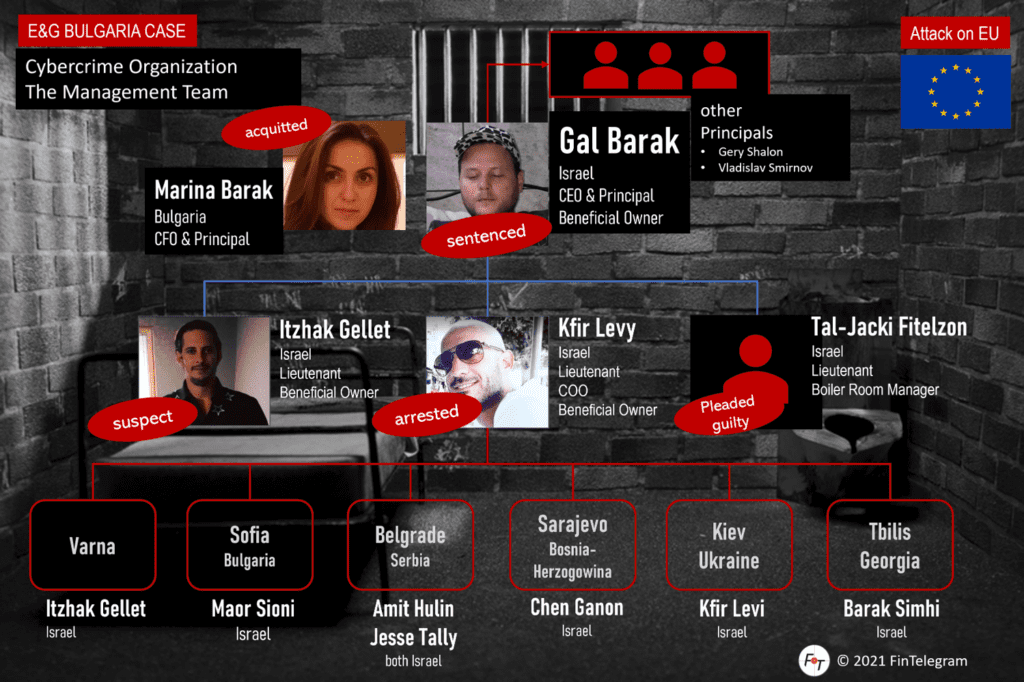 Currently, the Israeli Tal-Jacki Fitelzon is on trial in Munich. He was the boiler room manager of Gal Barak in his E&G Bulgaria cybercrime organization. Fitelzon has already pleaded guilty to the charge and will receive between 6.5 to 7 years in prison. What does the prosecution accuse him of? Unlike the accusations against Gal Barak in Austria, the German prosecution, led by Nino Goldbeck, has charged Fitelzon with forming and supporting a criminal organization under §§129 and 129b to commit systematic investment fraud as defined in §263 and defraud consumers with various scams. This indictment is an exciting development in prosecutors' understanding of the fight against cybercrime.
The principal got away with almost nothing
The head of Jacki Fitelzon, Gal Barak, was only charged and convicted in Austria of aggravated fraud under $$246 and 147 and money laundering under $165 of the Austrian Criminal Code. Like Fitelzon, Gal Barak pleaded guilty and confessed.
However, the prosecutor did not charge him with forming and participating in a criminal organization. That is probably why his sentence of 4 years in prison was very light, almost ridiculously light. Fitelzon testified on the first day of his trial that E&G Bulgaria was a serious criminal organization and Gal Barak was its head.
The Austrian prosecutor also charged Marina Barak, Gal's wife. Here, too, he has waived charges of membership and support of a criminal organization. According to the findings of the German prosecutors, however, that Marina was the Chief Financial Officer and a principal of E&G Bulgaria.
Decisive responsibility within the grouping came in particular to Gal BARAK, who was the head of the gang. The top management …. also included Marina BARAK (until mid-2019 ANDREEVA), Gal BARAK's wife, Kvir LEVY, Tal-Jacki FITELZON, other individuals.

Findings of the German Prosecutor's Office
Nevertheless, Marina Barak was charged "only" with aggravated fraud and money laundering in her Austrian trial. For the court, there was too little evidence for her guilt. She was acquitted. The prosecution has appealed, so the acquittal is not yet final. If she had been charged with membership of a criminal organization, a conviction would probably have been more likely.
Why the Austrian prosecution did not charge the founder and principals of the E&G Bulgaria with establishing and running a criminal organization and why he received a significantly better sentence than their lieutenant is beyond our understanding. But prosecutors need to learn, too. Cybercrime is a new phenomenon.
An German indictment of the principal
The prosecutor responsible for the indictment of Jacki Fitelzon also wants to indict his boss Gal Barak again in Germany for §§129 and 129b. Barak's lawyer has objected to this. The decision on this is currently before the European Court of Justice. We can be curious.
However, the indictment against Kfir Levy, another lieutenant of Gal Barak, is likely to come. He was arrested in the Philippines in October 2021 at the request of the German prosecutor's office in Bamberg (Munich). Since both Barak and Fitelzon have already confessed, it will probably be hard for Levy to get an acquittal.
More indictments to come
The same prosecutor's office in Bamberg (Munich) also had four Israelis, Chen Malka, Nimrod Blachman, Yuri Dashevsky, and Pavel Kotler, arrested most recently and requested their extradition to Germany. They were part of another criminal organization that operated GetFinancial and other scams.
Read our reports on the GetFinancial Case here!
Law enforcement agents in Rostock and Braunschweig are also investigating the operators of more than 170 scam brokers around the FX Leader Case as part of a criminal organization. On 6 October 2021, extensive law enforcement actions were coordinated by Europol and Eurojust in Cyprus, Bulgaria, and Ukraine. During these action days, a suspected high-ranking member of the cybercrime organization was arrested in Limassol, Cyprus. He was released into home detainment while the German prosecutors wanted him deported to Germany.
Read our reports on the FX Leader Case here!
Currently, there is no indictment, but the most likely will be grounded on §§129, 129b, and 263 of the German Criminal Code. Members of the cybercrime organization can be charged even if they have not directly committed fraud but have supported the organization with their services and instructed others to commit criminal activities.
In retrospect, the year 2021 could be seen as a turning point in the fight against cybercrime in Europe. In any case, 2022 will be a year with many indictments and convictions.