Whistleblower Credits: We would like to thank our whistleblowers for their reports and insights, which help us expose scammers and their payment processors. Together we can make a difference in cyberspace. Together we are an invincible force.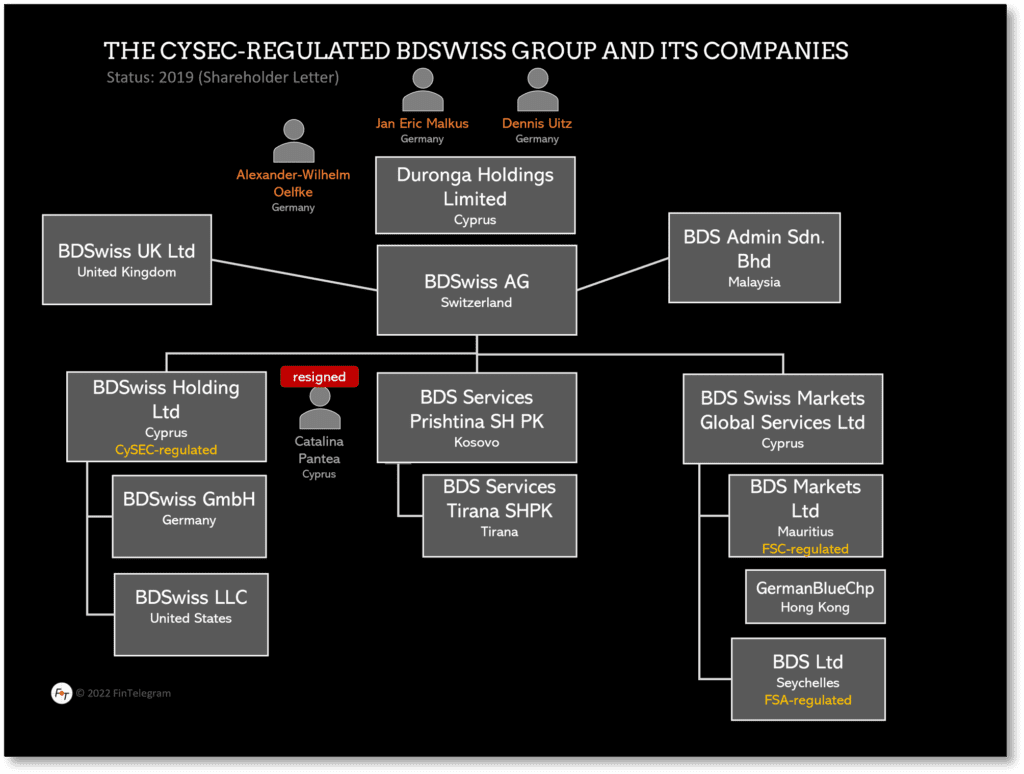 Since Mid-April 2022, the CySEC-regulated German BDSwiss has not been accepting new clients. We have been following the activities of the CySEC-regulated BDSwiss and have reported extensively on their offshore onboarding. We have been threatened several times by their Compliance and Legal Departments for doing so. In our re-check on 1 June 2022, we learned that the BDSwiss website continues to inform visitors that no new clients are accepted until further notice. Moreover, former director Catalina Pantea reported to us that she resigned in Jan 2022 and has no clue about the current state of affairs.
Trading names
BDSwiss
Swiss Markets
BDS Trading
Domains
eu.bdswiss.com (CySEC approved)
eu.swissmarkets.com (CySEC approved);
eu.investments.bdswiss.com (CySEC approved);
eu.bdstrading.com (CySEC approved)
www.bdswiss.com (offshore)
swissmarkets.com (offshore)
Legal entities
Duronga Holdings Limited (Cyprus)
Vastani Services Ltd (Cyprus), Vastani GmbH (Germany)
BDSwiss Holding Ltd (Cyprus/CySEC)
BDSwiss GmbH (Germany/CySEC agent)
BDSwiss UK Limited (UK)
BDS Markets (Mauritius)
BDS Ltd (Seychelles)
BDS Swiss Markets Global Services Ltd (Cyprus)
BDS Swiss AG (Switzerland)
BDSwiss LLC (USA)
Related individuals
Jan Eric Malkus (LinkedIn)
Dennis Uitz (Germany)
Alexander-Wilhelm Oelfke (LinkedIn)
Konstantin Oelfke (manager)
Catalina Pantea (resigned)
Karl Hunger (director)
Ivan Vasylchenko (director)
Jurisdictions
Cyprus, Mauritius, Seychelles,
Germany, United Kingdom
Regulators
CySEC for BDSwiss Holding Ltd license number 199/13
FSC Mauritius for BDS Markets with license No. C116016172,
FSA Seychelles for BDS Ltd with license number SD047
Payment options
Bank wire, credit and debit card
PayPal, Trustpay, eps, Skrill
Cryptocurrencies
Payment processors
VIA Payments UAB
Warnings
FCA, BaFin
Read our report on the Unleashed Capital Bank project here!
The Updated Narrative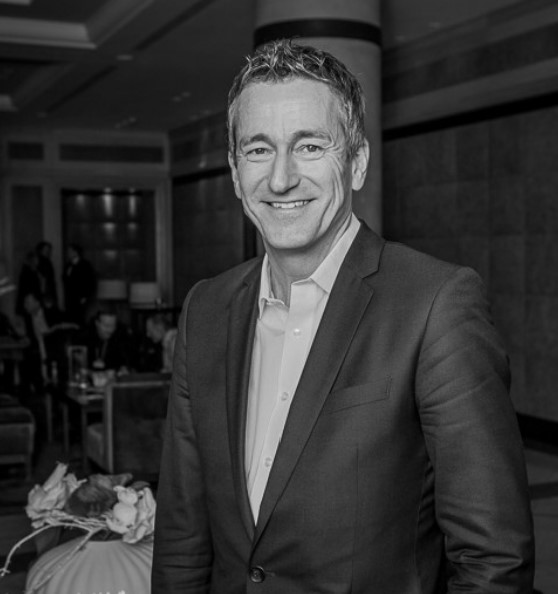 BDSwiss is a financial venture established by the German entrepreneur and investor Jan Eric Malkus (pictured left), who initially acted as CEO and is its current Chairman. Malkus is a rather public person, maintains a personal website to inform about his investments and projects (www.janmalkus.com), and runs the consulting and investment venture Vastani (www.vastani.de) in Germany and Cyprus. German Vastani GmbH is also behind the GermanBlueChip Pool (www.germanbluechip.com), established through BDSwiss and its co-founder and former CEO, Jan Malkus. The allegedly resigned Catalina Pantea used to be a director in Vastani too. We have not got any information on whether she also resigned from her post at Vastani.
Via the Swiss-based holding BDSwiss AG and the Cyprus-based Duronga Holding Limited, Malkus controls the BDSwiss Group. He holds more than 70% of BDSwiss AG, Switzerland, through his Cyprus-based Duronga Holding Limited. In addition, he still has more than 10% directly in this Swiss holding company. Alexander-Wilhelm Oelfke, a Berlin-based entrepreneur, is the acting CEO of the BDSwiss Group.
Jan Eric Malkus is a close partner of the well-known and disputed German entrepreneur Dennis Uitz (www.dennisuitz.com). The latter apparently claims to third parties that he would also be one of the beneficial owners of BDSwiss.
According to the FCA, the BDSwiss Group's offshore brokers did not comply with the FCA's restrictions on the marketing and sale of CFDs to retail consumers. The FCA identified severe concerns with the sales and marketing practices of the BDSwiss Group, including the use of misleading financial promotions, which made unrealistic claims about the likely returns. Many investors were attracted to the firm via social media promotions.
Non-compliant offshore onboarding
The BDSwiss Group has apparently systematically designed its company and website structure to circumvent European regulatory requirements. According to the website, the offshore broker Swiss Markets (https://swissmarkets.com) is operated by the Cypriot BDS Swiss Markets Global Services Ltd, which also acts as a payment processor for BDS Markets in Mauritius.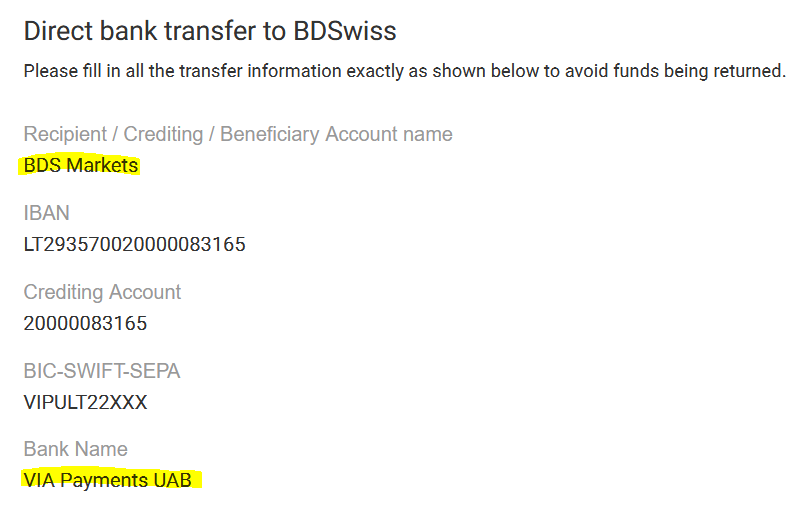 We could have made unlimited pre-KYC deposits in our review even before verifying our email and identity in our previous reviews. This is not a problem, especially with cryptocurrencies. For bank transfers, the offshore entity BDS Markets uses an account with VIA Payments in Lithuania (screenshot left).
This offshore onboarding without proper KYC/AML procedures violates financial laws, anti-money laundering requirements, and regulatory requirements.
Conclusion
By using offshore onboarding, the BDSwiss Group, as well as other CySEC CIFs, circumvent and violate ESMA and CySEC regulatory requirements. Neither the onboarding procedure (without proper KYC/AML) nor the offered leverage levels comply with regulatory requirements in UK and EU. This offshore onboarding is done willfully and knowingly. The payment options are designed for European customers with SEPA transfers and accounts in the UK or EU.
Clients of offshore entities are not entitled to investor compensation schemes or other regulatory intervention measures. They are also not allowed assistance from Financial Ombudsman institutions.
The block on new customer acquisition, which has lasted for weeks, points to renewed regulatory problems. This could end lethally for BDSwiss.
Share information
If you have any information about BDSwiss, please share it with us through our whistleblower system, Whistle42.