Spread financial intelligence
We already know Igor Torsin. Don't we? The 62-year old Estonian lawyer works for Estonian company builder Eesti Firma OÜ and is a director at nine FIU-licensed Estonian crypto companies (read this report). Among them is PayTechno OÜ, supervised by the FIU with license number FVT000151. The company was registered in May 2018 and operates the two brands and domains CryptoPayTech (www.cryptopaytech.com) and PayTechno (www.paytechno.com). The latter is one of the worst scam-faciliting crypto payment processor. We would like to know more about this scam-facilitating payment processor and its people.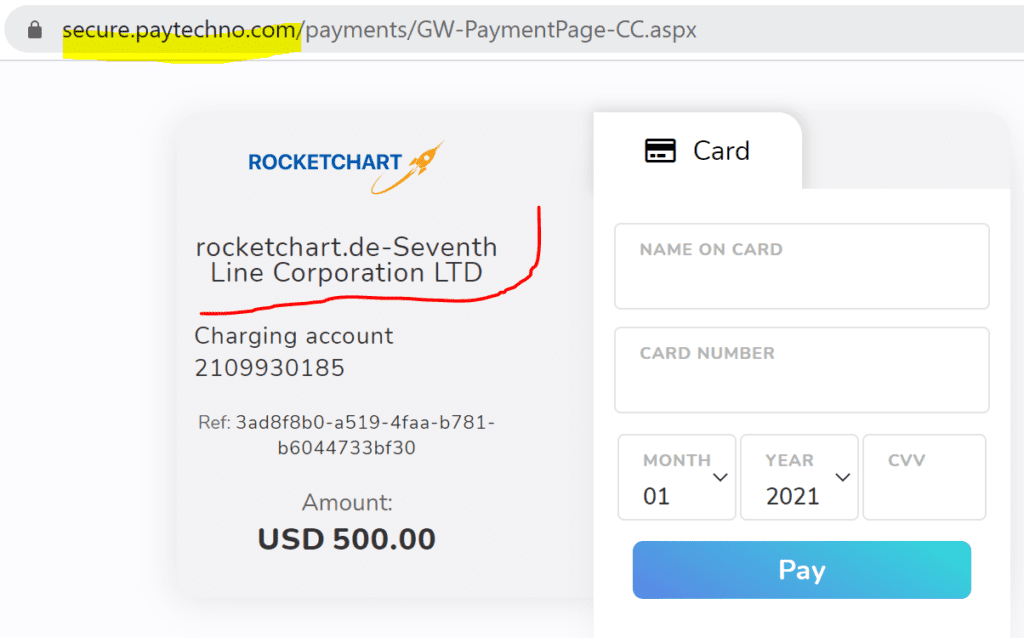 There is no website associated with the domain www.paytecho.com. Those who enter the domain in the browser are redirected to CryptoPayTech (www.cryptopaytech.com), the "white side" of the company.
We know that PayTechno used to be a customer of the Lithuanian GlobalNetint UAB. Igor Torsin has opened an account there.
Deposits from victims of PayTechno's scam clients (the "dark business") are routed through the subdomain https://secure.paytechno.com (see the screenshot of RocketChart scam on the left). However, visitors cannot access this page directly; it's open for API access only. However, the payment page https://secure.paytechno.com/payments/GW-PaymentPage-CC.aspx is accessible.
We would like to know more about the beneficial owners, clients, and partners of PayTechno OÜ. If you have any information, we would appreciate it if you could share it with us.