As reported by FinTelegram, the former ING CEO Ralph Hamers will step down from his job as CEO of Switzerland's UBS Group at the beginning of April 2023 after nearly 29 months on the job. He will be replaced by a predecessor Sergio P. Ermotti. This surprising move may be related to the acquisition of Credit Suisse, or it may be related to ongoing investigations into money laundering in Holland. It has not yet been decided whether charges will be brought against Hamers.
The public prosecutor's office in the Netherlands wanted to decide by the end of March 2022 whether to file charges against UBS CEO Ralph Hamers. Still, the Dutch authority has not yet made any decision, the Swiss Handelszeitung reported last year. The investigations against Hamers in a money laundering case involving his previous employer ING, are ongoing in the Netherlands. It should have been clear some time ago whether or not the public prosecutor's office could charge him with personal misconduct. However, nothing has been decided yet.
The Dutch prosecutors had previously dropped their investigation into Hamers and waived charges when a settlement for a money laundering fine of € 775 million was reached with ING, a large but very manageable amount for an institution like ING. However, Pieter Lakeman, chairman of Stichting Onderzoek Bedrijfs Informatie (SOBI), filed an appeal and was proven right by a court. The judge overturned the decision and ordered new criminal investigations for Ralph Hamers.
In December 2020, the Court of Appeal issued its final ruling. In this ruling, the prosecutor's decision to enter into a settlement agreement with ING was upheld, making the settlement final. However, in a separate ruling, the Court ordered the prosecution of ING's former CEO.

ING Annual REport 2022 (published in March 2023)
The Dark Payvision Legacy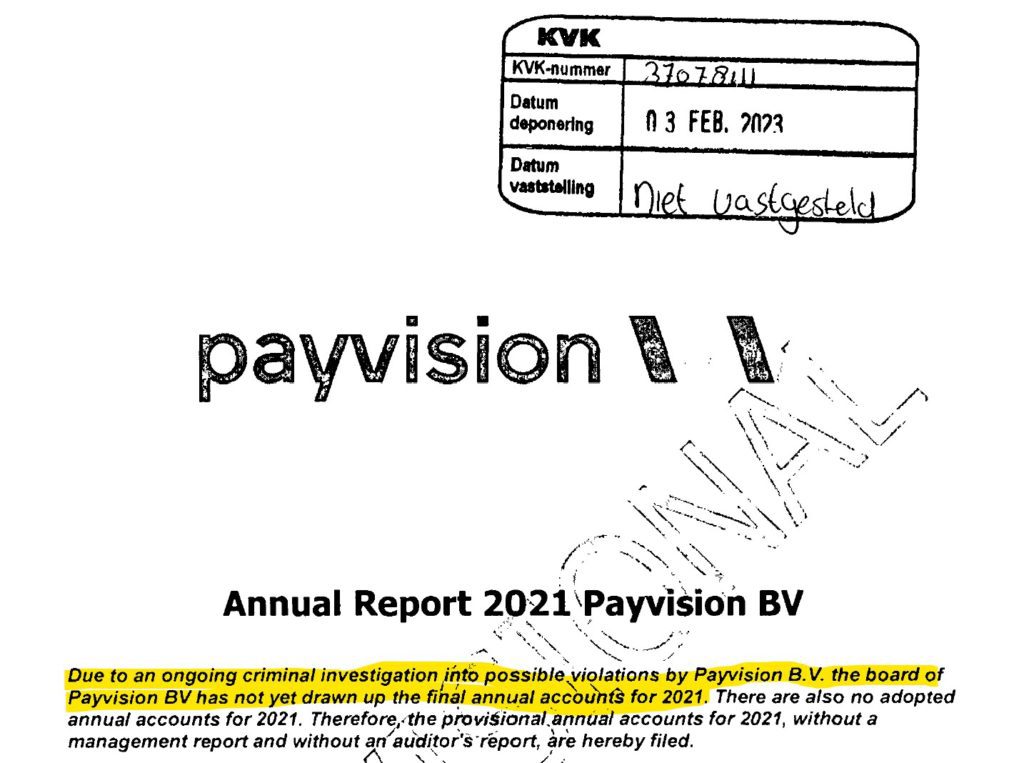 Ralph Hamers also has another dark legacy at ING. In 2018, he was responsible for purchasing Payvision, which has since closed. For this, ING has sunk a total of over €400 million. It turns out that Payvision, founded by Rudolf Booker, did his business as a cybercrime and porn facilitator. Based on a desatrous audit report of DNB (denederlandschebank) criminal investigations are underway against Payvision and its management, an extensive raid was done in May 2022. For sure next to the money laundering fine of € 775 mio in 2018, Payvision was ING's biggest disaster in decades.
Apparently, ING did not do a proper due diligence. How else could one explain this disaster? And Hamers and his successor as ING CEO, Steven van Rijswijk, must take this responsibility. The latter was the responsible compliance manager at the time.
Hamers has been hailed as a digital pioneer with the purchase of Payvision and was probably also appointed CEO by UBS because of his alleged digital vision. In 2022, he was the highest-paid banking executive in Europe. He will probably not be able to claim this title again in 2023. The surprising dismissal will inflict reputational damage on Hamers, who is described as vain.