Spread financial intelligence
The Estonian regulatory regime had been a severe issue for the EU since the inception of its crypto license program some three years ago. Even though the Estonian Ministry of Finance recently announced that its FIU revoked more than 1,000 licenses, there are still about 400 regulated crypto payment companies active in the market billing themselves as "EU-regulated" payment processors. Companies like BlueData OÜ, or Lipan Services OÜ facilitate and/or operate scams. These companies are also customers of the Lithuanian GlobalNetInt, which is part of the network.
The Money-laundering Issue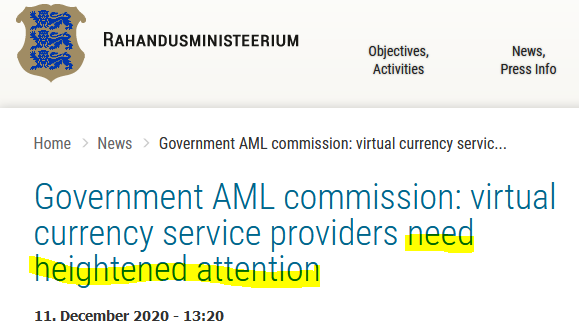 Even if there are now "only" 400 payment processors, that is way too many to efficiently monitor with a small FIU with a planned budget of €3.1 and 32 employees. The entire crypto sector is still far too little understood by regulators for efficient regulation to be even thinkable. A survey conducted by the Estonian FIU has shown that there is a massive money laundering issue connected to this crypto industry:
Estonian payment processors have little connection to Estonia; the beneficial owners are foreigners (many of them Israeli citizens) working with local trustees and nominee directors;
most of the regulated Estonian crypto payment processors' clients are located offshore in South America, Asia, Russia, or Iran.
In the first 6 months of 2019 alone, €1.2 billion were officially moved through these payment processors, a doubling compared to the same period in 2018. Let alone the non-official volume.
We can rightfully assume that several billion euros will have been laundered via these Estonian payment processors by 2020.
FIU-licensed entities like BlueData, or Lipan Services are just three of hundreds of licensed crypto-payment processors that facilitate broker scams and illegal business with their payment services, among other things. Many of these scam operating networks own Estonian "EU regulated" payment processors via trustees and nominee directors. Thus they can largely bypass banks via cryptocurrencies and steal their client victims' money without hardly a trace.
How it works
Let's take BlueData as an example to see how these Estonian schemes work. BlueData still operates the broker scam MDX500 and, in parallel, the payment processor XChangePro (www.xchangepro.net) via which the client-victims of the MDX500 scam deposit money. Officially these client-victims buy cryptos on XChangePro with FIAT funds via bank wire or credit card. These cryptos are then transferred more or less automatically – or via Anydesk – to the scam operators' wallets. Well done, no fraud here in the first place, right? And yet, gone is the money.
The Estonian Financial Markets Inspectorate Finantsinspektioon issued a warning against BlueData and MDX500 in October 2020. But that apparently didn't bother the FIU too much. To date, both websites MDX500 and XChangePro are online and working.
Lipan Services operates the regulated BitTheBank (www.bitthebank.com) crypto payment platform and has been increasingly noticed as a supporting payment processor in scams, especially in recent weeks. Read the report on regulatory warnings against Lipan Services client Plutus a/k/a Plutus Pro here or MDX500 here.
Bank accounts with GlobalNetInt
Also rather unimpressed by the scam activities of Estonian firms is GlobalNetInt UAB, regulated by the Bank of Lithuania and part of the FCA-regulated MoneyNetInt Group. BlueData and Lipan Services are clients of GlobalNetInt like dozens of other Estonian crypto-payment firms and broker scam operators.