Spread financial intelligence
Every single day we receive reports about new scams from whistleblowers and victims. Much appreciated it is! For us, this is an indication that investors are becoming more alert. That's excellent news. However, regulators and law enforcement are taking longer to do so. But that's exactly why FinTelegram exists. An insider informed us that there is a new broker scam active with NAB Consulting. We took a look at the scam and found Israeli-Russian PaynetEasy as the facilitating payment processor.
After registering with NAB Consulting (www.nabconsulting.eu), one receives a confirmation email. This tells you that NAB Europe Limited, St. Vincent and the Grenadines (SVG), is the scam operator. In other words, the operator. The support phone number given belongs to MMO Technology OÜ registered in June 2019 Estonia with Christiana Konstantinide, a Cypriot born on June 17, 1983, registered as the sole director. The Estonian entity is owned by NAB Europe in SVG.
There is a UK Financial Conduct Authority (FCA) regulated NAD Europe Limited with reference number 488582, but this should have nothing to do with the NAB Consulting broker scam. NAB Group (National Australian Bank) is an Australian financial group with operations in various jurisdictions.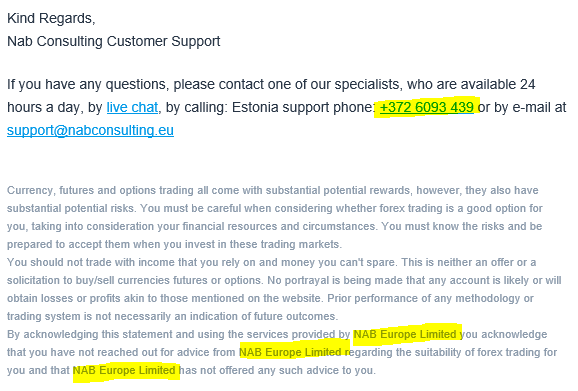 If you visit MMO Technology's website (www.mmotechnology.com), you will be assaulted by porn ads. Ignoring these, one realizes that MMO Technology, a/k/a MMO Tech positions itself as a marketing company. This perfectly fits the picture. There are always marketing companies behind scams.
The Payment Processor
PayNetEasy (www.payneteasy.com) is active as a payment processor for NAB Consulting. This is another notorious payment processor that happily facilitates scams (read this FinTelegram report). On the PaynetEasy website (www.payneteasy.com), one searches in vain for legal entities or persons operating the high-risk and dark web payment processor. PaynetEasy apparently is an Israeli-Russian venture.
On his LinkedIn page, PaynetEasy's headquarters are listed as Gibraltar with 39 Irish Town, Suite 5, GX, Gibraltar 11 1aa, GI. This is the address where PaynetEasy Technologies Limited is registered with the Israeli Boaz Gam (LinkedIn profile) as its CEO. The Russian Vyacheslav Zarubin (LinkedIn profile) in Moscow is the payment processor's COO. According to LinkedIn, most of the company's staff is actually residing in Russia.