Spread financial intelligence
The Israeli Yossi Herzog, who apparently lives in Mauritius, and his Israeli apprentice Kobi Cohen certainly had a better life already. They currently being charged with investment fraud in several jurisdictions and/or they and their units are being wanted by financial market regulators. The list of "wanting" authorities ranges from the USA to Israel and Australia. The list of companies involved in scams and/or investment fraud according to the authorities is long. They range from Yukom (Israel), Numaris (Mauritius), Gal Media Trade (Israel) to AGM Markets (Australia). The next few years will certainly not be easy for Herzog and Cohen.
The Yukom Case
The charges in the U.S. against Yukom are already well known to the readers of FinTelegram. Yossi Herzog and Kobi Cohen were the ultimate beneficial owners of Yukom Communications Ltd's Israeli binary options scam schemes, which according to U.S. prosecutors defrauded retail investors worldwide by some $140 million with the scam broker sites BinaryBook, BigOption, and BinaryOnline. The CEO of Yukom, the Israeli Lee Elbaz, has already been found guilty of binary option fraud by a US jury. She will most likely go to jail for many years and has to pay a million-dollar fine and restitution.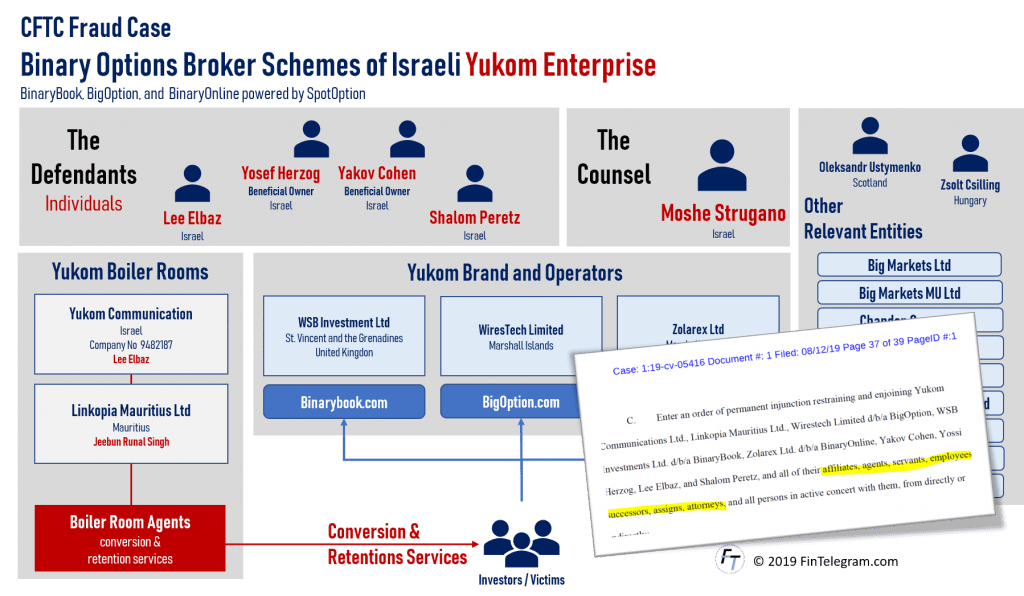 The Israeli-Australian Case
The two masterminds are also associated with the current scandal surrounding the listed iSignthis (ISX). The Australian Stock Exchange Supervisory Authority AFX is currently investigating ISX. Herzog and Cohen companies such as AGM Markets are also appearing. Until a few months ago, this company had a license from the Australian ASIC.
Israeli individuals operated the binary options site OTCapital.com (OT Markets under AGM Markets licence umbrella. These broker sites were labeled as scams by ASIC and had to be stopped by a court decision obtained by ASIC. Read more on this subject in The Sidney Morning Herold.
ASX suspended the trading of the shares of the once shooting Australian fintech star. And there are good reasons that suggest that the cease trade order will not be lifted anytime soon.
ISX itself is very reminiscent of the German WireCard and its secret cooperation with GreyMountain Management Ltd (which has not yet been clarified). The Australian stock exchange supervisory authority ASX accuses the ISX and its founder and CEO John Karantzis of irregularities in the balance sheet and questions transactions with Herzog and Cohen companies. This will be an exciting story that we will explore on FinTelegram. Stay tuned!