Spread financial intelligence
The fraud and money laundering scheme surrounding the German Uwe Lenhoff and his Veltyco Group PLC is becoming increasingly extensive. The global dimension was already known. We have minutes of conversations from which it can be seen that Lenhoff estimated the volume of the cash flow controlled by him at $3 billion a year in 2016. As a listed company, Veltyco played a special role as a laundry machine, as Lenhoff himself reported to an insider. The money stolen from investors via fraudulent broker platforms such as Option888, TradoVest or Xmarkets should be laundered via the Veltyco and relabelled as marketing revenue. That was the dark plan.
Lenhoff, Bakker, and Preussner
Lenhoff and his partner, the Dutchman Dirk Jan (DJ) Bakker, established the listed Veltyco Group PLC in 2016 by means of a reverse takeover (RTO). According to Lenhoff, Bakker was de facto the main shareholder of Veltyco and had a decisive influence. In addition to Bakker, the German Falk Preussner was also deeply involved in the scams. In particular, Falk Preussner would be one of the beneficial owners of the Xmarkets scam. Preussner is also one of the major shareholders of Veltyco.
The Crypto Daily Contribution
The latest documents show that Crypto Daily (www.cryptodaily.co.uk), which is allegedly a leading crypto news outlet, is also apparently involved in the money laundering around the illegal broker schemes Xmarkets and TradoVest. This is already the subject of investigations by the authorities in various countries.
Victims of TradoVest and Xmarkets have registered their claims with our EFRI campaigns and provided payment documents along with the supporting communication protocols. These show, for example, that the accounts of Crypto Daily Pte Ltd at OCBC Bank in Singapore were used to receive funds from customers of TradoVest and Xmarkets. This is exactly the company that runs the crypto news site CryptoDaily (www.cryptodaily.co.uk).
The payments received from Scam Broker customers were subsequently forwarded by Crypto Daily to Lenhoff's money laundering network via its vehicles Celestial Trading, Celtic Pay or Capital Force. Crypto Daily Pte Ltd also obtained written confirmation of customer payments for trading purposes. So there is no doubt that the people of Crypto Daily knowingly and willfully participated in these scams: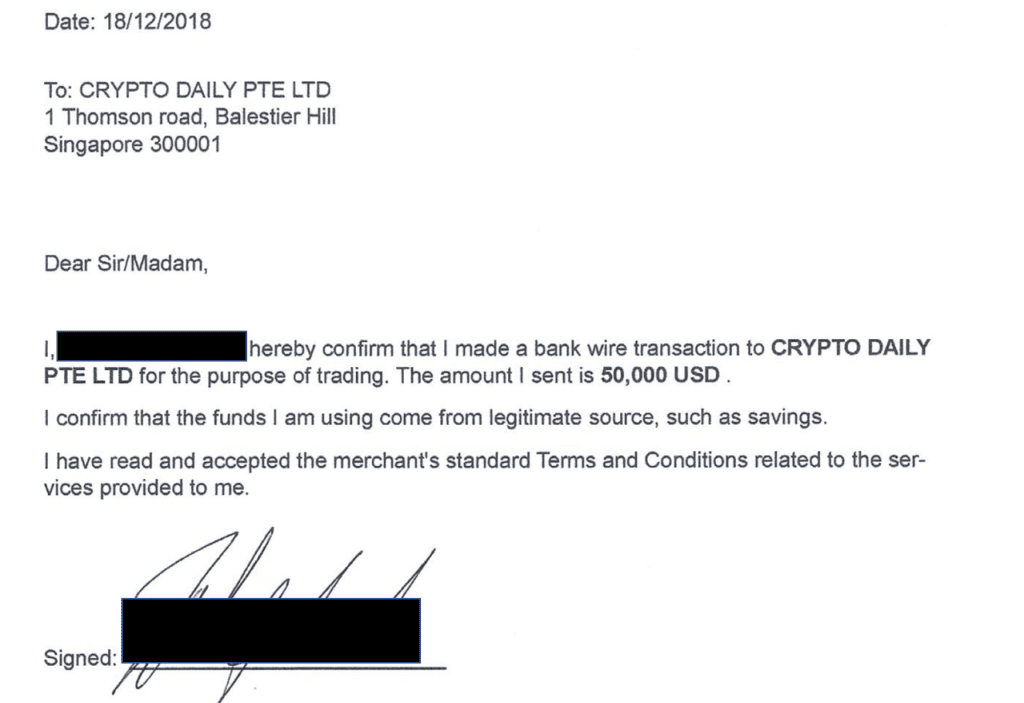 Companies such as Crypto Daily Pte Ltd usually receive high commissions for these illicit activities. Hence, it is an excellent way to make a living at the expense of retail investors. FinTelegram already identified dozens of other illegal payment services such as B2G, Xtrabit, StronIT or TrustSecure.
Crypto Daily Responsibility
It is completely incomprehensible how a leading Crypto News company like Crypto Daily Pte Ltd can get involved with money laundering and scams. Apart from the consequences under criminal law, the reputation of the entire crypto industry is thus tarnished. The directors of the company, the Dutch Pascal B. Van Knijff and the two Englishmen Carl Liver and Rheace Jones are responsible for this and have to be held accountable.

The Crypto Daily Pte Ltd, from EFRI's point of view, facilitates the investment fraud of these broker scams. They supported them with unauthorized payment services and thus illegally enriched themselves. In this way, EFRI will hold the company and its employees accountable in the very best interest of the cheated investors.
File your claims with EFRI
Victims from TradoVest, Xmarkets and the other broker schemes around Lenhoff and Veltyco can file their claims with EFRI: