Spread financial intelligence
Rudolf Booker was the co-founder and, until 2020, CEO of Payvision, a Dutch FinTech acquired by ING in 2018 at a valuation of €360M. Payvision and Booker were massively involved in the international scammer and cybercrime scene as payment facilitators, processing hundreds of millions of euros of illicit revenue. Victims of the scams knowingly and willingly supported by Payvision want their money back. FinTelegram has reported on Payvision's extensive scam involvement. Booker sued for defamation and asked the court for a preliminary injunction. The court rejected his request.
A scam facilitator, money-launderer, and his victims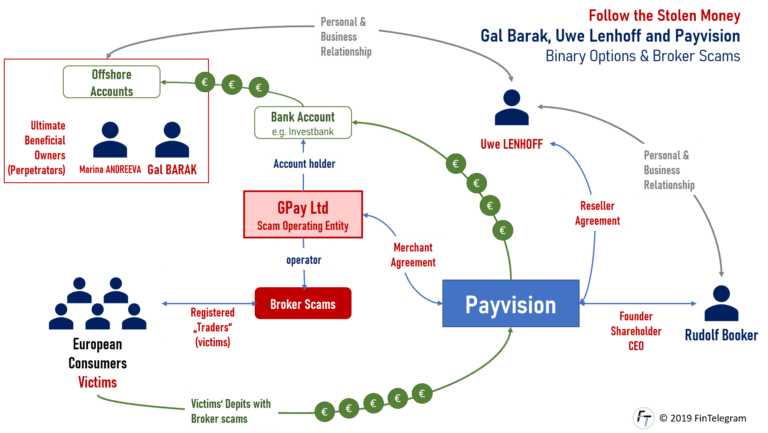 The European Fund Recovery Initiative (EFRI) represents numerous scam victims who deposited their funds to these scams through Payvision. In doing so, they trusted that Payvision had done a proper KYC and AML check. In fact, investigations by law enforcement agencies show that Rudolf Booker and his Payvision have been well aware of the illegal dealings of their scam and cybercrime clients and knowingly and willingly supported their illegal activities. This, of course, makes them liable to the scam victims. EFRI has already filed charges against Payvision for money laundering and is currently taking action against the company with its lawyers. So far, Payvision denies any responsibility.
The Israeli Gal Barak, convicted of investment fraud and money laundering, was one of Payvision's major clients with his scam operating entities. Until shortly before Barak's arrest in early 2019, Payvision was still transferring millions to his scam operators. Criminal records show that Rudolf Booker personally intervened to process payments from Barak's victims through Payvision.
EFRI's fight to refund the scam victims will continue. Booker (in vain) can sue as much as he feels he has to; he, Payvision, or ING will have to admit their faults and pay in the end.
Kiss my yacht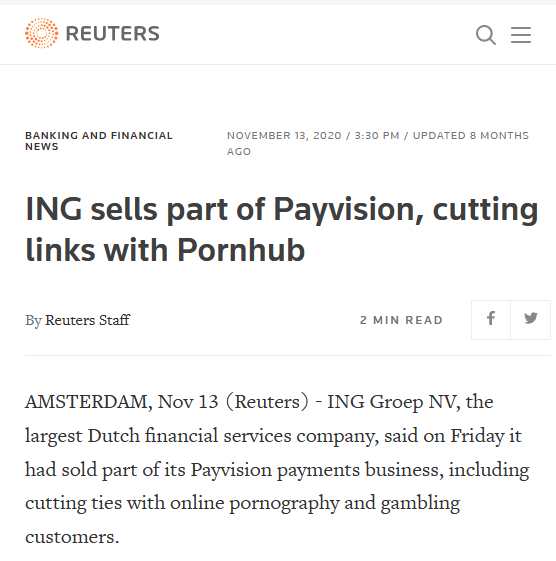 ING is likely to regret its purchase of the high-risk payment processor Payvision by now. Besides scams and cybercrime, gambling and porn were also among the customers. ING subsequently had to part with these areas, Reuters reported. Actually, the Payvision founders acquired the porn business for a symbolic purchase price (read this report here).
In 2018, ING acquired Payvision from Rudolf Booker and his co-founders Gijs op de Weegh and Cheng Liem Li at a valuation of €360M (press release). In April 2020, Booker and the co-founders left the company. Since then, he has reportedly been staying mainly in Dubai or his luxury yacht Kiss, which costs some $30M with a whopping $3M per year running costs. He also owns a Dassault Falcon 7X private jet, with registration HB-JLK. The aircraft has a value of roughly $15M. Not to mention the Ferraris he shows up within Amsterdam.
While Booker may not be the brightest mind in the FinTech scene, he comes from a wealthy family. His father is a well-known real estate investor in Amsterdam, and his stepfather is billionaire Frits Goldschmedig, says the website Superyacht Fan.
A disgraced FinTech entrepreneur
Booker sued over FinTelegram and EFRI coverage and lost. The lawsuit brought was simply false. He also sued the wrong company. In addition, the reports and advertisements published by FinTelegram and EFRI could be proven.
Rudolf Booker, Payvision, and ING are a disgrace to the FinTech scene and, like Wirecard, represent the fact that FinTechs have a bad reputation. Booker, Payvision, and the parent ING have to face their responsibility towards the injured victims. Voluntarily or ordered by the court.