OnspotBNK has been on our radar since 2022. We found that the unauthorized offshore broker cooperated with FCA-regulated broker One Financial Markets. Since then, financial market regulators from several regulatory regimes, such as Italy's Consob and Spain's CNMV, have warned against OnspotBNK. The offshore broker has changed domains several times but is now likely to have disappeared for good. A successor will surely appear soon.
Latest Update
OnspotBNK is a black-listed offshore broker and scam active with various legal entities and domains in various jurisdictions. The offshore broker, which belongs to Gennaro Lanza's network, has recently changed domains and websites several times. In our last review on 24 Jul 2023, the broker was active with the domain Onspotcap.com. The website said that ONS Financieel Advies & Coaching B.V., registered and licensed in Holland, would be the owner. The Italien Consob warned against the offshore broker, as did the Alberta Securities Commission in Canada. Stay far away and protect your financial health.
OnspotBNK Key Data
Trading name
OnspotBNK
Domain
https://onspotbnk.com
https://onspotb.com
www.onspotcap.com
https://onspotcap.co
Legal entity
OnspotBNK Limited (fake)
ONS Financieel Advies & Coaching B.V.
Related brands
NewFX, Dubai FXM, DubaiFXM Trade (offline),
DBinvesting, DBFX, DBFX Trades,
OneFinancialMarkets
Related domains
https://newfx.trading, https://newfx.co
www.dbinvesting.com,
https://dbfx.trade
www.dubaifx.com (offline)
Contact data
+44 7558 493 847


[email protected]


[email protected]
[email protected]
Related boiler rooms
Capital Solutions Ltd, Malta
Connected individuals
Gennaro Lanza (LinkedIn),
Connected entities
Big Horizons Ltd (Seychelles)
Big Horizons Ltd (Commonwealth of Dominica),
New Forex Limited (Commonwealth of Dominica)
Invest Group Global Ltd (Seychelles),
Dupay LP (previously Dubai FXM LP in the UK),
Dubai FXM Limited (Vanuatu), previously DBFX Limited
DBInvesting Limited (Vanuatu),
DB Invest Limited (Seychelles)
Belight Capital Group Ltd (Cyprus)
Regulatory actions
CNMV and Consob,
ASC Canada
Payment processors
Praxis Cashier, BridgerPay,
CoinDeck, VoltCoins, ProCashier
Jurisdictions
Malta, Cyprus, United Kingdom,
Commonwealth of Dominica, Vanuatu,
Seychelles, Netherlands
Compliance rating
Black
The OnspotBNK Narrative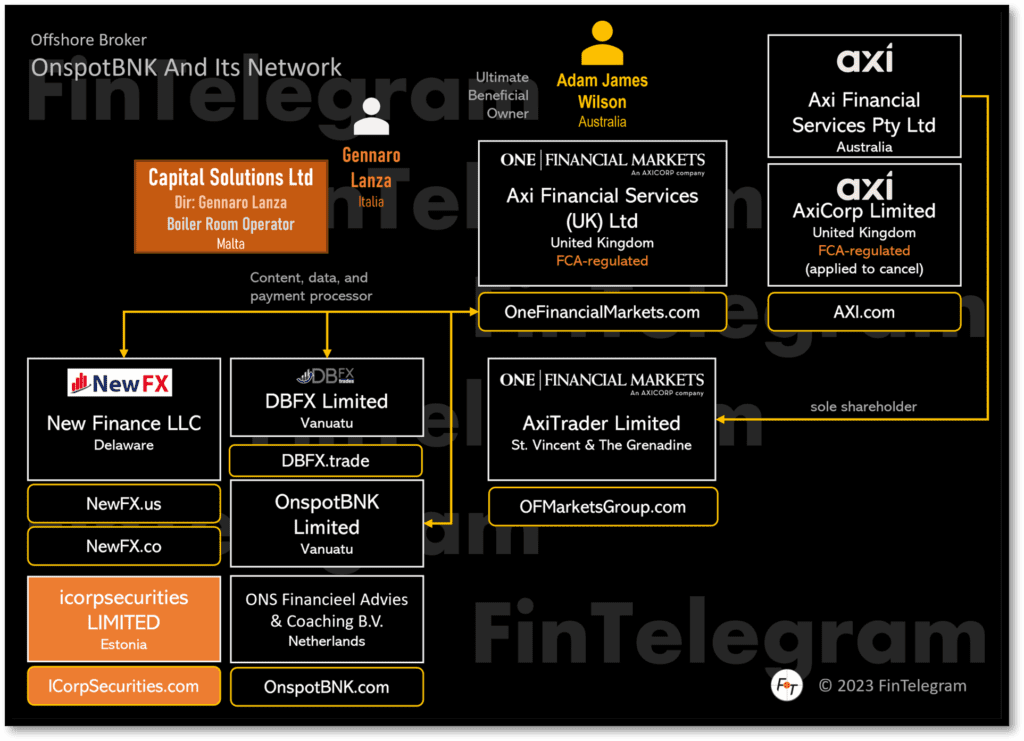 OnspotBNK is an offshore broker and a scam. OnspotBNK Limited, allegedly regulated by the Vanuatu Financial Services Commission (VFSC) with license number 40133/17, would be the operator. However, we have found neither the license number nor the company in the register of the VFSC.
Instead, we found that the DubaiFXM and DBFX brokers are connected. The same perpetrators are behind these schemes and many more. We found Jubiter, a/k/a CoinDeck, as the facilitating payment processor. Stay very far away and protect your money.
In our last review in May 2022, we exposed BridgerPay and CoinDeck as the facilitating payment processors (screenshot left). Evidently, BridgerPay is no longer processing OnspotBNK. In our 13 October 2022 review, the only available payment option was CoinDeck.
The OnspotBNK broker scheme apparently belongs to a network that operated DubaiFXM or DBFX, among others. DBFX Limited (previously Dubai FXM Limited was registered in Vanuatu in 2017 with the company number 40133/17. Thus, it does not need a rocket scientist to conclude that OnspotBNK is related to this Vanuatu company (screenshot right).
The OnspotBNK Boiler Room Connections
We have already elaborated on this in our report in November 2021 that, at least for a certain period, the boiler rooms were operated by Gennaro Lanza's Maltese Capital Solutions Ltd. Through this boiler room operator, other offshore brokers such as NewFX, DBFX, or DB Investing were also operated. We know that scams always come in a swarm. The perpetrators operate with significant fixed costs for their boiler rooms and need corresponding economies of scale.
Connections to FCA-regulated broker?
Another interesting thing we found in our OnspotBNK and DBFX reviews on May 2, 2022, was a link to the FCA-regulated broker OneFinancialMarkets. Honestly, we don't know the details. Still, on the deposit pages of OnspotBNK and DBFX, after making the deposit request, the browser connected to the website www.onefinancialmarkets.com to present the payment options. Maybe the FCA broker is used as a payment processor? Our guess may or may not be correct! Stay tuned for our respective report.
Read the initial report about OnspotBNK and OneFinancialMarkets here.
Share information
If you have any information about OnspotBNK, its operators, the network, and the individuals and partners involved, please share it with us through our whistleblower system, Whistle42.