The Dutch authorities and media now target ING and its subsidiary Payvision. The financial newspaper FD yesterday published another report about the investigation of the Dutch regulator DNB and the alleged financial criminal activities of Payvision. Its CEO Rudolf Booker is said to have personally given instructions to work with scammers such as Gal Barak and Uwe Lenhoff after the compliance department raised issues. Payvision executives recently lied in court filings and claimed they would know of no investigations.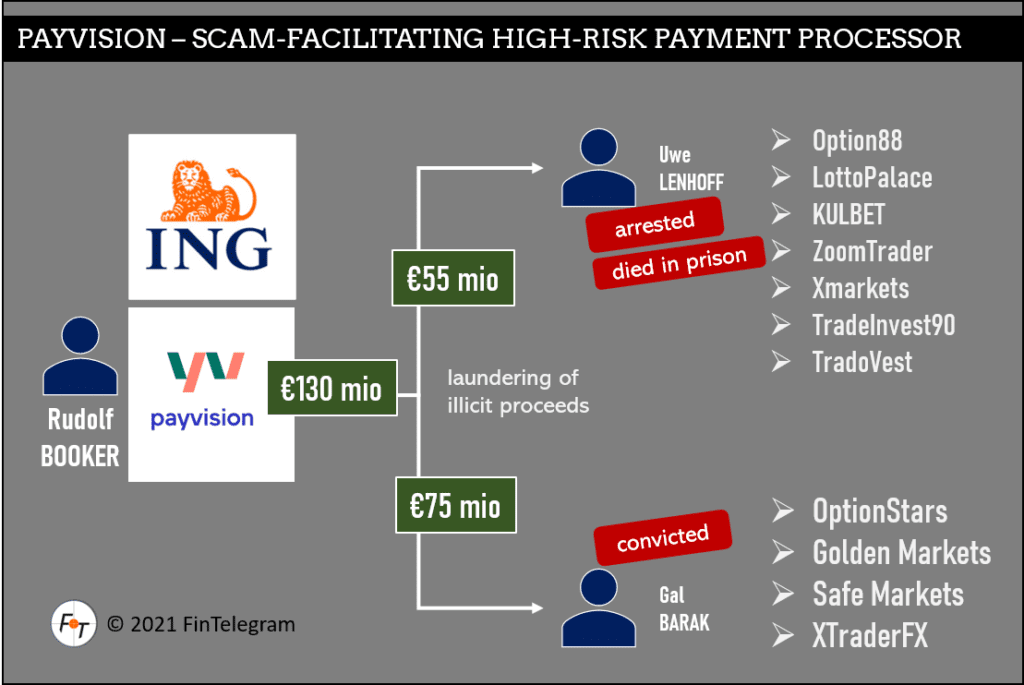 FinTelegram And EFRI Allegations Confirmed
FinTelegram has been highlighting the activities of Payvision and Rudolf Booker since 2018. For this, our people or we have been threatened and sued. Now the Dutch regulator confirms our accusations.
The Dutch law enforcement agency FIOD seized extensive material during office raids in May 2022, which is currently still being evaluated. It would be surprising if the material did not confirm that Payvision acted as a cybercrime facilitator and money laundromat.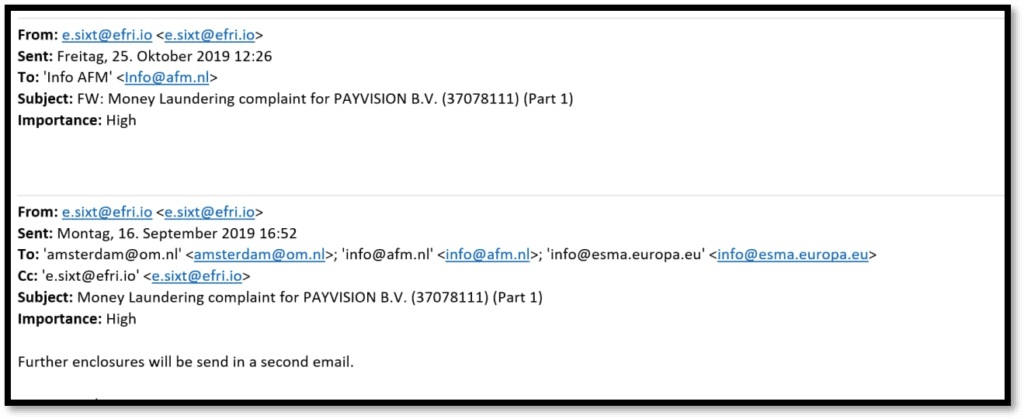 Elfriede Sixt's European Fund Recovery Initiative (EFRI) represents hundreds of victims that Payvision clients have defrauded. She has sent numerous complaints and reports to the relevant regulators and alerted them via Twitter. Consequently, Payvision and its executives started to attack Elfriede Sixt and EFRI with expensive lawyers.
In court, Payvision and its new Board of management recently claimed in court filings that no investigations by regulators or law enforcement agencies were underway. Some alterntive facts. Now we know that the Payvision executives around Andre Valkenburg and Maria Alida Johanna Ruijters Terpstra very well knew about the recent DNB investigations and the devastating allegations since October 2020. Nevertheless, these people continued to work with other high-risk merchants personally onboarded by their CEO Booker.
They All Knew
According to the FD report, which refers to the findings of the DNB report, Payvision's compliance people are said to have been well aware of the fraudulent activities of their clients, such as Gal Barak or Uwe Lenhoff. They wanted to send relevant suspicious activity reports, freeze the funds and terminate the customer relationship. However, Rudolf Booker is said to have instructed to continue the business-as-usual approach. In this way, he and Payvision deliberately facilitated and abetted the scammers' fraud against tens of thousands of victims.
The ING Disgrace
It remains to be seen whether ING can properly dispose of this "poisoned cup" Payvision and compensate all victims they have to answer for by willingly and knowingly supporting their scam clients. The FD notes that the entire Payvision board is now facing allegations of financial crime by the prosecutors themselves.
It would be the first right step by ING to compensate the victims harmed by Payvision's scam customers. So far, ING has left the negotiations to Payvision and their lawyers, who prefer to attack EFRI rather than find clean solutions for the victims.
It is time for ING to get involved in these negotiations and take care!