Spread financial intelligence
The Russian hacker Andrei Tyurin was sentenced in Manhattan federal court to 144 months in prison for his role in the largest financial hacker attack in US history, which was masterminded and coordinated by the Georgia-born Israeli cybercrime supervillain Gery "Gabi" Shalon. Tyurin has pleaded guilty to the charges and allegedly earned more than $19 Mio for his job. Tyurin controlled hacking activities through a computer infrastructure on five continents from his home office in Moscow. Shalon is also a suspect in the Vienna Cybercrime Trials around one of his other "family members," Gal Barak.
The Georgian holidays
Andrei Tyurin would probably never have been extradited from Russia to the US. He did, however, vacation in Georgia in 2018 where Gery Shalon's father Shota Shalelashvili had a massive political influence as a member of parliament at the time. Previously, Shalon had reportedly snitched on Tyurin to U.S. prosecutors. Consequently, Tuyrin was arrested in Georgia and extradited to the U.S. in September 2018. End of the story of cooperation with Gery Shalon and his family.
I committed a crime and I should bear responsibility for that. I caused a lot of harm to a lot of people. I regret but I cannot turn back time.

Andrei Tyurin statement (Source Inner City Press)
The judge believed Tyurin's remorse and noted that he became a white hacker after his illegal activities for Shalon. Therefore, the sentence of 12 years imprisonment was also less than the U.S. prosecution demanded.
After illegal hacking, Mr Tyurin became a White Hat hacker. His remorse seems genuine. The goals of sentencing require a substantial custodial sentence. You are to serve 144 months, Mr Tyurin, then deportation. Restitution is deferred to April 6.

Judge Laura Taylor Swain (Source: Inner City Press)
The Case in a nutshell
According to the indictment, Tyurin engaged in extensive computer hacking activities targeting financial institutions, brokerage firms, and financial news publishers from approximately 2012 to mid-2015. He was responsible for the theft of personal information of over 100 million customers of the victim companies, which has been used to conduct securities manipulation schemes (pump-and-dump penny stocks) and other criminal activities.
On the instructions of Shalon, Tyurin also conducted cyberattacks against numerous U.S. and foreign companies in the furtherance of various criminal enterprises operated by Shalon and his co-conspirators. These included unlawful internet gambling businesses and international payment processors for money-laundering purposes.
Restitution hearing in April
In addition to the prison term, Judge Swain ordered Andrei Tyurin to serve three years of supervised release, and to pay forfeiture in the amount of $19,214,956. The Court will determine Tyurin's restitution obligations at a hearing scheduled for April 6, 2021. Tyurin has been in U.S. custody since he was extradited from the country of Georgia in September 2018, and will commence serving his sentence immediately.
Vienna Cybercrime Trials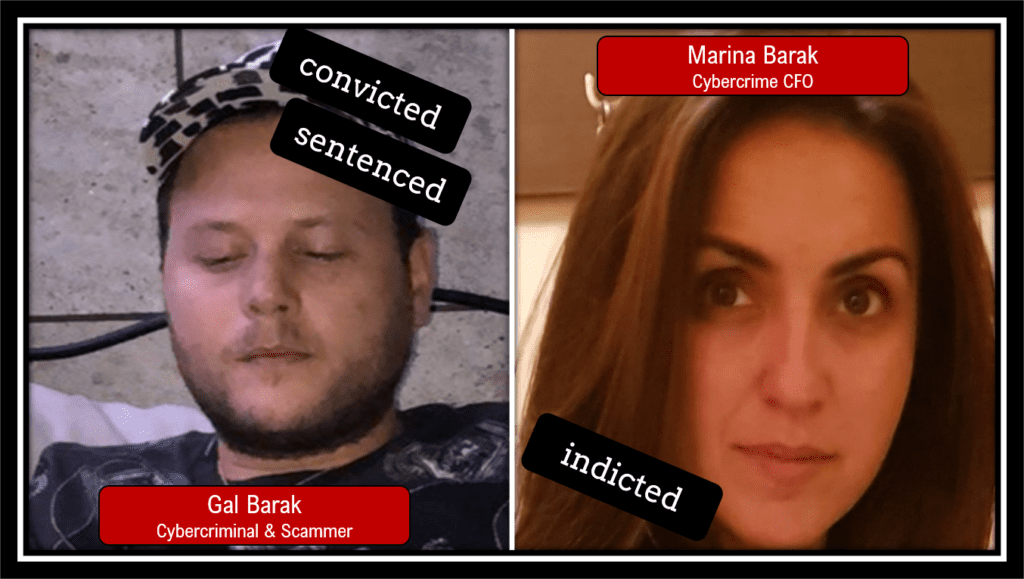 Gery Shalon is also the mastermind behind the cybercrime organization of Gal Barak and his wife Marina Barak (previously Marina Andreeva). Together with his Russian partner Vladislav "Vlad" Smirnov, Shalon has given Barak instructions on how to run the network of broker scams and distribute the money. Barak was sentenced to four years in prison and €2.5 million in restitution payments in early September 2020. He pleaded guilty and cooperated with the EU law enforcement. The charges against his Bulgarian wife Marina Barak will soon be heard in Vienna as part of the Vienna Cybercrime Trials (#VCT). Shalon and Smirnov are also listed as suspects in the case file. But that's another story to be told.