FinTelegram published an initial review of offshore broker PU Prime in April 2022. This offshore broker, regulated by the FSA Seychelles, offers its financial products to clients in the UK and EEA without the required regulatory authorizations. We have placed the broker on our Red Compliance List. The UK FCA also shares this assessment. On May 10, 2023, the UK regulator warned against PU Prime. We have assigned a Red Compliance rating to the broker.
The key data
Short narrative
PU Prime is a very well-made broker and looks very professional, except that no further details about the operators are given. In addition to the website, the broker also operates various social media channels to solicit and inform customers. The Pacific Union Group d/b/a PU Prime is an Australian venture with a strong presence in Asia.
The Pacific Union Group Ltd is a CySEC-regulated investment firm with the approved domain www.pacific-union.cy. However, this website is not available. We received notice that the CySEC-regulated entity is not part of the PU Prime scheme.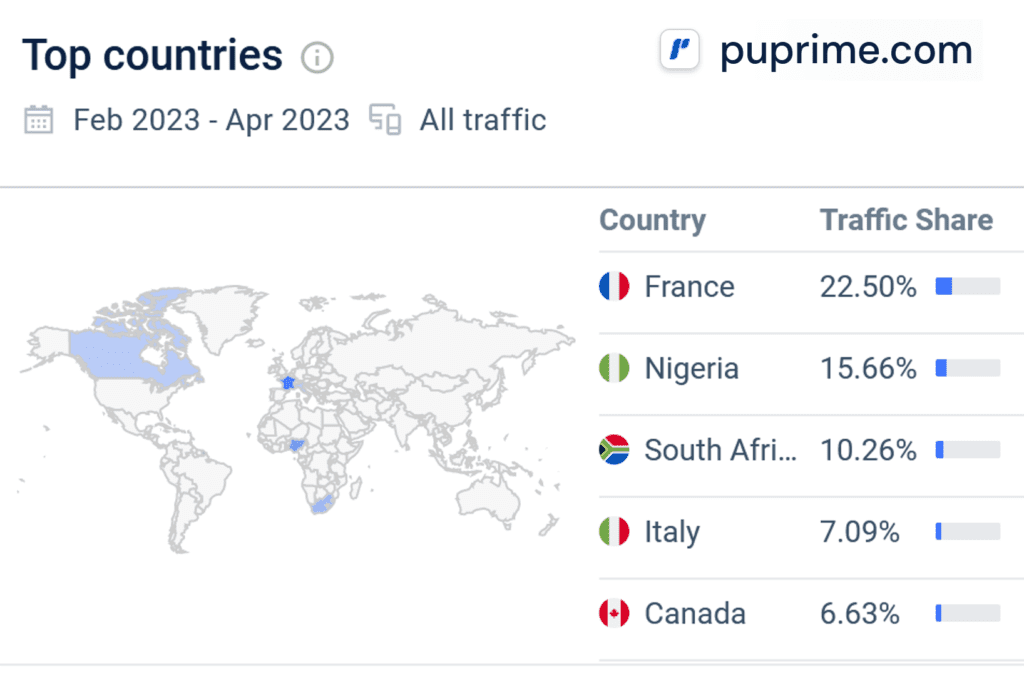 The broker addresses French clients with its own website (https://fr.puprime.net). In the last 3 months (Feb to April 2023), most of the over 511,000 PUprime.com website visitors came from France (22%), but the share of Italian visitors (7%) is also remarkable.
Pre-verification deposits
In our review on April 14, 2022, we registered as EU and UK residents without problems. Before completing the KYC/AML check and verifying our identity, we could have theoretically made transfers via SWIFT to Pacific Union Group Pty Ltd's bank account at Commonwealth Bank of Australia with no limit on the amount we could transfer. However, in our new review on May 11, 2023, it was no longer possible to open live accounts before completing the KYC procedure, and thus no pre-KYC deposits were possible.
Compliance Check
The UK regulator FCA warned against PU Prime on May 10, 2023, stating that the broker does not have permission to offer its financial products in the UK.
PU Prime holds a securities dealer license from the FSA Seychelles. However, it is also certain that this license does not authorize PU Prime to offer regulated financial products such as CFD in Europe, North America, or most other regulatory regimes. PU Prime is acting unauthorized and, therefore, illegal in these regimes. Theoretically, unlimited pre-verification deposits are not compliant with the regulatory frameworks of the FCA, ESMA, or other regimes.
Due to the regulatory warning and compliance issues, we have included PU Prime in our Red Compliance list.
Clients of offshore entities are not entitled to investor compensation schemes or other regulatory intervention measures. They are also not entitled to assistance from Financial Ombudsman institutions.