Spread financial intelligence
FinTelegram has received information that the authorities in Poland and other EU member states are investigating the payment service provider (PSP) MoneyNetInt Ltd. Whistleblowers and scam victims have repeatedly reported to FinTelegram that payments to binary options and broker scams have been processed through MoneyNetInt's Polish bank accounts. MoneyNetInt is a UK registered company operating under a license from the UK Financial Conduct Authority (FCA). EU passport regulations, therefore, allow the company to provide its financial services within most EU countries. CEO of the company is Israeli Ishay Moshe Trif.
Key data
---
Investor warnings from financial watchdogs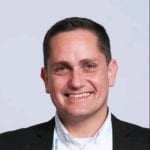 The financial market supervisory authorities of Poland and other jurisdictions have already warned MoneyNetInt and investors in the past about violations of securities and capital markets law in connection with broker scams. For example, the Polish Financial Market Authority KNF has issued a public investor warning against MoneyNetInt because of the broker scam Tradereu.com. KNF filed a criminal complaint with the Regional Prosecutor's Office in Warsaw in this context.
In December 2017, the Belgian FSMA disclosed that MoneyNetInt was involved in the Swiss Royal Bank (SRB) scam as a PSP. Payments from customer victims were processed through this and other scams through MoneyNetInt's Polish accounts.
Already in July 2016, Simona Weinglass reported in the Times of Israel in her article Follow the money – how one defrauded binary options investor got his cash back about the involvement of MoneyNetInt in binary options scams and bank accounts in Poland. MoneyNetInt's participation in binary options scams has been public knowledge since early 2016 at the latest.
Gal Barak and OptionStarsGlobal
MoneyNetInt was also involved as PSP in some of the scams of Israeli Gal Barak and his E&G Bulgaria. For example, payments from OptionStars and OptionStarsGlobal victims were processed via MoneyNetInt. The Polish bank accounts of MoneyNetInt were also identified in this context by FinTelegram and EFRI.
Gal Barak's cyberscam organization and its payment services providers are at the center of criminal investigations by several European authorities into financial crime, money laundering, and investment fraud. An EU arrest warrant has been issued against Gal Barak already. One of his partners, the German citizen Uwe Lenhoff, was arrested earlier this year and is waiting for trial in Germany. MoneyNetInt is deeply involved in some scams of Gal Barak and Uwe Lenhoff.
Guy Galboiz, MigFin and Payobin
MoneyNetInt was, besides Payobin of Eyal Nachum and Tamir Zoltovski, one of the partners of the Israeli binary options scam operator Guy Galboiz. The FinTelegram documents show that MoneyNetInt was involved as PSP in several scams of Galboiz like ICoption, TitanTrade or TradeSolid. Just to name a few.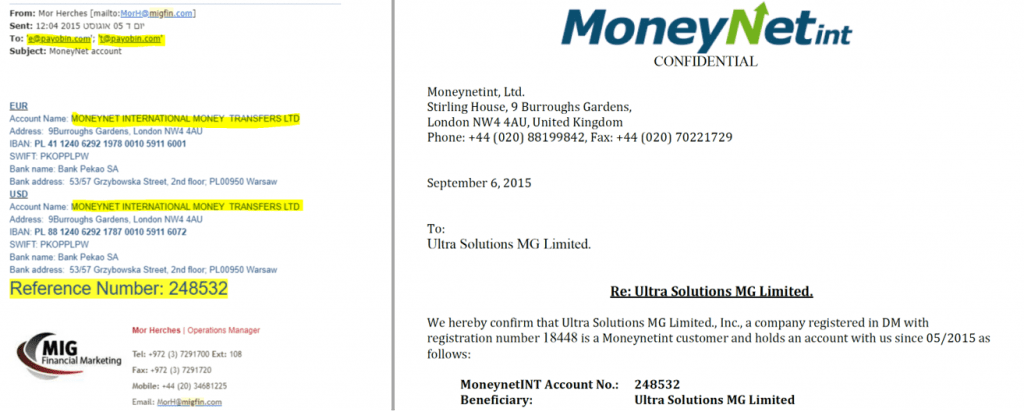 Apparently, MoneyNetInt (MNI), as well as, Payobin have been well aware of the illicit background of the binary options scams of Guy Galboiz, as can be seen from the email correspondence from Feb 24 and Feb 25, 2016, below.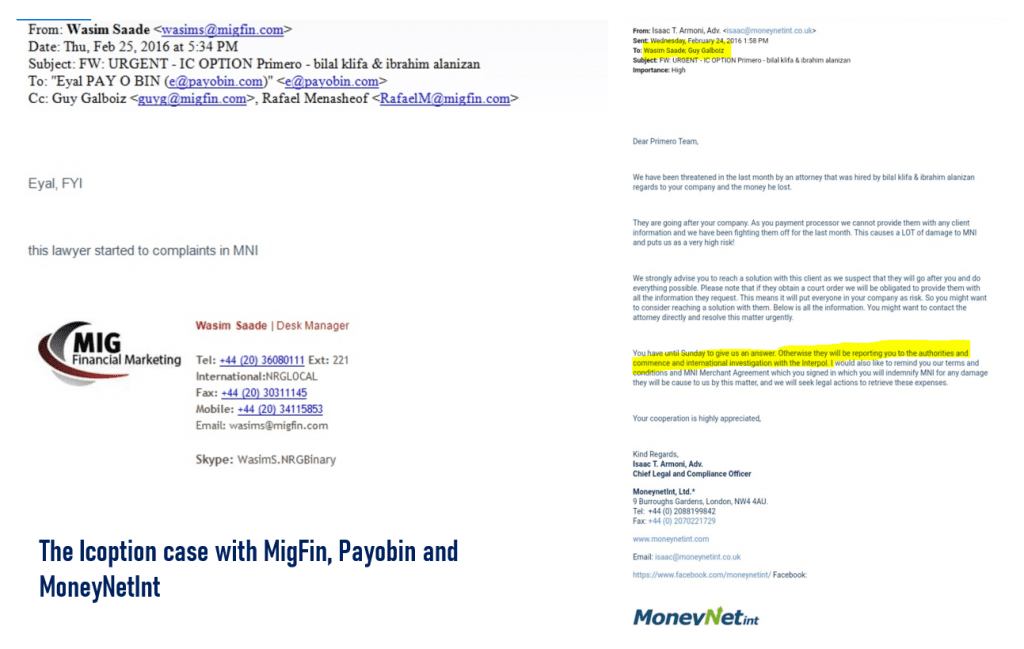 In it, MoneyNetInt officially informs Guy Galboiz that a victim of ICoption threatens MoneyNetInt through his lawyer and wants his money back. MoneyNetInt, in turn, informs Guy Galboiz and urges him to solve the problem immediately. Otherwise one would make a complaint with the Interpol. The email was sent on Feb 24, 2016.
On Feb 25, 2016, the MigFin people of Guy Galboiz, in turn, inform Eyal Nachum of Payobin and draw his attention to the imminent danger. What this (and many other) communication between the scam operators like MigFin and the PSPs proves is that everyone was part of the network behind the scams and knew about it. There are no excuses about "good faith". All this obviously happened knowingly and willfully.
There were many such incidents in the cooperation of MoneyNetInt and Guy Galboiz. Nevertheless, they have worked together for years and contributed to the cheating of retail investors. Criminally, this is an indication of the PSPs' complicity.
EFRI and payment service providers
The European Fund Recovery Initiative (EFRI), co-founded by FinTelegram, has been able to establish evidence about the massive involvement of MoneyNetInt in numerous victim reports of various scams. Along with UPayCard and Moneta International UAB, MoneyNetInt Ltd was/is certainly the largest regulated PSP in this global scam broker scene.
Authorities in various countries have been intensively combating PSPs in the field of binary option and broker scams for months. It is an indisputable fact that these scams would not be possible without the support of these PSPs. Tens of thousands of retail investors would not have lost their money to these scams. These PSPs support illegal and fraudulent broker schemes and make a lot of money with them. The money stolen by the small investors is laundered and distributed via the participating PSPs and their bank accounts.
According to the motto "Follow the money", the authorities can also pursue the stolen funds via the payment service providers involved and find the beneficial owners behind the scams. However, this requires the cooperation of the PSPs involved.
Investigations, presumption of innocence and facts
The investigations of the Polish authorities should provide new insights in this respect and put a stop to the activities of PSPs in the area of broker and investment scams. FinTelegram would like to expressly state that until proven otherwise, the presumption of innocence applies to MoneyNetInt.
However, there is no doubt that MoneyNetInt has supported dozens of investment, brokerage, and binary options scams with its payment services. This PSP has been the partner of the big binary options schemes of Gal Barak, Guy Galboiz and other perpetrators.